Chris Ashley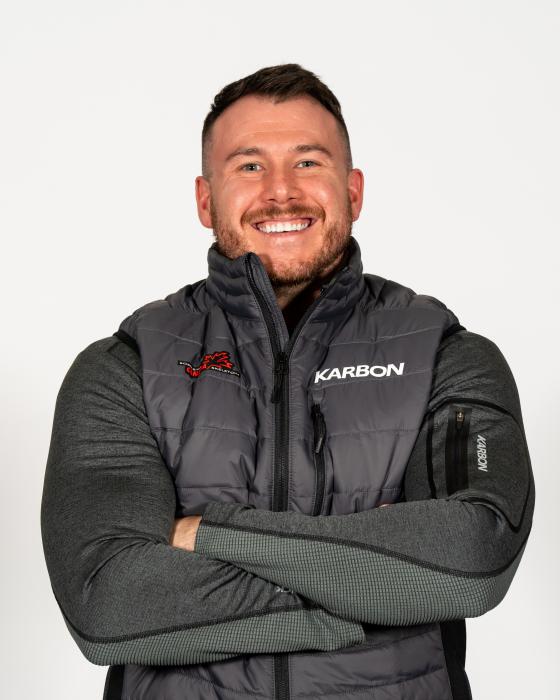 Chris' Olympic dream was sparked in the gym when he ran into his buddy Davidson De Souza who used to slide with Brazil and is now on Team Canada.
He said, "Hey Chris, I'm going to the Olympics. Wanna come?" Chris replied, "yes, why not?" and the duo began training together the next day. Six months later, Chris made the National Team.
He will never forget his first trip down in the "bathtub on skates" from the top of the Whistler Sliding Centre track and getting to push Olympian Chris Spring in the first run of the season.
Before competing in bobsleigh, Chris played high school basketball and won City Championships in his Grade 11 year. In 2016, he competed in bodybuilding with NPAA, and won his pro card his first time on stage. After years of lifting weights, he trained and competed in Brazilian Ju Jitsu, securing a bronze medal in his first tournament. Outside of sport, he works as a journeyman electrician for Granite Electric, specializing in splicing fibre optic cabling. Chris likes to travel, hang out with friends and enjoys the shenanigans with the fellas.
Did You Know…
Chris' hero is Connor McGregor because he is the definition of confidence and never lets anyone tell him he can't do something extraordinary. Chris says he will eat anything except for seafood chowder. He always needs to compete in something so if he wasn't sliding, he believes he would be training BJJ or MMA.
Career Highlights
| | Gold | Silver | Bronze | Other |
| --- | --- | --- | --- | --- |
| 2023 - World Championships, St. Moritz, SUI: 4- Man | | | | 20th |
| 2022 - North American Cup, Whistler, CAN | 4- Man | | 2- Man | |
World Championship Results
| Season | Location | Discipline | Result | Crew |
| --- | --- | --- | --- | --- |
| 2023 | St. Moritz, SUI | 4- Man | 20th | Norton, Ashley, M'Pindou, Caixeiro |
World Cup Results
| Season | Location | Discipline | Result | Crew |
| --- | --- | --- | --- | --- |
| 2022/23 | | | | |
| | Innsbruck, AUT | 4- Man | 16th | Norton, Ashley, Caixeiro, Gosselin |
| | | 4- Man | 14th | Norton, Ashley, Caixeiro, Gosselin |
| | Lake Placid, USA | 4- Man | 11th | Norton, Ashley, Fraser, Caixeiro |