Justin Kripps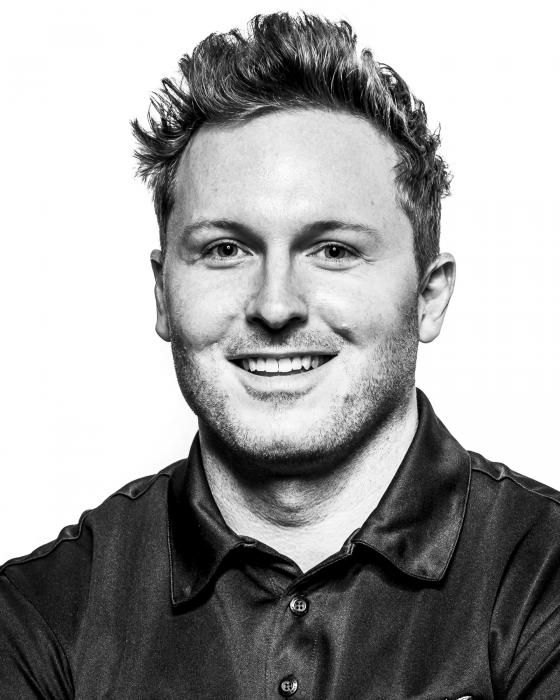 A high-performance track and field athlete at the varsity and national level, Justin Kripps got introduced to the sport of bobsleigh after accepting an invitation to participate in a testing camp in August 2006. Justin quickly discovered the sport was a fun and unique challenge, which he was willing to take on and pursue a career in.
Just over a decade later, Justin became the second Canadian male ever to win Olympic gold in the two-man event when he and Alex Kopacz teamed up to finish in a dead heat with the Germans. Ironically it was nearly 20 years ago to the day since Canada last won an Olympic gold in two-man bobsleigh. It was then Justin's former teammate and mentor, Pierre Lueders, piloted his Canadian sled to a tie with the Germans in Nagano Japan.
The triumph capped off a stellar season for Justin where he finished first in the Overall World Cup two- four-man and combined rankings. Team Kripps racked up one gold, two silver and one bronze in two-man racing. He added a silver in the four-man.
Justin first transitioned into bobsleigh from track and field. He was one of the top brakeman on the Canadian Bobsleigh Team for nearly three years. After competing in his first Olympic Winter Games in Vancouver-Whistler, Justin moved into the driver's seat after taking pilot's school in the summer of 2010. He made his World Cup debut in 2012 in Whistler, and has quickly emerged as one of the top pilots in the country and on the world stage. Justin drove into his second Olympics, and first as a pilot, in Sochi, Russia on a hot streak after sliding to his first World Cup win in the two-man race in Konigssee, Germany. He grabbed his second career medal on the World Cup as a pilot four years ago when he slid to the bronze in Konigssee, Germany. Team Kripps added another bronze in four-man action in 2016 in Lake Placid, NY, and again two years ago with a silver in two-man racing in New York before breaking through on his favourite German track in Konigssee to win a silver medal with Jesse Lumsden at the 2017 World Championships.
Career Highlights
Pilot/Pilote
Three Time Olympian (PyeongChang 2018 – gold (2-man, 6 – 4-man), Sochi 2014 as a pilot, Vancouver 2010 as a brakeman)/ Triple Olympien (Pyeong-Chang 2018 – médaillé d'or (bob à deux); 6ème place en bobsleigh à quatre; Sotchi 2014 comme pilote, Vancouver 2010 comme frein)
Finished First on 2018 Overall World Cup in Two-Man, Four-Man and Combined/A terminé premier au classement général de Coupe du monde 2018 à travers les disciplines de bob à deux, bob à quatre et toutes disciplines confondues.
2018 – World Cup, Konigssee, GER: 3 (2-man)
2018 – World Cup, St. Moritz, SUI: 4 (2-man)
2018 – World Cup, Altenberg, GER: 1 (2-man), 4 (4-man)
2017 – World Cup, Igls, AUT: 2 (2-man), 2 (4-man)
2017 – World Cup, Winterberg, GER: 4 (2-man), 4 (4-man)
2017 – World Cup, Whistler, CAN: 2 (2-man), 4 (4-man)
2017 – World Cup, Park City, USA: 2 (4-man)
2017 – World Cup, Lake Placid, USA: 4 (2-man), 2 (4-man)
2017 – World Championships, Konigssee, GER: 6 (4-man), 2 (2-man)
2017 – World Cup, Igls, AUT: 5 (2-man)
2016 – World Cup, Lake Placid, USA: 2 (2-man)
2016 – World Cup, Whistler, CAN: 5 (4-man), 4 (2-man)
2016 – World Cup, Konigssee, GER: 7 (2-man)
2016 – World Cup, Whistler, CAN: 5 (2-man)
2016 – World Cup, Park City, USA: 4 (4-man)
2016 – World Cup, Lake Placid, USA: 3 (4-man), 4 (2-man)
2015 – World Cup, Konigssee, GER: 4 (2-man)
2015 – World Cup, Altenberg, GER: 6 (2-man)
2015 – World Cup, Konigssee, GER: 3 (2-man)
2015 – World Cup, Sochi, RUS: 4 (2-man), 4 (4-man)
2014 – World Cup, Lake Placid, USA: 7 (2-man), 4 (4-man)
2014 – Olympic Winter Games, Sochi, RUS: 6 (2-man), 30 (4-man)
2014 – World Cup, Konigssee, GER: 1 (2-man)
2014 – World Cup, Igls, AUT: 5 (2-man)
2014 – Olympic Winter Games, Sochi, RUS: 6 (2-man), 30 (4-man)
2014 – World Cup, Konigssee, GER: 1 (2-man)
2014 – World Cup, Igls, AUT: 5 (2-man)
Brakeman/frein
2009 – World Cup, Whistler, CAN (4-man): 4
2007 – World Cup, Calgary, CAN: 3 (4-man)
2007 – World Cup, Park City, USA: 3 (4-man)
2007 – World Cup, Lake Placid, USA: 3 (4-man)
2008 – World Cup, Cortina, ITA: 1 (4-man)
Olympic Winter Games Results
2018 – Olympic Winter Games, PyeongChang, KOR: 1 (2-man), 6 (4-man)
2014 – Olympic Winter Games, Sochi, RUS: 6 (2-man), 29 (4-man)
2010 – Olympic Winter Games, Vancouver, CAN: 5 (4-man)
World Championship Results
2019 – World Championships, Whistler, CAN: 3 (4-man), 2 (2-man)
2017 – World Championships, Konigssee, GER: 6 (4-man), 2 (2-man)
2016 – World Championships, Igls, AUT: 16 (4-man), 8 (2-man)
2015 – World Championships, Winterberg, GER: 13 (4-man), 21 (2-man)
2013 – World Championships, St. Moritz, SUI: 21 (4-man), 12 (2-man)
2012 – World Championships, Lake Placid, USA: 17 (2-man)
2011 – Junior World Championships, Park City, USA: 8 (2-man)
2011 – Junior World Championships, Park City, USA: 5 (4-man)
2009 – World Championships, Lake Placid, USA: 10 (4-man)
2007 – World Championships, St. Moritz, SUI: 21 (4-man)
World Cup Results
2019 – World Cup, Calgary, CAN: 2 (2-man), 5 (4-man)
2019 – World Cup, Lake Placid, USA: 3 (2-man), 1 (4-man)
2019 – World Cup, Innsbruck, AUT: 4 (2-man), 6 (4-man)
2019 – World Cup, Konigssee, GER: 2 (2-man), 5 (4-man)
2019 – World Cup, Altenberg, GER: 2 (2-man), 12 (4-man)
2018 – World Cup, Konigssee, GER: 3 (2-man), 7 (4-man)
2018 – World Cup, St. Moritz, SUI: 4 (2-man), 16 (4-man)
2018 – World Cup, Altenberg, GER: 1 (2-man), 4 (4-man)
2017 – World Cup, Igls, AUT: 2 (2-man), 2 (4-man)
2017 – World Cup, Winterberg, GER: 4 (2-man), 4 (4-man)
2017 – World Cup, Whistler, CAN: 2 (2-man), 4 (4-man)
2017 – World Cup, Park City, USA: 2 (4-man), 8 (4-man)
2017 – World Cup, Lake Placid, USA: 4 (2-man), 2 (4-man)
2017 – World Cup, Pyeongchang, KOR: 9 (4-man), 8 (2-man)
2017 – World Cup, Igls, AUT: 7 (4-man), 5 (2-man)
2017 – World Cup, Winterberg, GER: 9 (4-man)
2016 – World Cup, Lake Placid, USA: 9 (4-man), 2 (2-man)
2016 – World Cup, Whistler, CAN: 5 (4-man), 4 (2-man)
2016 – World Cup, Konigssee, GER: 10 (4-man), 7 (2-man)
2016 – World Cup, St. Moritz, SUI: 11 (4-man)
2016 – World Cup, Whistler, CAN: 5 (2-man), 8 (2-man)
2016 – World Cup, Park City, USA: 10 (4-man), 4 (4-man)
2016 – World Cup, Lake Placid, USA: 3 (4-man), 4 (2-man)
2015 – World Cup, Konigssee, GER: 10 (4-man), 4 (2-man)
2015 – World Cup, Winterberg, GER: 12 (4-man), 10 (2-man)
2015 – World Cup, Altenberg, GER: 10 (4-man), 6 (2-man)
2014 – World Cup, Lake Placid, USA: 7 (2-man), 4 (4-man)
2014 – World Cup, Calgary, CAN: 9 (2-man), 11 (4-man)
2015 – World Cup, Altenberg, GER: 9 (2-man), 7 (4-man)
2015 – World Cup, Konigssee, GER: 3 (2-man), 12 (4-man)
2015 – World Cup, La Plagne, FRA: 10 (2-man), 13 (4-man)
2015 – World Cup, Igls, AUT: 8 (2-man), 11 (4-man)
2015 – World Cup, Sochi, RUS: 4 (2-man), 4 (4-man)
2013 – World Cup, Calgary, CAN: 13 (2-man), 9 (4-man)
2013 – World Cup, Park City, USA: 8 (2-man), 9 (4-man)
2013 – World Cup, Lake Placid, USA: 8 (2-man), 9 (4-man)
2014 – World Cup, Winterberg, GER: 11 (4-man), 11 (2-man), 8 (4-man)
2014 – World Cup, St. Moritz, SUI: 16 (2-man), 12 (4-man)
2014 – World Cup, Igls, AUT: 5 (2-man), 12 (4-man)
2014 – World Cup, Konigssee, GER: 1 (2-man), 11 (4-man)
2012 – World Cup, Park City, USA: 14 (2-man)
2012 – World Cup, Whistler, CAN: 12 (2-man)
2012 – World Cup, Whistler, CAN: 13 (4-man)
2013 – World Cup, Winterberg, GER: 12 (2-man)
2013 – World Cup, Winterberg, GER: 10 (4-man)
2013 – World Cup, La Plagne, FRA: 14 (4-man)
2013 – World Cup, Konigssee, GER: 10 (2-man)
2013 – World Cup, Konigssee, GER: 12 (4-man)
2013 – World Cup, Igls, AUT: 11 (2-man)
2012 – World Cup, Calgary, CAN: 8 (2-man); 9 (4-man)
2009 – World Cup, Park City, USA: 10 (4-man)
2009 – World Cup, Lake Placid, USA: 9 (4-man)
2009 – World Cup, Cesana ITA: 10 (4-man)
2009 – World Cup, Winterberg, GER: 13 (4-man)
2010 – World Cup, Königssee, GER: 9 (4-man)
2010 – World Cup, St. Moritz, SUI: 6 (4-man)
2009 – World Cup, Königssee, GER (4-man): 8
2009 – World Cup, St. Moritz, SUI (4-man): 8
2009 – World Cup, Whistler, CAN (4-man): 4
2009 – World Cup, Park City, USA (4-man): 7
2007 – World Cup, Calgary, CAN: 3 (4-man)
2007 – World Cup, Park City, USA: 3 (4-man)
2007 – World Cup, Lake Placid, USA: 3 (4-man)
2008 – World Cup, Cortina, ITA: 1 (4-man)
2008 – World Cup, Cesana, ITA: 8 (4-man)
2008 – World Cup, St. Mortiz, SUI: 5
2008 – World Cup, Königssee, GER: 6