Alysia Rissling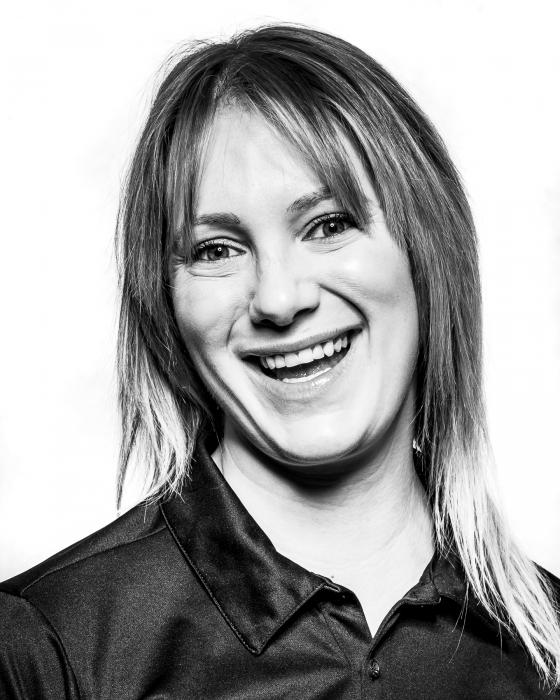 Alysia Rissling was destined to excel in high-performance sport. Growing up in Edmonton, Alysia was surrounded by a family full of hockey players. Her Godfather played in the NHL, her dad played pro in Europe, and her little bro was a standout with the Calgary Hitmen in the WHL before heading to the NHL's farm system.
For Alysia, her competitive nature was found on the basketball court for five years at the University of Alberta until she caught wind of many track and field athletes being recruited to bobsleigh. Immediately interested in the sport, Alysia parked it in the back of her brain until she completed her scholarship and a Bachelor of Science in Kinesiology degree. The following year, the idea of bobsleigh kept dominating her thoughts so she did try out for the provincial team. Next thing she knew her bags were packed and she moved south to Calgary eight weeks later.
Alysia's progression in the sport has been steady since starting as a brakemen in 2012. She took to the driving seat the following year and is one of Canada's top women's pilots. Alysia had a standout rookie season on World Cup circuit in 2017 as a pilot, winning the bronze medal at the World Cup test event in Pyeongchang. She returned to the Olympic Track in Korea as a member of the 2018 Canadian Olympic Team where she and Heather Moyse slid to sixth place. Alysia returns to the National Bobsleigh Program in the final charge towards 2022 Olympic Winter Games in Beijing after sitting last year out rehabbing an injury.
When not mastering her trade on tracks around the world, Alysia is a natural athlete who boasted scholarships in basketball, track and field, soccer and volleyball. A self-described sports junkie, Alysia loves snowboarding, surfing, playing slo-pitch, beach volleyball and all watersports. When not playing, she's watching hockey, football and baseball religiously. She is also a Fast and Female ambassador and Classroom Champions mentor.

Career Highlights
Pilot/Pilote​
| | | | | |
| --- | --- | --- | --- | --- |
| | Gold | Silver | Bronze | Other |
| 2021 - Women's World Monobob series, Igls, AUT | | | | 6th |
| 2019 - World Championships, Whistler, CAN | | | | 11th |
| 2019 - World Cup, Calgary, CAN | | | | 7th |
| 2019 - World Cup, Konigssee, GER | | | | 9th |
| 2018 - World Cup, Altenberg, GER | | | | 10th |
| 2018 – Olympic Winter Games, PyeongChang, KOR | | | | 6th |
| 2018 – World Cup, Konigssee, GER | | | | 5th |
| 2018 – World Cup, St. Moritz, SUI | | | | 4th |
| 2017 – World Cup, Pyeongchang, KOR | | | | |
| 2017 – World Championships, Konigssee, GER | | | | 6th |
| 2016 – World Cup, Lake Placid, USA | | | | 5th |
| 2016 – World Cup, Whistler, CAN | | | | 4th |
| 2016 – World Championships, Igls, AUT | | | | 13th |
| 2015 – World Cup, Calgary | | | | 11th |
- Six career North America's Cup gold medals/total de six médailles d'or en Coupe nord-américaine​
- Overall points champion on the 2014-15 North America's Cup /championne au classement général de Coupe nord-américaine 2014-15
- Second place in the 2015-16 overall North America's Cup/vice-championne au classement général de Coupe nord-américaine 2015-16
Olympic Winter Games Results
Pilot
| | | | | |
| --- | --- | --- | --- | --- |
| Season | Location | Discipline | Result | Crew |
| 2017/18 | Pyeongchang, KOR | 2woman | 6th | Rissling, Moyse |
World Championship Results
Pilot
| | | | | |
| --- | --- | --- | --- | --- |
| Season | Location | Discipline | Result | Crew |
| 2020/21 | Altenberg, GER | 2woman | 12th | Rissling, Richardson Wilson |
| 2018/19 | Whistler, CAN | 2woman | 11th | Rissling, Appiah |
| | | Team | 7th | Lynch, Rissling, Austin, Auclair, Maier, Ribi |
| 2016/17 | Konigssee, GER | 2woman | 6th | Rissling, Appiah |
| | | Team | 8th | Greszczyszn, Dagenais-Everell, Spring, Rissling, Stones, Channell |
| 2015/16 | Igls, AUT | 2woman | 13th | Rissling, Corrente |
| | | Team | 8th | Martineau, Vathje, Rissling, Corrente, Spring, Giguere |
World Cup Results
Pilot
| | | | | |
| --- | --- | --- | --- | --- |
| Season | Location | Discipline | Result | Crew |
| 2020/21 | | | | |
| | Igls, AUT | 2woman | 11th | Rissling, Voss |
| | Konigssee, GER | 2woman | 8th | Rissling, Richardson Wilson |
| | St Moritz, SUI | 2woman | 11th | Rissling, Richardson Wilson |
| 2018/19 | | | | |
| | Calgary, CAN | 2woman | 7th | Rissling, Appiah |
| | Konigssee, GER | 2woman | 9th | Rissling, Bujnowski |
| | Altenberg, GER | 2woman | 10th | Rissling, Ribi |
| 2017/18 | | | | |
| | Konigssee, GER | 2woman | 5th | Rissling, Moyse |
| | St. Moritz, SUI | 2woman | 4th | Rissling, Moyse |
| | Altenberg, GER | 2woman | 10th | Rissling, Moyse |
| | Igls, AUT | 2woman | 7th | Rissling, Moyse |
| | Winterberg, GER | 2woman | 16th | Rissling, Moyse |
| | Whistler, CAN | 2woman | 7th | Rissling, Appiah |
| | Park City, USA | 2woman | 7th | Rissling, Bujnowski |
| | Lake Placid, USA | 2woman | 7th | Rissling, Bujnowski |
| 2016/17 | | | | |
| | Pyeongchang, KOR | 2woman | 3rd | Rissling, Appiah |
| | Igls, AUT | 2woman | 9th | Rissling, Thibault |
| | | 4woman | 30th | Rissling, Beckford-Stewart, Thibault, Dagenais-Everell |
| | Konigssee, GER | 2woman | 9th | Rissling, Lotholz |
| | Winterberg, GER | 2woman | 11th | Rissling, Thibault |
| | Lake Placid, USA | 2woman | 5th | Rissling, Thibault |
| | Whistler, CAN | 2woman | 4th | Rissling, Lotholz |
| 2014/15 | | | | |
| | Calgary, CAN | 2woman | 11th | Rissling, Corrente |