Melissa Lotholz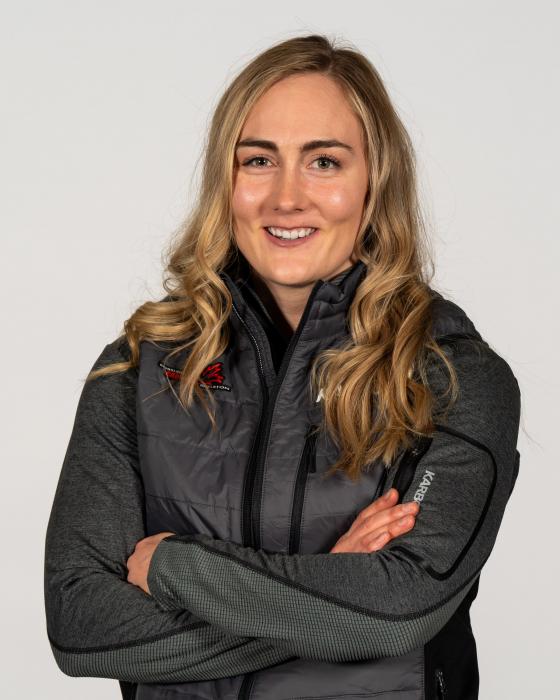 Melissa grew up on a family farm in Barrhead that was her great-grandpa's homestead. The farm has been in the family since 1932 – a place that provide Melissa and her sister endless unique learning opportunities and experiences.
A gifted athlete, Melissa first entertained getting involved in bobsleigh in 2011 when her track and field partner, Christine de Bruin gave the sliding sport a try. Watching Christine transition into bobsleigh encouraged Melissa to give it a try for herself. Melissa attended a recruitment camp in 2013 while competing on the varsity track squad at the University of Alberta. Posting solid testing numbers, Melissa began training for bobsleigh five years ago, and made the move to Calgary where she earned an opportunity during the national training camp to push two-time Olympic champion, Kaillie Humphries.
During her rookie year, Melissa pushed Kaillie Humphries to three podium finishes. Melissa pushed Kaillie to nine podium finishes in as many races in 2015-16 to secure the overall World Cup title. The Canadian duo won four World Cup races, had three silver medals (including at the World Championships), and two bronze. Splitting time pushing Humphries and pilot Alysia Rissling two years ago, Melissa landed on the podium four times including a silver-medal finish with Team Humphries at the 2017 World Championships in Konigssee, Germany – bringing her international medal to 16 (14 World Cup, two World Championship medals).
At the recruitment camp six years ago, Melissa participated on a CBC show coined "the Future of Canadian Bobsleigh" as a potential recruit for the 2018 Games. That dream became a reality in PyeongChang when she reunited with Christine de Bruin in the Canadian sled. The varsity teammates and friends finished seventh in their Olympic debut.
Weeks after returning from Korea, Melissa headed to Lake Placid to take part in bobsleigh driving school. She is now in the pilot position in the sled, developing as a pilot in the Canadian program on the North America's Cup circuit.
A very active athlete growing up, Melissa has participated in figure skating, basketball, volleyball and track and field. She was recruited to the U of A varsity track program, but first attended the music program at Vanguard Bible College in Edmonton. During this time, she did a year of club track before officially joining the U of A where she studied Nutrition and Food Science with a minor in physical activity for three years. She was highly involved with the Athletes in Action campus ministry at the U of A. Melissa intends to return to university to complete her degree when she is finished with bobsleigh.
Outside of sport, Melissa fills her time with family and friends. She enjoys being outside, cooking, playing piano, journaling, watching movies and playing games. She is also highly involved with the local church community and loves getting to know new people and their stories.
Career Highlights
Women's Monobob​
Gold
Silver
Bronze
Other
2019 – Women's Monobob, Calgary, CAN
Brakewoman​
| | | | | |
| --- | --- | --- | --- | --- |
| | Gold | Silver | Bronze | Other |
| 2019 – World Championships, Whistler, CAN | | | | 14th 2woman |
| 2018 – Olympic Winter Games, PyeongChang, KOR | | | | 7th 2woman |
| 2017 – World Cup, Winterberg, GER | | | | 4th 2woman |
| 2017 – World Cup, Whistler, CAN | | | | |
| 2017 – World Cup, Park City, USA | | | | |
| 2017 – World Cup, Lake Placid, USA | | | | |
| 2017 – Overall World Cup Standings | | | | |
| 2017 – World Championships, Koenigssee, GER | | | | |
| 2017 – World Cup, Igls, AUT | | | | |
| 2017 – World Cup, St. Moritz, SUI | | | | |
| 2017 – World Cup, Altenberg, GER | | | | |
| 2016 – Overall World Cup Standings | | | | |
| 2016 – World Cup, Koenigssee, GER | | | | |
| 2016 – World Championships, Igls, AUT | | | | |
| 2016 – World Cup, St. Moritz, SUI | | | | |
| 2016 – World Cup, Whistler, CAN | | | | |
| 2016 – World Cup, Park City, USA | | | | |
| 2016 – World Cup, Lake Placid, USA | | | | |
| 2015 – Overall World Cup Standings | | | | |
| 2015 – World Cup, Koenigssee, GER | | | | |
| 2015 – World Cup, Winterberg, GER | | | | |
| 2015 – World Cup, Altenberg, GER | | | | |
| 2015 – World Cup, La Plagne, FRA | | | | |
| 2015 – World Cup, Sochi, RUS | | | | |
| 2015 – World Championships, Winterberg, GER | | | | 7th 2woman |
| 2014 – World Cup, Altenberg, GER | | | | |
Olympic Winter Games Results
Brakewoman
| | | | | |
| --- | --- | --- | --- | --- |
| Season | Location | Discipline, | Result | Crew |
| 2017/18 | Pyeongchang, KOR | 2woman | 7th | De Bruin, Lotholz |
World Championship Results
Brakewoman
| | | | | |
| --- | --- | --- | --- | --- |
| Season | Location | Discipline | Result | Crew |
| 2018/19 | Whistler, CAN | 2woman | 14th | Hol, Lotholz |
| 2017/18 | Koenigssee, GER | 2woman | 2nd | Humphries, Lotholz |
| | | Team | 9th | Martineau, Kripps, Rahneva, Humphries, Coakwell, Lotholz |
| 2016/17 | Innsbruck, AUT | 2woman | 2nd | Humphries, Lotholz |
| 2015/16 | Winterberg, GER | 2woman | 7th | Humphries, Lotholz |
World Cup Results
Pilot
| | | | | |
| --- | --- | --- | --- | --- |
| Season | Location | Discipline | Result | Crew |
| 2019/20 | Innsbruck, AUT | 2woman | 15th | Lotholz, McCue |
Brakewoman​
| | | | | |
| --- | --- | --- | --- | --- |
| Season | Location | Discipline | Result | Crew |
| 2018/19 | Calgary, CAN | 2woman | 12th | Hol, Lotholz |
| 2017/18 | St Moritz, SUI | 2woman | 14th | De Bruin, Lotholz |
| | Winterberg, GER | 2woman | 4th | Humphries, Lotholz |
| | Whistler, CAN | 2woman | 1st | Humphries, Lotholz |
| | Park City, USA | 2woman | 2nd | Humphries, Lotholz |
| | Lake Placid, USA | 2woman | 1st | Humphries, Lotholz |
| 2016/17 | | | | |
| | Pyeongchang, KOR | 2woman | 5th | Humphries, Lotholz |
| | Innsbruck, AUT | 2woman | 2nd | Humphries, Lotholz |
| | | 4man | 29th | Humphries, Lotholz, Lee, Appiah |
| | Koenigssee, GER | 2woman | 9th | Rissling, Lotholz |
| | St Moritz, SUI | 2woman | 2nd | Humphries, Lotholz |
| | Altenberg, GER | 2woman | 1st | Humphries, Lotholz |
| | Whistler, CAN | 2woman | 4th | Rissling, Lotholz |
| 2015/16 | | | | |
| | Koenigssee, GER | 2woman | 2nd | Humphries, Lotholz |
| | St Moritz, SUI | 2woman | 3rd | Humphries, Lotholz |
| | | 4man | 28th | Humphries, Lotholz, Lee, Appiah |
| | Whistler, CAN | 2woman | 1st | Humphries, Lotholz |
| | Park City, USA | 2woman | 1st | Humphries, Lotholz |
| | | 4man | 21st | Humphries, Thibault, Appaih, Lotholz |
| | | 4man | 21st | Humphries, Thibault, Appaih, Lotholz |
| | Lake Placid, USA | 2woman | 1st | Humphries, Lotholz |
| | | 4woman | 17th | Humphries, Thibault, Appaih, Lotholz |
| | Koenigssee, GER | 2woman | 1st | Humphries, Lotholz |
| | Winterberg, GER | 2woman | 3rd | Humphries, Lotholz |
| | Altenberg, GER | 2woman | 1st | Humphries, Lotholz |
| 2014/15 | | | | |
| | Sochi, RUS | 2woman | 2nd | Humphries, Lotholz |
| | Innsbruck. AUT | 2woman | 6th | Humphries, Lotholz |
| | La Plagne, FRA | 2woman | 3rd | Humphries, Lotholz |
| | St Moritz, SUI | 2woman | 7th | Humphries, Lotholz |
| | Altenberg, GER | 2woman | 3rd | Humphries, Lotholz |
| | Lake Placid, USA | 2woman | 5th | Humphries, Lotholz​ |