Nick Poloniato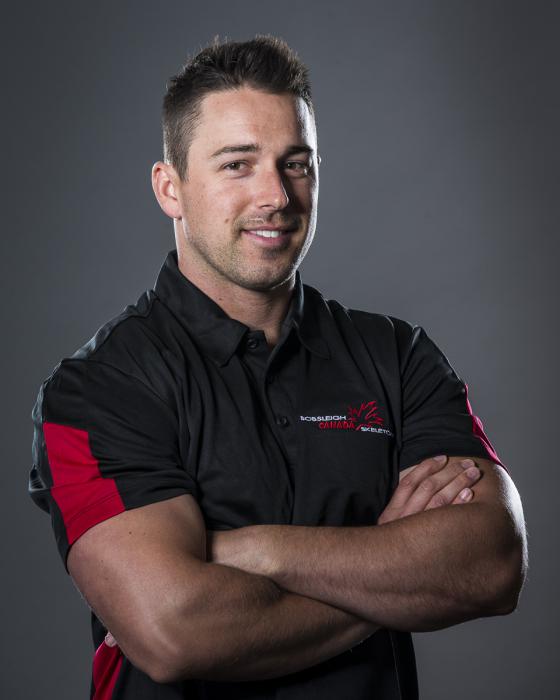 | | |
| --- | --- |
| Sport: | Bobsleigh |
| Position: | Pilot |
| Height: | 180cm |
| Weight: | 95kg |
| Birth Date: | Jul. 20, 1987 (age 32) |
| Birth Place: | Hamilton |
| Residence: | Hamilton |
| Twitter: | @npoloniato |
| Instagram: | @npoloniato |
A former CIS football player with the Bishops Gaiters in Sherbrooke, Que., Nick started bobsleigh as a pilot in 2012 when his aspirations to play in the CFL didn't work out.
Nick enjoyed a breakthrough season in his rookie year on the World Cup with a strong fifth-place finish in the two-man event at World Championships. He backed that performance up by finishing foruth at the World Cup test event in Pyeongchang, and was in the podium mix throughout the 2018 Olympic year. Nick made his Olympic debut in PyeongChang, Korea where he was seventh in the two-man race, and 12th in the four-man event.
Outside of sport, Nick studied business with a concentration in entrepreneurship, and a minor in marketing. His hobbies include: fishing, camping, canoeing and anything in the outdoors.
Career Highlights
2018 – Olympic Winter Games, PyeongChang, KOR: 7 (2-man), 12 (4-man)
2018 – World Cup, St. Moritz, SUI: 8 (2-man)
2018 – World Cup, Altenberg, GER: 4 (2-man)
2017 – World Cup, Winterberg, GER: 5 (2-man)
2017 – World Cup, Whistler, CAN: 7 (2-man)
2017 – World Cup, Park City, USA: 6 (4-man)
2017 – World Championships, Konigssee, GER: 5 (2-man)
2014 – North America's Cup, Calgary: 3 (2-Man)
2014 – North America's Cup, Calgary: 2 (2-Man)
Olympic Winter Games Results
2018 – Olympic Winter Games, PyeongChang, KOR: 7 (2-man), 12 (4-man)
World Championship Results
2019 – World Championships, Whistler, CAN: 22 (4-man), 30 (2-man)
2017 – World Championships, Konigssee, GER: 23 (4-man), 5 (2-man)
2016 – World Championships, Igls, AUT: 21 (2-man)
2015 – World Championships, Winterberg, GER: 16 (2-man)
World Cup Results
2019 – World Cup, Calgary, CAN: 7 (2-man), 14 (4-man)
2019 – World Cup, Lake Placid, USA: 9 (2-man), 18 (4-man)
2019 – World Cup, Innsbruck, AUT: 7 (2-man), 17 (4-man)
2019 – World Cup, Konigssee, GER: 9 (2-man), 17 (4-man)
2019 – World Cup, Altenberg, GER: 14 (2-man), 17 (4-man)
2018 – World Cup, Konigssee, GER: 10 (2-man), 18 (4-man)
2018 – World Cup, St. Moritz, SUI: 8 (2-man), 22 (4-man)
2018 – World Cup, Altenberg, GER: 4 (2-man), 20 (4-man)
2017 – World Cup, Igls, AUT: 16 (4-man)
2017 – World Cup, Winterberg, GER: 5 (2-man), 16 (4-man)
2017 – World Cup, Whistler, CAN: 7 (2-man), 11 (4-man)
2017 – World Cup, Park City, USA: 6 (4-man), 11 (4-man)
2017 – World Cup, Lake Placid, USA: 12 (2-man), 13 (2-man)
2017 – World Cup, Pyeongchang, KOR: 25 (4-man), 4 (2-man)
2017 – World Cup, Igls, AUT: 22 (4-man), 18 (2-man)
2017 – World Cup, St. Moritz, SUI: 17 (4-man), 19 (2-man)
2017 – World Cup, Winterberg, GER: 19 (4-man), 22 (2-man)
2016 – World Cup, Lake Placid, USA: 13 (2-man)
2016 – World Cup, Whistler, CAN: 11 (4-man), 14 (2-man)
2015 – World Cup, Sochi, RUS: 14 (4-man), 16 (2-man)
2014 – World Cup, Calgary, CAN: 18 (2-man)