Kristen Bujnowski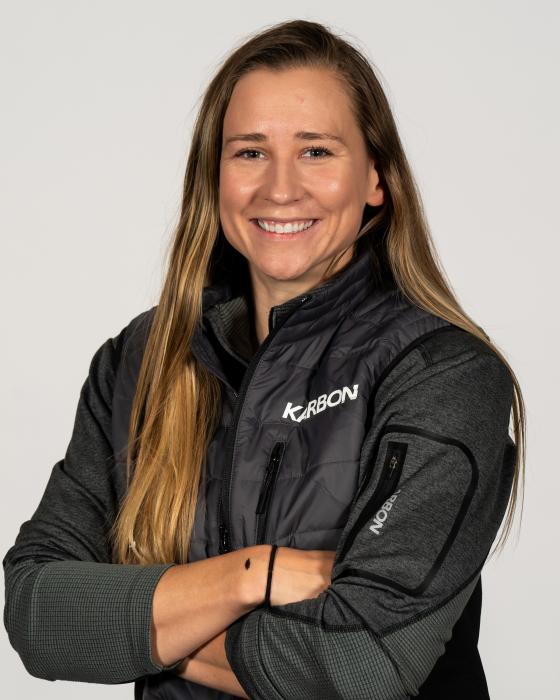 Kristen Bujnowski was recruited to the Canadian bobsleigh program in 2017 loaded with potential.
Kristen was first introduced to bobsleigh when the team was recruiting athletes at the 2011 Canadian Junior National Track and Field Championships. It was her long jump coach at the time who advised her to try one of the fastest sports on ice when she was done with track. Six years later, she was reminded of this discussion, and found a local testing camp in nearby London, Ont.
Fit and powerful thanks to a regular CrossFit training program, Kristen was all-in. She attended the camp in June 2017, and two weeks later found herself in Calgary pushing in the Ice House where she was posting great numbers.
A whole new world exploded in the face of the engineering professional. Kristen was then invited to attend the BCS prospect camp, followed by the National Team Camp in September two years ago. She jumped into a sled for the first time just days after, was an alternate on the 2018 Olympic Winter Games bobsleigh squad.
Following her first Games experience, Kristen proved she is now one of the top brakeman in the women's program. She teamed up with Christine de Bruin to win two silver medals on the World Cup circuit in 2019, and capped the season off with a bronze at the World Championships on home ice in Whistler.
The Canadian women have been on quite a run since climbing onto the World Championship podium in 2019.
The Canadian duo carried the momentum into the 2020 season, Christine and Kristen confirmed they have officially arrived on the international race scene, sliding onto the World Championship podium a second-straight year when they won the bronze.
The third-place triumph in Altenberg, Germany capped off a strong season where the Canucks finished in the top-five in seven of the eight World Cup races, adding a silver and bronze medal to their resumes. They also had two fourth-place finishes. Consistently in the medal mix, the lone Canadian sled secured third place in the Overall World Cup standings – an achievement Christine claimed is proof they belong in discussions with the world's best.
Kristen grew up on a family farm in Mount Brydges, Ont. She received a mechanical engineering degree concurrently with a Kinesiology degree from Western University in 2015.
Kristen has always been a talented athlete. She competed on the Mustang Varsity Track and Field (long jump and shot put) Team, and the Rowing Team while at Western. She is currently a research and development engineer at Baylis Medical in Mississauga, Ont. She also tutors high school math in her spare time.

Career Highlights
| | | | | |
| --- | --- | --- | --- | --- |
| | Gold | Silver | Bronze | Other |
| 2020 – World Championships, Altenberg, GER | | | | |
| 2020 – Finished Third Overall on World Cup Circuit | | | | |
| 2020 – World Cup, Sigulda, LAT | | | | 5th |
| 2020 – World Cup, St. Moritz, SUI | | | | 5th |
| 2020 – World Cup, Konigssee, GER | | | | 4th |
| 2020 – World Cup, La Plagne, FRA | | | | |
| 2020 – World Cup, Winterberg, GER | | | | 7th |
| 2019 – World Championships, Whistler, CAN | | | | |
| 2019 – World Cup, Lake Placid, USA | | | | |
| 2019 – World Cup, Koenigssee, GER | | | | 9th |
| 2019 – World Cup, Altenberg, GER | | | | |
| 2017 – World Cup, Igls, AUT: | | | | 9th |
| 2017 – World Cup, Whistler, CAN | | | | 9th |
| 2017 – World Cup, Park City, USA | | | | 7th |
| 2017 – World Cup, Lake Placid, USA | | | | 7th |
Olympic Winter Games Results
| | | | | |
| --- | --- | --- | --- | --- |
| Season | Location | Discipline | Result | Crew |
| 2021/22 | Beijing, CHN | 2woman | 5th | De Bruin, Bujnowski |
World Championship Results
Brakewoman
| | | | | |
| --- | --- | --- | --- | --- |
| Season | Location | Discipline | Result | Crew |
| 2019/20 | Altenberg, GER | 2woman | 3rd | De Bruin, Bujnowski |
| 2018/19 | Whistler, CAN | 2woman | 3rd | De Bruin, Bujnowski |
| | | Team | 2nd | Greszczyszyn, Joyce, Rahneva, De Bruin, Poloniato, Bujnowski |
World Cup Results
Brakewoman
| | | | | |
| --- | --- | --- | --- | --- |
| Season | Location | Discipline | Result | Crew |
| 2021/22 | | | | |
| | St Moritz, SUI | 2woman | 6th | de Bruin, Bujnowski |
| | Winterberg, GER | 2woman | 8th | de Bruin, Bujnowski |
| | Sigulda, LAT | 2woman | 3rd | de Bruin, Bujnowski |
| | Altenberg, GER | 2woman | 16th | de Bruin, Bujnowski |
| | Winterberg, GER | 2woman | 4th | de Bruin, Bujnowski |
| | Altenberg, GER | 2woman | 3rd | de Bruin, Bujnowski |
| | Igls, AUT | 2woman | 3rd | de Bruin, Bujnowski |
| | | 2woman | 3rd | de Bruin, Bujnowski |
| 2019/20 | | | | |
| | Sigulda, LAT | 2woman | 5th | de Bruin, Bujnowski |
| | St Moritz, SUI | 2woman | 5th | de Bruin, Bujnowski |
| | Koenigssee, GER | 2woman | 4th | de Bruin, Bujnowski |
| | Innsbruck, GER | 2woman | 4th | de Bruin, Bujnowski |
| | La Plagne, FRA | 2woman | 2nd | de Bruin, Bujnowski |
| | Winterberg, GER | 2woman | 7th | de Bruin, Bujnowski |
| | Lake Placid, USA | 2woman | 3rd | de Bruin, Bujnowski |
| 2018/19 | | | | |
| | Lake Placid, USA | 2woman | 2nd | de Bruin, Bujnowski |
| | Koenigssee, GER | 2woman | 9th | Rissling, Bujnowski |
| | Altenberg, GER | 2woman | 2nd | de Bruin, Bujnowski |
| 2017/18 | | | | |
| | Innsbruck, AUT | 2woman | 9th | de Bruin, Bujnowski |
| | Whistler, CAN | 2woman | 9th | de Bruin, Bujnowski |
| | Park City, USA | 2woman | 7th | Rissling, Bujnowski |
| | Lake Placid, USA | 2woman | 7th | Rissling, Bujnowski |