Catherine Medeiros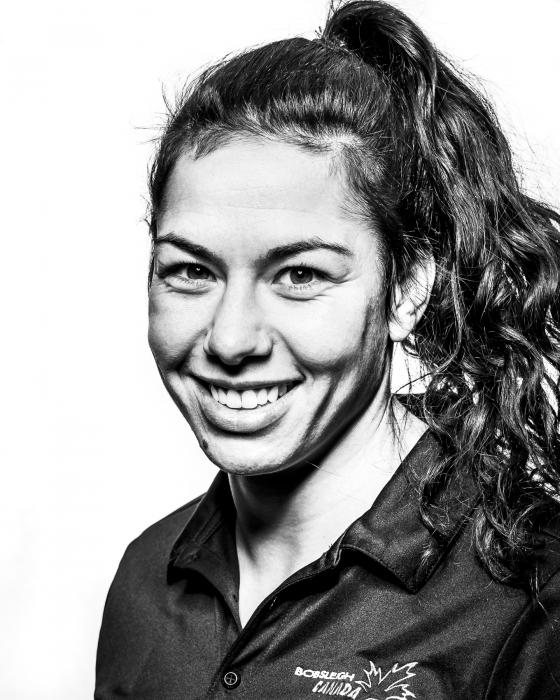 | | |
| --- | --- |
| Sport: | Bobsleigh |
| Position: | Pilot |
| Birth Date: | Mar. 29, 1991 (age 30) |
| Birth Place: | Montreal |
| Residence: | Montreal |
| Instagram: | @supa_cath |
A well-rounded athlete, Catherine has been a core member of Canada's National Bobsleigh Program since she took a recruitment camp in her hometown of Montreal after competing in a variety of sports for many years including long-distance running, soccer, and alpine skiing – a sport she competed in at the international level when she was 18.
Prior to being introduced to bobsleigh, Catherine competed on the world-stage in strongwoman events where she became the first Canadian woman to obtain her pro card as a strongwoman.
Eager to keep her athletic career alive, Catherine has now found her passion in bobsleigh where she splits her time mastering the art of driving and pushing sleds. While she deems the bobsleigh tour as her "school of life" as a member of the Development Bobsleigh Team, Catherine is also studying to become a Naturopathic Doctor.
She takes advantage of her off-season to stay connected and give back to her community through conducting fitness, movement and hit classes. Catherine has hosted fitness retreats in Ecuador with a multi-dimensional approach that takes clients beyond the physical aspect. Her strategy addresses more than just muscle strength and endurance – it also seeks to improve the mental, emotional and spiritual well-being.
Did You Know…
Catherine's hero is her dad. Today, she can better understand the hardships and sacrifices he's been through to allow for a better life for his kids. She loves to drive the track in Lake Placid and is always up for a trip to Konigssee as a brakewoman. At the 2018 PyeongChang Test Event, Catherine played the drums with a Korean band during the four-man event, encouraging the crowd to chant "CANADA" for the Canadian sleds.
Career Highlights
Gold
Silver
Bronze
Other
2021 - Europe Cup, Igls, AUT

4th
2woman

2020 – Europe Cup, Igls, AUT

11th 2woman
2020 – North American Cup, Lake Placid, USA

2woman

2woman

2woman

2019 – Europe Cup, Konigssee, GER
17th 2woman
2019 – North American Cup, Park City, USA

2woman

2woman

2woman

2019 – North American Cup Monobob, Lake Placid, USA
2woman
2019 – North American Cup, Calgary, CAN
2woman
2woman
2018 – North American Cup, Lake Placid, USA
2woman
2017 – World Cup, Igls, AUT
11th 2woman
2016 – World Cup, Lake Placid, USA
8th 2woman
2016 – North American Cup, Calgary, CAN
2woman
World Championship Results
Brakewoman
Season

Location

Discipline

Result

Crew

2018/19
Whistler, CAN
Team
6th
Doyle, Medeiros, Hol, Charney, Baumgartner, Variola
2016/17
Igls, AUT
2woman
11th
De Bruin, Medeiros
Konigssee, GER
2woman
16th
De Bruin, Medeiros
Winterberg, GER
2woman
18th
De Bruin, Medeiros
Lake Placid, USA
2woman
8th
De Bruin, Medeiros
World Cup Results
Brakewoman
| | | | | |
| --- | --- | --- | --- | --- |
| Season | Location | Discipline | Result | Crew |
| 2016/17 | Innsbruck, AUT | 2woman | 11th | De Bruin, Medeiros |
| | Konigssee, GER | 2woman | 16th | De Bruin, Medeiros |
| | Winterberg, GER | 2woman | 18th | De Bruin, Medeiros |
| | Lake Placid, USA | 2woman | 8th | De Bruin, Medeiros |