Neville Wright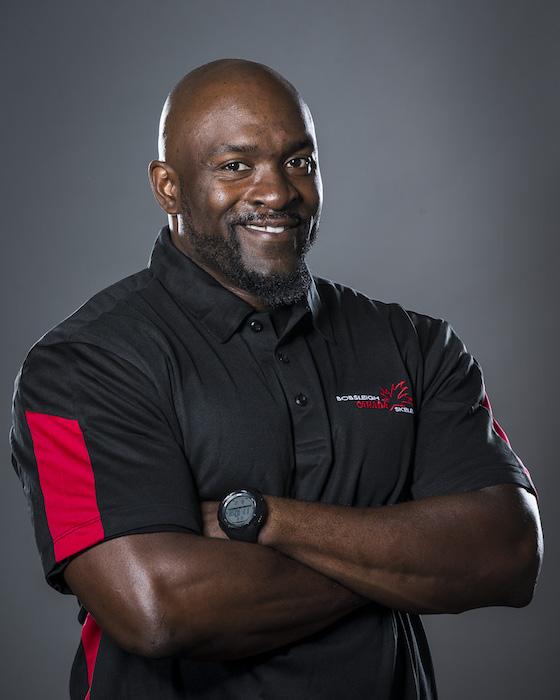 | | |
| --- | --- |
| Sport: | Bobsleigh |
| Position: | Brakeman |
| Height: | 185cm |
| Weight: | 104kg |
| Birth Date: | Dec. 21, 1980 (age 38) |
| Birth Place: | Edmonton, AB |
| Residence: | Edmonton, AB |
| Hometown: | Edmonton, AB |
| Twitter: | @nwright021 |
Neville Wright joined the Canadian Bobsleigh Team in 2009 after a successful track and field career where he was a two-time All-Canadian in University. Neville competed for Canada at the World University Games and World Championships.
After falling short of qualifying for the 2008 Olympic Summer Games in track by two hundredths of a second, he decided to try his hand at bobsleigh in the summer of 2009. He made the team and competed in Pierre Lueders' sled on the World Cup, and at the 2010 Olympic Winter Games. He joined Team Rush in 2010-11 and competed in his second Games in Sochi 2014.
Outside of competition, Neville is a speed and power coach, motivational speaker and currently working on being a manual and rehabilitation therapist.
Neville holds a Bachelor of Physical Education (Activity & Nutrition) from the University of Alberta, and is in his final year of Remedial Massage therapy.
Career Highlights
Bobsleigh:
2018 - World Cup, St. Moritz, SUI: 3 (4-man)
2018 - World Cup, Altenberg, GER: 5 (2-man)
2017 - World Cup, Igls, AUT: 6 (2-man)
2017 - World Cup, Winterberg, GER: 2 (2-man), 5 (4-man)
2017 - World Cup, Whistler, CAN: 1 (2-man)
2017 - World Cup, Park City, USA: 2 (4-man)
2014 – Olympic Winter Games, Sochi, RUS: 9 (4-man)
2010 – Olympic Winter Games, Whistler, CAN: 5 (4-man)
2012 – World Cup, Whistler, CAN: 3 (4-man)
2011 – World Cup, Cesana, ITA: 3 (4-man)
2010 – World Cup, Whistler, CAN: 2 (2-man)
2010 – World Cup, Park City, USA: 3 (4-man)
2010 – World Cup, Lake Placid, USA: 3 (4-man)
2010 – World Cup, Lake Placid, USA: 3 (2-man)
Track and Field
2005 All-Canadian CIS Canadian National Double Gold Medalist (60 metre & 4x200 metre relay)
2006 Pacific World Cup (Canada vs. China) Champion (3 Gold in 100 metre & 1 Gold in the 4x100 metre Relay)
2007 Canadian Outdoor National Championships (100m-bronze)
2007 FISU World University Games (100m-bronze)
2007 IAAF Osaka World Championships (Anchored Canada's 4x100m Relay Team)
Olympic Winter Games Results
2018 – Olympic Winter Games, Pyeongchang, KOR: 16 (4-man)
2014 – Olympic Winter Games, Sochi, RUS: 9 (4-man)
2010 – Olympic Winter Games, Whistler, CAN: 5 (4-man)
World Championship Results
2019 – World Championships, Whistler, CAN: 4 (2-man), 10 (4-man)
2017 – World Championships, Konigssee, GER: 5 (2-man), 13 (4-man)
2013 – World Championships, St. Moritz, SUI: 12 (2-man), 15 (4-man)
2012 – World Championships, Lake Placid, USA: 7 (4-man)
2011 – World Championships, Konigssee, GER: 9 (2-man), 6 (4-man)
World Cup Results
2019 - World Cup, Calgary, CAN: 7 (2-man), 14 (4-man)
2019 - World Cup, Lake Placid, USA: 6 (2-man), 10 (4-man)

2018 - World Cup, Konigssee, GER: 10 (2-man), 8 (4-man)
2018 - World Cup, St. Moritz, SUI: 7 (2-man),3 (4-man)
2018 - World Cup, Altenberg, GER: 4 (2-man), 13 (4-man)

2017 - World Cup, Igls, AUT: 6 (2-man), 13 (4-man)
2017 -World Cup, Winterberg, GER:(2-man), 5 (4-man)
2017 -World Cup, Whistler, CAN: 1 (2-man) 13 (4-man)
2017 – World Cup, Park City, USA: 2 (4-man)
2017 – World Cup, Lake Placid, USA: 12 (2-man)
2017 – World Cup, Pyeongchang, KOR: 7 (2-man), 13 (4-man)
2017 – World Cup, Innsbruck, GER: 13 (2-man, 16 (4-man)
2017 – World Cup, Konigssee, GER: 15 (2-man), 19 (4-man)
2017 – World Cup, St Moritz, SUI: 14 (2-man), 6 (4-man)
2017 – World Cup, Winterberg, GER: 23 (2-man), 21 (4-man)

2016 – World Cup, Whistler, CAN: 6 (4-man)

2014 – World Cup, Konigssee, GER: 3 (4-man)
2014 – World Cup, Innsbruck, AUT: 13 (4-man)
2014 – World Cup, St Moritz, SUI: 9 (4-man)
2014 – World Cup, Winterberg, GER: 9 (4-man), 8 (4-man), 6 (2-man)

2013 – World Cup, Lake Placid, USA: 9 (2-man), 21 (4-man)
2013 – World Cup, Park City, USA: 11 (4-man)
2013 – World Cup, Calgary, CAN: 6 (4-man)
2013 – World Cup, Sochi, RUS: 18 (2-man), 17 (4-man)
2013 – World Cup, Innsbruck, AUT: 8 (2-man), 24 (4-man)
2013 – World Cup, Konigssee, GER: 11 (2-man), 21 (4-man)
2013 – World Cup, Altenberg, GER: 6 (4-man)

2012 – World Cup, La Plagne, FRA: 18 (4-man)
2012 – World Cup, Winterberg, GER: 13 (4-man) 1 (team)
2012 – World Cup, Whistler, CAN: 8 (4-man)
2012 – World Cup, Park City, USA: 12 (4-man)
2012 – World Cup, Lake Placid, USA: 6 (4-man)
2012 – World Cup, Calgary, CAN: 5 (4-man)
2012 – World Cup, Whistler, CAN: 3 (4-man)
2012 – World Cup, St. Moritz, SUI: 7 (4-man)
2012 – World Cup, Konigssee, GER: 8 (4-man)

2011 – World Cup, Winterberg, GER: 20 (4-man)
2011 – World Cup, La Plagne, FRA: 5 (2-man), 11 (4-man)
2011 – World Cup, Innsbruck, AUT: 13 (4-man)
2011 – World Cup, Cesana, ITA: 4 (2-man), 3 (4-man)
2011 – World Cup, St. Moritz, SUI: 5 (2-man), 9 (4-man)
2011 – World Cup, Winterberg, GER: 11 (2-man), 18 (4-man)
2011 – World Cup, Innsbruck, AUT: 10 (2-man), 7 (4-man)

2010 – World Cup, Lake Placid, USA: 5 (2-man), 3 (4-man)
2010 – World Cup, Park City, USA: 9 (2-man), 3 (4-man)
2010 – World Cup, Calgary, CAN: 5 (2-man), 6 (4-man)
2010 – World Cup, Whistler, CAN: 2 (2-man), 6 (4-man)
2010 – World Cup, Innsbruck, AUT: 16 (4-man)
2010 – World Cup, St. Mortiz, SUI: 6 (4-man)
2010 – World Cup, St. Konigssee, GER: 9 (4-man)

2009 – World Cup, Winterberg, GER: 19 (2-man), 13 (4-man)
2009 – World Cup, Cesana, ITA: 10 (4-man)
2009 – World Cup, Lake Placid, USA: 3 (team)
2009 – World Cup, Park City, USA: 9 (2-man), 10 (4-man)