Sam Giguère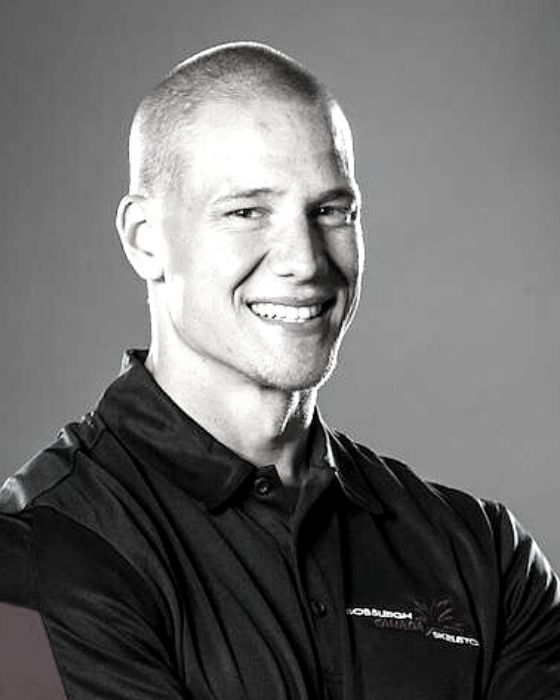 | | |
| --- | --- |
| Sport: | Bobsleigh |
| Position: | Brakeman |
| Height: | 180cm |
| Weight: | 98kg |
| Birth Date: | Jul. 11, 1985 (age 37) |
| Birth Place: | Sherbrooke, Que. |
| Residence: | Sherbrooke, Que. |
| Hometown: | Sherbrooke, Que. |
| Twitter: | @samgiguere |
A two-sport athlete, who was recruited to the Canadian Bobsleigh program in 2012 while playing football with the Hamilton Tiger Cats of the CFL, Sam adds another dimension to a talented pool of brakemen.
Sam is a stand-out football player with the Montreal Allouettes. He played three years for Sherbrooke University while majoring in accounting. He was the first team all-conference three years running and first all-Canadian in 2007. Sam played in the East-West Shrine Game in Houston, Texas in 2008 – the same year he was drafted eighth overall to the Ti-Cats in the CFL Canadian Draft.
Other highlights include: playing for Team Canada during the Global Junior Championship in Jackson, FL in 2005, and in the CIS East-West Bowl in 2007 where he was named offensive player-of-the-game.
Sam and his wife, Roselyne Thibault, have a daughter named Lily-Rose.
CAREER
2011: Attended training camp with the NFL's New York Giants and was waived/injured on August 23.
2010: Attended training camp with the NFL's Indianapolis Colts and was among their final cuts on September 4…joined the New York Giants on October 19, remaining on their practice roster for the rest of the year.
2009: Suited up in one game with the NFL's Indianapolis Colts after spending a majority of the season on their practice squad…returned five kickoffs for 122 yards.
2008: Signed with the NFL's Indianapolis Colts and spent the season on their practice squad…was picked by the Ticats in the first round (8th overall) of the 2008 CFL Canadian Draft.
COLLEGE
Played three seasons at Sherbrooke (2005-07)…caught 94 passes for 1,950 yards and 17 touchdowns…named a first-team all-Canadian in 2007…named a QUFL All-Star in 2006…named Sherbrooke's rookie of the year after his 2005 campaign…his 871 receiving yards in 2007 set a school record and now sit second all-time in Vert & Or history…was a member of Sherbrooke's track and field team, competing in 60m, 4x200m and shot put. 

Career Highlights
Brakeman​
Gold
Silver
Bronze
Other
2016 – World Cup, Lake Placid, USA
4man
2016 – World Championships, Igls, AUT
12th 4man
2016 – World Cup, Park City, USA
9th 4man
2016 – World Cup, Lake Placid, USA
12th 4man
2013 – World Cup, Winterberg, GER

12th 4man

10th 2man

2013 – World Cup, La Plagne, FRA

14th 4man

16th 2man

2013 – World Cup, Konigssee, GER
12th 4man
2013 – World Cup, Igls, AUT
11th 2man
2013 – World Championships, St. Moritz, SUI:
17th 4man
2013 – World Cup, Sochi, RUS
7th 4man
Olympic Winter Games Results
| | | | | |
| --- | --- | --- | --- | --- |
| Season | Location | Discipline | Result | Crew |
| 2020/21 | Beijing, CHN | 4man | 9th | Spring, Evelyn, Giguere, Sorensen |
World Championship Results
Brakeman
| | | | | |
| --- | --- | --- | --- | --- |
| Season | Location | Discipline | Result | Crew |
| 2015/16 | Igls, AUT | 4man | 12th | Spring, Brown, Kirkpatrick, Giguère |
| | | Team | 8th | Martineau, Vathje, Rissling, Giguère, Spring, Corrente |
| 2012/13 | St. Moritz, SU | 4man | 17th | Spring, Sorenson, Carriere, Giguère |
World Cup Results
Brakeman
| | | | | |
| --- | --- | --- | --- | --- |
| Season | Location | Discipline | Result | Crew |
| 2021/22 | | | | |
| | St Moritz, SUI | 4man | 9th | Spring, Evelyn, Sorensen, Giguere |
| | Winterberg, GER | 4man | 8th | Spring, Evelyn, Sorensen, Giguere |
| | Winterberg, GER | 4man | 13th | Spring, Evelyn, Sorensen, Giguere |
| | | 4man | 15th | Spring, Evelyn, Sorensen, Giguere, Gray |
| | Altenberg, GER | 4man | 11th | Spring, Evelyn, Sorensen, Giguère |
| | Igls, AUT | 4man | 24th | Spring, Evelyn, Sorensen, Giguère |
| | | 2man | 14th | Spring, Giguère |
| | | 4man | 13th | Spring, Evelyn, Sorensen, Giguère |
| 2019/20 | | | | |
| | Sigulda, LAT | 2man | 3rd | Kripps, Giguère |
| 2017/18 | | | | |
| | Altenberg, GER | 4man | 20th | Poloniato, Giguère, Plug, Coakwell |
| 2016/17 | | | | |
| | Lake Placid, USA | 4man | 3rd | Spring, Stones, Giguère, Brown |
| 2015/16 | | | | |
| | Konigssee, GER | 2man | 19th | Spring, Giguère |
| | | 4man | 18th | Spring, Stones, Plug, Giguère |
| | St Moritz, SUI | 4man | 26th | Spring, Brown, Giguère, Kirkpatrick |
| | Park City, USA | 4man | 17th | Spring, Brown, Giguère, Kirkpatrick |
| | | 4man | 9th | Spring, Kirkpatrick, Giguère, Stones |
| | Lake Placid, USA | 4man | 12th | Spring, Giguère, Stones, Kirkpatrick |
| 2012/13 | | | | |
| | Winterberg, GER | 2man | 12th | Kripps, Giguère |
| | | 4man | 10th | Kripps, Carriere, McNaughton, Giguère |
| | La Plagne, FRA | 2man | 16th | Kripps, Giguère |
| | | 4man | 14th | Kripps, Carriere, McNaughton, Giguère |
| | Konigssee, GER | 4man | 12th | Kripps, Carriere, McNaughton, Giguère |
| | Igls, AUT | 2man | 11th | Kripps, Giguère |
| | | 4man | 22nd | Kripps, Carriere, McNaughton, Giguère |
| | Sochi, RUS | 4man | 7th | Spring, Giguère, Carriere, Sorenson |