Cam Stones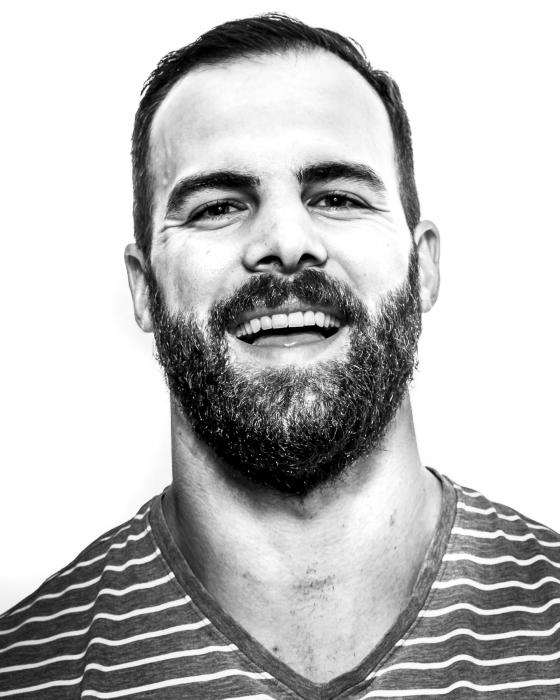 | | |
| --- | --- |
| Sport: | Bobsleigh |
| Position: | Brakeman |
| Birth Date: | Jan. 5, 1992 (age 30) |
| Birth Place: | Whitby, Ont. |
| Residence: | Whitby, Ont. |
| Twitter: | @CamStones |
| Instagram: | @tombstones |
With plenty of size, speed and aggressiveness, Cam Stones was a natural to transition from rugby to bobsleigh. In 2012 he had captained Canada to the U20 Junior World Rugby trophy. He'd also enjoyed a successful varsity career at McMaster University.
Cam made his international bobsleigh debut in January 2015 in a North American Cup race. He returned to the North American Cup circuit to start the 2015-16 season before making his World Cup debut in January 2016 as a member of Chris Spring's four-man crew.
He competed in a World Cup two-man race for the first time in February 2016 with pilot Nick Poloniato, with his World Championship debut coming later in the year in the non-Olympic team event. Cam moved to the World Cup circuit fulltime in 2016-17 and earned his first medal, a four-man bronze, in Lake Placid with Chris Spring, Lascelles Brown and Samuel Giguere. He was also in Spring's four-man sled at the 2017 World Championships.
Cam made his Olympic debut at the 2018 Games in PyeongChang where he was part of Nick Poloniato's 12th-place finishing crew.
His eyes now squarely focused on the 2022 Olympic Winter Games, Cam joined forces with Justin Kripps' crew in 2019 for the charge towards the Beijing Games. Cam pushed Kripps in both the two- and four-man races.
The crew showed immediate chemistry. Cam pushed Team Kripps to six podium finishes in a shortened World Cup season. With two, two-man silvers in Europe and a bronze in the two-man along with a gold in the four-man races in Lake Placid, Cam pushed Kripps to the silver at the World Championships in the two-man, and bronze in the four-man race.
The four-medal triumph led to Team Kripps being named Team of the Year at the Canadian Sport Awards.
The squad proved in 2020 they will continue to be a force to reckon with on the track to Beijing 2022. Team Kripps finished third in the Overall World Cup two- and four-man standings. They were second in the Overall Combined World Cup standings.
Career Highlights
Gold
Silver
Bronze
Other
2021 - World Cup, Igls, AUT
4man
2021- World Cup, Koniggsee, GER

4th 2man
5th 4man

2021 - World Cup, St Moritz, SUI

2man

4man

2021 - World Cup, Winterberg, GER
2man
5th 4man
2020 - World Cup, Sigulda, LAT
2man
2020 – World Cup, St. Moritz, SUI

4man

5th 2man
2020 – World Cup, Konigssee, GER
2man
4man
2020 – World Cup, Igls, AUT

5th 4man

2020 – World Cup, La Plagne, FRA
5th 4man
2020 – World Cup, Winterberg, GER
5th 4man
2019 – World Cup, Lake Placid, USA
4man
2man
2019 – World Championships, Whistler, CAN
2man
4man
2019 – World Cup, Calgary, CAN
5th 4man
2019 – World Cup, Lake Placid, USA
4man
2man
2019 – World Cup, Igls, AUT

4th 2man
6th 4man

2019 – World Cup, Kongissee, GER
2man
5th 4man
2019 – World Cup, Altenberg, GER
2man
12th 4man
2018 – Olympic Winter Games, PyeongChang, KOR
12th 4man
2018 – World Cup, Konigssee, GER
8th 4man
2017 – World Cup, Winterberg, GER
5th 4man
2017 – World Cup, Park City, USA

6th 4man
11th 4man

2017 – World Cup, Winterberg, GER
9th 4man
2016 – World Cup, Lake Placid, USA
4man
2016 – World Cup, Park City, USA
9th 4man
Olympic Winter Games Results
Brakeman
| | | | | |
| --- | --- | --- | --- | --- |
| Season | Location | Discipline | Result | Crew |
| 2021/22 | Beijing, CHN | 2man | 10th | Kripps, Stones |
| | | 4man | 3rd | Kripps, Stones, Sommer, Coakwell |
| 2017/18 | Pyeongchang, KOR | 4man | 12th | Poloniato, Coakwell, Stones, Kirkpatrick |
World Championship Results
Brakeman
| | | | | |
| --- | --- | --- | --- | --- |
| Season | Location | Discipline, | Result | Crew |
| 2020/21 | Altenberg | 2man | 10th | Kripps, Stones |
| | | 4man | 5th | Kripps, Sommer, Stones, Coakwell |
| 2019/20 | Altenberg, GER | 2man | 11th | Kripps, Stones |
| 2018/19 | Whistler, CAN | 2man | 3rd | Kripps, Stones |
| | | 4man | 2nd | Kripps, Stones, Coakwell, Sommer |
| 2016/17 | Koenigssee, GER | 4man | 13th | Spring, Kirkpatrick, Stones, Wright |
| | | team | 8th | Greszczyszyn, Dagenais-Everell, Spring, Rissling, Stones, Channell |
| 2015/16 | Innsbruck, AUT | team | 11th | Crumpton, Stones, Prediger, Hurley, Eberling, Poloniato |
World Cup Results
| | | | | |
| --- | --- | --- | --- | --- |
| Season | Location | Discipline | Result | Crew |
| 2021/22 | | | | |
| | St Moritz, SUI | 2man | 2nd | Kripps, Stones |
| | | 4man | 5th | Kripps, Sommer, Dearborn, Stones |
| | Winterberg, GER | 2man | 3rd | Kripps, Stones |
| | | 4man | 5th | Kripps, Sommer, Coakwell, Stones |
| | Sigulda, LAT | 2man | 8th | Kripps, Stones |
| | Altenberg, GER | 4man | 2nd | Kripps, Sommer, Coakwell, Stones |
| | | 2man | 3rd | Kripps, Stones |
| | Winterberg, GER | 4man | 3rd | Kripps, Sommer, Coakwell, Stones |
| | | 4man | 4th | Kripps, Sommer, Coakwell, Stones |
| | Altenberg, GER | 4man | 5th | Kripps, Sommer, Coakwell, Stones |
| | Igls, AUT | 4man | 3rd | Kripps, Sommer, Coakwell, Stones |
| | | 2man | 3rd | Kripps, Stones |
| | | 4man | 6th | Kripps, Sommer, Coakwell, Stones |
| | | 2man | 4th | Kripps, Stones |
| | | | | |
| 2020/21 | | | | |
| | Igls, AUT | 4man | 3rd | Kripps, Sommer, Coakwell, Stones |
| | Koenigssee, GER | 2man | 4th | Kripps, Stones |
| | | 4man | 5th | Kripps, Sommer, Coakwell, Stones |
| | St Moritz, SUI | 2man | 3rd | Kripps, Stones |
| | | 4man | 3rd | Kripps, Sommer, Coakwell, Stones |
| | Winterberg, GER | 2man | 5th | Kripps, Stones |
| | | 4man | 2nd | Kripps, Sommer, Coakwell, Stones |
| 2019/20 | | | | |
| | St. Moritz, SUI | 2man | 5th | Kripps, Stones |
| | | 4man | 1st | Kripps, Sommer, Stones, Coakwell |
| | Koenigssee, GER | 2man | 2nd | Kripps, Stones |
| | | 4man | 3rd | Kripps, Sommer, Stones, Coakwell |
| | Igls, AUT | 4man | 5th | Kripps, Sommer, Stones, Coakwell |
| | La Plagne, FRA | 2man | 10th | Kripps, Stones |
| | | 4man | 5th | Kripps, Sommer, Stones, Coakwell |
| | Winterberg, GER | 4man | 5th | Kripps, Sommer, Stones, Coakwell |
| | | 4man | 6th | Kripps, Sommer, Stones, Coakwell |
| | Lake Placid, USA | 4man | 1st | Kripps, Sommer, Stones, Coakwell |
| | | 4man | 1st | Kripps, Sommer, Stones, Coakwell |
| | Lake Placid, USA | 2man | 3rd | Kripps, Stones |
| 2018/19 | | | | |
| | Calgary, CAN | 4man | 5th | Kripps, Sommer, Stones, Coakwell |
| | Lake Placid, USA | 2man | 3rd | Kripps, Stones |
| | | 4man | 1st | Kripps, Sommer, Stones, Coakwell |
| | Innsbruck, AUT | 2man | 4th | Kripps, Stones |
| | | 4man | 6th | Kripps, Sommer, Stones, Coakwell |
| | Koenigssee, GER | 2man | 2nd | Kripps, Stones |
| | | 4man | 6th | Kripps, Sommer, Stones, Coakwell |
| | Altenberg, GER | 2man | 2nd | Kripps, Stones |
| | | 4man | 12th | Kripps, Sommer, Stones, Coakwell |
| 2017/18 | | | | |
| | Koenigssee, GER | 2man | 17th | Spring, Barnett, Stones |
| | | 4man | 8th | Spring, Wright, Kirkpatrick, Stones |
| | St. Moritz, SUI | 4man | 22nd | Poloniato, Stones, Kirkpatrick, Plug |
| | Altenberg, GER | 4man | 13th | Spring, Wright, Kirkpatrick, Stones |
| | Innsbruck, AUT | 4man | 13th | Spring, Wright, Kirkpatrick, Stones |
| | Winterberg, GER | 4man | 5th | Spring, Wright, Kirkpatrick, Stones |
| | Whistler, CAN | 4man | 13th | Spring, Wright, Kirkpatrick, Stones |
| | Park City, USA | 4man | 6th | Poloniato, Stones, Kirkpatrick, Plug |
| | | 4man | 11th | Poloniato, Stones, Kirkpatrick, Plug |
| 2016/17 | | | | |
| | PyeongChang, KOR | 4man | 13th | Spring, Stones, Wright, Kirkpatrick |
| | Innsbruck, GER | 4man | 16th | Spring, Wright, Kirkpatrick, Stones |
| | Koenigssee, GER | 4man | 19th | Spring, Stones, Wright, Brown |
| | St Moritz, SUI | 4man | 16th | Kripps, Stones, Coakwell, Lumsden |
| | Winterberg, GER | 4man | 9th | Kripps, Stones, Coakwell, Lumsden |
| | Lake Placid, USA | 4man | 3rd | Spring, Stones, Giguere, Brown |
| | Whistler, CAN | 4man | 6th | Spring, Stones, Wright, Brown |
| 2015/16 | | | | |
| | Koenigssee, GER | 4man | 18th | Spring, Stones, Plug, Giguere |
| | St Moritz, SUI | 2man | 22nd | Poloniato, Stones |
| | Park City, USA | 4man | 9th | Spring, Giguere, Stones, Kirkpatrick |
| | Lake Placid, USA | 4man | 12th | Spring, Giguere, Stones, Kirkpatrick |