Christopher Spring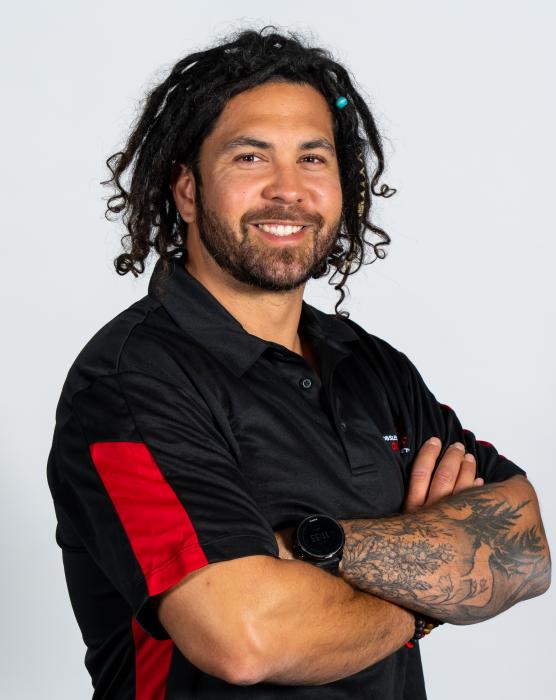 Chris got involved in the sport of bobsleigh while living in Calgary for a year on a working visa when he watched the 2007 Canadian Championships. He was immediately hooked and quickly began researching how to get involved.

Chris' foundation in bobsleigh began in 2008 when he took the driving school in Calgary to learn the fundamentals of driving the sled. He competed on the development circuits for the next two years and competed for Australia at the 2010 Olympic Winter Games in Vancouver.
Chris relishes the opportunity to represent Canada on the international circuit after receiving his Canadian citizenship on Canada Day in 2013.
Now one of Canada's top pilots, Chris returned to the World Cup after sustaining a horrific season-ending crash during training in Altenberg, Germany. He came back stronger than ever as he went on to win his first ever World Cup medal – a bronze in the four-man event at the World Cup in Whistler. In 2013, along with brakeman Jesse Lumsden, Chris kicked off the 2014 Olympic year with his first podium finish in the two-man discipline – a bronze at the World Cup in Calgary. Chris and Lascelles Brown also celebrated his first World Cup victory in Whistler in 2017. He was on the podium for the first time in his career in both 2- and 4-man racing when he won back-to-back bronze medals in Lake Placid two years ago.
Chris slid to third overall in the 2018 World Cup two-man standings, thanks to a victory at the Whistler World Cup and a silver in Winterberg. He also added a bronze at the birthplace of the sport in St. Moritz in four-man racing, and another in Park City. Chris slid to his second Olympic Winter Games in 2018 Pyeongchang. After giving his body a rest in 2019, while following a passion to fly airplanes by working on his pilot's license, Chris is back on the bobsleigh track for the drive to Beijing 2022.
When not training or competing, Chris loves to play guitar, writes songs and sings as loud as he can. He also enjoys being in the mountains where he is able connect himself with mother nature. Although he admits he has a terrible voice, he does love to write songs and sing. Chris enjoys quiet times and also meaningful conversation with good people. Regardless of the activity in front of him – one thing is for sure – he is always on the search for the next euphoric moment.
Career Highlights
Gold
Silver
Bronze
Other
2021 - World Championships, Altenberg, GER

9th 2man

10th 4man

2021 Europe Cup, Altenberg, GER
4man
2man
2man
2019 - World Championships, Whistler, CAN
2man
10th 4man
2019 - World Cup, Lake Placid, USA
6th 2man
Overall in 2018 World Cup (2man)
2018 – World Cup, St. Moritz, SUI
4man
7th 2man
2017 – World Cup, Igls, AUT
6th 2man
2017 – World Cup, Winterberg, GER
2man
5th 4man
2017 – World Cup, Whistler, CAN
2man
2017 – World Cup, Park City, USA
4man
5th 4man
2017 – World Championships, Konigssee, GER

13th 2man

13th 4man

2016 – World Cup, Lake Placid, USA

2man

4man

2016 – World Championships, Igls, AUT

6th 2man

12th 4man

2016 – World Cup, Whistler, CAN
2man
5th 2man
2014 – World Cup, Olympic Winter Games, Sochi, RUS

7th 2man

13th 4man

2014 – World Cup, St. Moritiz, SUI

6th 2man

4th 4man

2013 – World Championships, St. Moritz, SUI
6th 2man
2013 – World Cup, Lake Placid, USA

6th 2man

4th 4man

2013 – World Cup, Calgary, CAN
2man
4th 4man
2013 – World Cup, Igls, AUT

8th 2man

7th 4man

2013 – World Cup, Sochi, RUS
6th 2man
2012 – World Cup, Park City, USA

8th 2man

8th 4man

2012 – World Cup, Whistler, CAN
4man
5th 2man
- Five top-10 finishes during rookie season on World Cup in 2012/ Cinq résultats top-10 au cours de sa première saison de pilote de Coupe du Monde en 2012
- Competed for Australia at 2010 Olympic Winter Games/ Il a concouru pour l'Australie aux Jeux olympiques d'hiver 2010
- Competed in 2011 World Championships in Konigssee, GER: 14 (4-man); 19 (2-man)/ Il a concouru au Championnat du monde 2011 à Konigssee, Allemagne: 14 (bob à quatre); 19 (bob à deux)
- 2009 World Championships, Lake Placid, États-Unis: 29 (2-man)/ Championnat du monde 2009, Lake Placid, États-Unis: 29 (bob à deux)

Olympic Winter Games Results
Pilot
| | | | | |
| --- | --- | --- | --- | --- |
| Season | Location | Discipline | Result | Crew |
| 2021/22 | Beijing, CHN | 2man | 7th | Spring, Evelyn |
| | | 4man | 9th | Spring, Evelyn, Giguere, Sorensen |
| 2017/18 | PyeongChang, KOR | 2man | 10th | Spring, Brown |
| | | 4man | 16th | Spring, Barnett, Wright, Brown |
| 2013/14 | Sochi, RUS | 2man | 7th | Spring, Lumsden |
| | | 4man | 11th | Spring, Randall, Barnett, Mcnaughton |
| 2009/10 | Whistler, CAN | 2man | 22nd | Spring, Harvey, Ryan (AUSTRALIA) |
World Championship Results
Pilot
| | | | | |
| --- | --- | --- | --- | --- |
| Season | Location | Discipline | Result | Crew |
| 2020/21 | Altenberg, GER | 2man | 9th | Spring, Evelyn |
| | | 4man | 10th | Spring, Patrician, Evelyn, Mlakar |
| 2018/19 | Whistler, CAN | 2man | 4th | Spring, Wright |
| | | 4man | 10th | Spring, Auclair, Janke, Wright |
| 2016/17 | Konigssee, GER | 2man | 13th | Spring, Kopacz |
| | | 4man | 13th | Spring, Kirkpatrick, Stones, Wright |
| | | Team | 8th | Greszczyszyn, Dagenais-Everell, Spring, Rissling, Stones, Channell |
| 2015/16 | Igls, AUT | 2man | 6th | Spring, Brown |
| | | 4man | 12th | Spring, Brown, Kirkpatrick, Giguere |
| | | Team | 8th | Martineau, Vathje, Rissling, Giguere, Spring, Corrente |
| 2014/15 | Winterberg, GER | 2man | 18th | Spring, Plug |
| | | 4man | 8th | Spring, Brown, Kopacz, Plug |
| 2012/13 | St. Moritz, SUI | 2man | 6th | Spring, Brown |
| | | 4man | 17th | Spring, Sorensen, Carriere, Giguere |
| 2010/11 | Konigssee, GER | 2man | 19th | Spring, Randall |
| | | 4man | 14th | Spring, Plug, Rinholm, Randall |
| | | Team | 7th | Douglas, Gough, Plug, Upperton, Spring, Brown |
World Cup Results
Pilot
| | | | | |
| --- | --- | --- | --- | --- |
| Season | Location | Discipline | Result | Crew |
| 2021/22 | | | | |
| | St Mortiz, SUI | 2man | 13th | Spring, Evelyn |
| | | 4man | 9th | Spring, Evelyn, Sorensen, Giguere |
| | Winterberg, GER | 2man | 10th | Spring, Dearborn |
| | | 4man | 8th | Spring, Evelyn, Sorensen, Giguere |
| | Altenberg, GER | 2man | 4th | Spring, Evelyn |
| | | 4man | 15th | Spring, Evelyn, Sorensen, Gray |
| | Winterberg, GER | 4man | 13th | Spring, Evelyn, Sorensen, Giguere |
| | | 4man | 15th | Spring, Evelyn, Sorensen, Giguere, Gray |
| | Altenberg, GER | 2man | 4th | Spring, Evelyn |
| | | 4man | 11th | Spring, Evelyn, Sorensen, Giguere |
| | Igls, AUT | 2man | 14th | Spring, Giguere |
| | | 4man | 24th | Spring, Evelyn, Sorensen, Giguere |
| | | 2man | 8th | Spring, Evelyn |
| | | 4man | 13th | Spring, Evelyn, Sorensen, Giguere |
| 2020/21 | | | | |
| | Igls, AUT | 2man | 11th | Spring, Evelyn |
| | | 4man | 16th | Spring, Mlakar, Evelyn, Patrician |
| | Konigssee, GER | 2man | 10th | Spring, Evelyn |
| | | 4man | 8th | Spring, Mlakar, Evelyn, Patrician |
| | St Moritz, SUI | 2man | 11th | Spring, Evelyn |
| | | 4man | 11th | Spring, Mlakar, Evelyn, Murray-Lawrence |
| 2018/19 | | | | |
| | Lake Placid, USA | 2man | 6th | Spring, Wright |
| | | 4man | 10th | Spring, Wright, Goncalves, Janke |
| 2017/18 | | | | |
| | Konigssee, GER | 2man | 17th | Spring, Barnett, Stones |
| | | 4man | 8th | Spring, Kirkpatrick, Stones, Wright |
| | St. Moritz, SUI | 2man | 7th | Spring, Lumsden |
| | | 4man | 3rd | Spring, Kirkpatrick, Stones, Wright |
| | Altenberg, GER | 2man | 18th | Spring, Lumsden |
| | | 4man | 8th | Spring, Kirkpatrick, Stones, Wright |
| | Igls, AUT | 2man | 6th | Spring, Wright |
| | | 4man | 13th | Spring, Kirkpatrick, Stones, Wright |
| | Winterberg, GER | 2man | 2nd | Spring, Wright |
| | | 4man | 5th | Spring, Kirkpatrick, Stones, Wright |
| | Whistler, CAN | 2man | 1st | Spring, Wright |
| | | 4man | 13th | Spring, Kirkpatrick, Stones, Wright |
| | Park City, USA | 4man | 3rd | Spring, Smith, Lumsden, Kopacz |
| | | 4man | 5th | Spring, Smith, Lumsden, Kopacz |
| | Lake Placid, USA | 2man | 2nd | Spring, Lumsden |
| | | 2man | 7th | Spring, Kopacz |
| 2016/17 | | | | |
| | Pyeongchang, KOR: | 2man | 7th | Spring, Wright |
| | | 4man | 13th | Spring, Kirkpatrick, Stones, Wright |
| | Innsbruck, AUT | 2man | 13th | Spring, Brown, Wright |
| | | 4man | 16th | Spring, Wright, Kirkpatrick, Stones |
| | Konigssee, GER | 2man | 15th | Spring, Wright |
| | | 4man | 19th | Spring, Kirkpatrick, Stones, Wright |
| | St. Moritz, SUI | 2man | 14th | Spring, Wright |
| | | 4man | 6th | Spring, Randall, Wright, Kirkpatrick |
| | Winterberg, GER | 2man | 23rd | Spring, Wright |
| | | 4man | 21st | Spring, Wright, Randall, Kirkpatrick |
| | Lake Placid, USA | 2man | 3rd | Spring, Brown |
| | | 4man | 3rd | Spring, Stones, Guguere, Brown |
| | Whistler, CAN | 2man | 10th | Spring, Brown |
| | | 4man | 6th | Spring, Stones, Wright, Brown |
| 2015/16 | | | | |
| | Konigsee, GER | 2man | 19th | Spring, Giguere |
| | | 4man | 18th | Spring, Stones, Plug, Giguere |
| | St Moritz, SUI | 2man | 13th | Spring, Brown |
| | | 4man | 26th | Spring, Brown, Giguere, Kirkpatrick |
| | Whistler, CAN | 2man | 1st | Spring, Brown |
| | | 4man | 5th | Spring, Brown |
| | Park City, USA | 4man | 17th | Spring, Brown, Kirkpatrick, Giguere |
| | | 4man | 9th | Spring, Kirkpatrick, Giguere, Stones |
| | Lake Placid, USA | 2man | 12th | Spring, Brown |
| | | 4man | 12th | Spring, Giguere, Stones, Kirkpatrick |
| | KoenIgssee, GER | 2man | 22nd | Spring, Plug |
| | Winterberg, GER | 2man | 11th | Spring, Plug |
| | Altenberg, GER | 2man | 21st | Spring, Plug |
| 2014/15 | | | | |
| | Sochi, RUS | 2man | 14th | Spring, Plug |
| | | 4man | 10th | Spring, Kirkpatrick, Plug, Kopacz |
| | Innsbruck, AUT | 2man | 14th | Spring, Kopacz |
| | | 4man | 13th | Spring, Kirkpatrick, Kopacz, Plug |
| | La Plagne, FRA | 2man | 17th | Spring, Kopacz |
| | | 4man | 12th | Spring, Kirkpatrick, Kopacz, Plug |
| | St Moritz, SUI | 2man | 16th | Spring, Kopacz |
| | | 4man | 16th | Spring, Kirkpatrick, Kopacz, Plug |
| | KoenIgssee, GER | 2man | 12th | Spring, Kopacz |
| | | 4man | 14th | Spring, Kirkpatrick, Kopacz, Plug |
| | Altenberg, GER | 2man | 16th | Spring, Plug |
| | | 4man | 10th | Spring, Kirkpatrick, Kopacz, Plug |
| | Calgary, CAN | 2man | 12th | Spring, Brown |
| | | 4man | 10th | Spring, Kirkpatrick, Kopacz, Plug |
| | Lake Placid, USA | 2man | 14th | Spring, Kopacz |
| | | 4man | 10th | Spring, Kirkpatrick, Plug, Kopacz |
| 2013/14 | | | | |
| | Koenigssee, GER | 2man | 8th | Spring, Lumsden |
| | | 4man | 12th | Spring, Coakwell, Sorensen, Lumsden |
| | Innsbruck, AUT | 2man | 9th | Spring, Lumsden |
| | | 4man | 6th | Spring, Lumsden, Coakwell, Sorensen |
| | St Moritz, SUI | 2man | 6th | Spring, Lumsden |
| | | 4man | 4th | Spring, Coakwell, Lumsden, Sorensen |
| | Winterberg, GER | 2man | 9th | Spring, Lumsden |
| | | 4man | 7th | Spring, Coakwell, Sorensen, Lumsden |
| | Lake Placid, USA | 2man | 6th | Spring, Lumsden |
| | | 4man | 4th | Spring, Coakwell, Lumsden, Sorensen |
| | Park City, USA | 2man | 12th | Spring, Lumsden |
| | | 4man | 7th | Spring, Coakwell, Lumsden, Sorensen |
| | Calgary, CAN | 2man | 3rd | Spring, Lumsden |
| | | 4man | 4th | Spring, Sorensen, Lumsden, Coakwell |
| 2012/13 | | | | |
| | Sochi, RUS | 2man | 6th | Spring, Brown |
| | | 4man | 7th | Spring, Giguere, Carriere, Sorensen |
| | Innsbruck, AUT | 2man | 8th | Spring, Wright |
| | | 4man | 24th | Spring, Wright, Rosenke, Coakwell |
| | Koenigssee, GER | 2man | 11th | Spring, Wright |
| | | 4man | 21st | Spring, Randall, Coakwell, Wright |
| | La Plagne, FRA | 2man | 15th | Spring, Rosenke |
| | | 4man | 18th | Spring, Rosenke, Coakwell, Demetre |
| | Winterberg, GER | 2man | 10th | Spring, Coakwell |
| | | 4man | 22nd | Spring, Demetre, Coakwell, Rosenke |
| | | Team | 7th | Fairbairn, De Bruin, Spring, Ciochetti, Hollingsworth, Rinholm |
| | Whistler, CAN | 2man | 5th | Spring, Lumsden |
| | | 4man | 3rd | Spring, Rosenke, Randall, Coakwell |
| | Park City, USA | 2man | 8th | Spring, Rosenke |
| | | 4man | 8th | Spring, Randall, Rosenke, Coakwell |
| | Lake Placid, USA | 2man | 13th | Spring, Coakwell |
| | | 4man | 10th | Spring, Coakwell, Randall, Rosenke |
| 2011/12 | | | | |
| | Winterberg, GER | 2man | 9th | Spring, Plug |
| | | 4man | 10th | Spring, Randall, Plug, Rinholm |
| | La Plagne, FRA | 2man | 6th | Spring, Plug |
| | | 4man | 9th | Spring, Plug, Randall, Rinholm |
| | Innsbruck, AUT | 2man | 13th | Spring, Randall |
| | | 4man | 10th | Spring, Rinholm, Plug, Randall |
| | | Team | 5th | Fairbairn, Reid, Spring, Ismailova, Plug, Tokovaya |
| 2010/11 | | | | |
| | Cesana, ITA | 2man | 17th | Spring, Wilkinson |