Taylor Austin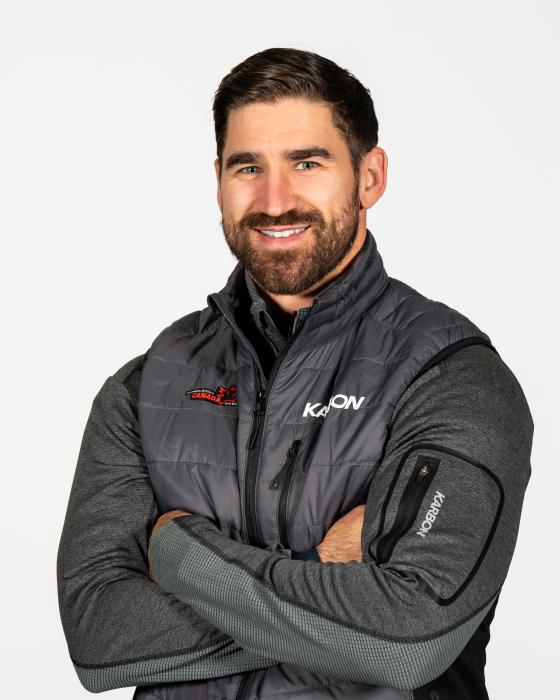 Taylor Austin was recruited into bobsleigh as a brakeman after playing college football in Calgary. In his rookie season, he also participated in a driving school – first in Calgary and then again at the end of year in Lake Placid.
Today, he is one of three NextGen bobsleigh pilots in the national program. Taylor also enjoys helping coach learn-to-push camps with new recruits, and high school programs with Alberta Bobsleigh. In addition to chasing the international podium, Taylor has given hundreds of Canadians the thrill of sitting in a sled while blasting down the Olympic Tracks in Calgary or Whistler as a pilot of the public bobsleigh programs. He loves seeing the fear at the top turn to smiles at the bottom.
His most memorable moment in the sport though is having two-time Olympic medalist, Lascelles Brown, push him en route to capturing his first North American Cup title in Park City.

Career Highlights
Gold
Silver
Bronze
Other
2022 - World Cup, Whistler, CAN
4-Man
2022 - North American Cup, Whistler, CAN
4-Man

2-Man

2-Man

4-Man

2020 – North American Cup, Lake Placid, USA


4man

4man

4man

2man

2man

2man

2019 – North American Cup, Park City, USA

4man

4man

4man

2man

2man

2man

2018 - North American Cup, Calgary, CAN
2man
2018 - North American Cup, Whistler, CAN
2man

2017 - North American Cup, Whistler, CAN
2man
4man
2017 – North American Cup, Lake Placid, USA
2man
2017 – North American Cup, Park City, USA
2man
4man
2012 - North American Cup, Calgary, CAN
4man
2012 - North American Cup, Calgary, CAN
4man
Olympic Winter Games Results
Pilot
| | | | | |
| --- | --- | --- | --- | --- |
| Season | Location | Discipline | Result | Crew |
| 2021/22 | Beijing, CHN | 2man | 20th | Austin, Sunderland |
| | | 4man | 23rd | Austin, Dearborn, Patrician, Sunderland |
World Cup Results
| | | | | |
| --- | --- | --- | --- | --- |
| Season | Location | Discipline | Result | Crew |
| 2022/23 | | | | |
| | Whistler, CAN | 2-Man | 6th | Austin, Murray-Lawrence |
| | | 4-Man | 3rd | Austin, Murray-Lawrence, De Souza, Gray |
| 2021/22 | | | | |
| | St Moritz, SUI | 2man | 18th | Austin, Dearborn, Murray-Lawrence |
| | | 4man | 13th | Austin, Murray-Lawrence, Sunderland, Patrician |