Jaclyn LaBerge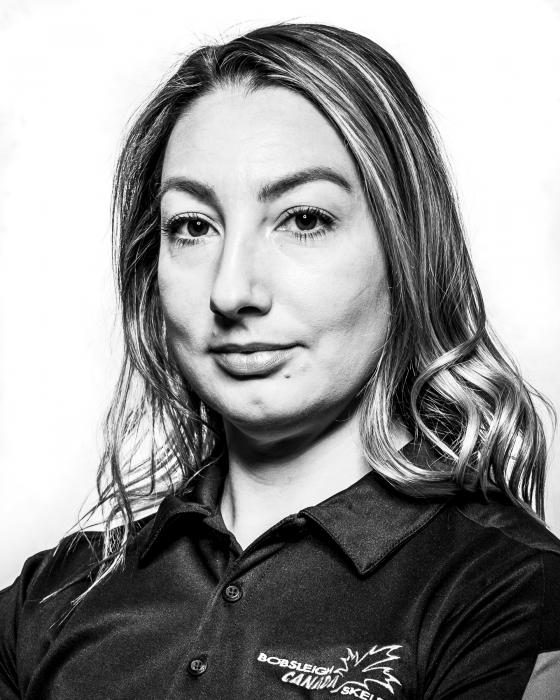 Jaclyn was recruited to skeleton while playing rugby during her university days for the Calgary Rams. A friend of hers was on the Canadian Luge Team, and suggested she give skeleton a try. Jaclyn fell in love with the sport from the first corner – despite a little motion sickness!

She has been be focused on working her way through the Canadian development system and is now a full-time member of the Senior Skeleton Team.
Off the track Jaclyn works at TransCanada Corporation as an Analyst, facilitating business planning and governance initiatives for the Land team. Previously, Jaclyn spent five years trading carbon credits.
Jaclyn has a Bachelor of Commerce degree with a major in Entrepreneurship at the University of Calgary. Jaclyn loves fashion and coffee, enjoys socializing with friends and family, knitting and soaking up sunshine.

Career Highlights
Gold
Silver
Bronze
Other
2020 – Intercontinental Cup, Lake Placid, USA

8th
9th

2020 – North American Cup, Lake Placid, USA
4th
2019 – Intercontinental Cup, Konigssee, GER
14th
2019 – Intercontinental Cup, Winterberg, GER
11th
2017 – Intercontinental Cup, Calgary, CAN

7th
6th

2017 – Intercontinental Cup, Calgary, CAN
6th
2017 – Intercontinental Cup, Calgary, CAN
2017 – Overall InterContinental Cup
5th
2017 – Canadian Championships, Calgary
2017 – Alberta Championships, Calgary
2016 – Intercontinental Cup, Konigssee, GER

10th
4th

2016 – Overall North American Cup
2016 – North American Cup, Park City, USA
2015 – Europa Cup, Konigssee , GER

5th
6th

2015 – North American Cup, Calgary, CAN
2015 – North American Cup, Whistler, CAN
2015 – Intercontinental Cup, Whistler, CAN
4th
2015 – Alberta Championships
2015 - Member of the Canadian InterContinental Cup Team
2014 – Canadian Championships, Calgary
2011 – Overall North American Cup
2010 – Overall North American Cup
World Cup Results
| | | |
| --- | --- | --- |
| Season | Location | Result |
| 2020/21 | | |
| | St. Moritz, SUI | 11th |
| | Winterberg, GER | 21st |
Intercontinental Cup Results
| | | |
| --- | --- | --- |
| Season | Location | Result |
| 2019/20 | Lake Placid, USA | 8th |
| | Lake Placid, USA | 9th |
| | Konigssee, GER | 14th |
| | Winterberg, GER | 11th |
| 2018/19 | | |
| | Lake Placid, USA | 16th |
| | Lake Placid, USA | 15th |
| | Park City, USA | 18th |
| | Park City, USA | 16th |
| | Winterberg, GER | 23rd |
| | Winterberg, GER | 19th |
| | Igls, AUT | 19th |
| | Igls, AUT | 17th |
| 2017/18 | | |
| | Altenberg, GER | 14th |
| | Altenberg, GER | 16th |
| | St. Moritz, SUI | 21st |
| | St. Moritz, SUI | 17th |
| | Calgary, CAN | 6th |
| | Calgary, CAN | 7th |
| | Whistler, CAN | 16th |
| | Whistler, CAN | 7th |
| 2016/17 | | |
| | Lake Placid, USA | 10th |
| | Lake Placid, USA | 8th |
| | Calgary, CAN | 2nd |
| | Calgary, CAN | 3rd |
| | Konigssee, GER | 10th |
| | Konigssee, GER | 4th |
| | Igls, AUT | 15th |
| | Igls, AUT | 16th |
| 2014/15 | | |
| | Calgary, CAN | 1st |
| | Calgary, CAN | 4th |
| | Whistler, CAN | 1st |
| | Whistler, CAN | 4th |
| | Winterberg, GER | 17th |
| | Konigssee, GER | 22nd |
| | Konigssee, GER | 22nd |