Jaclyn LaBerge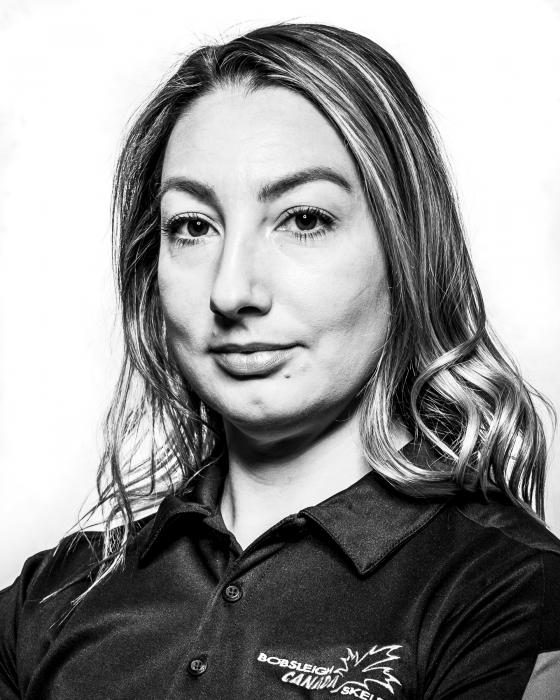 Jaclyn was recruited to skeleton while playing rugby during her university days for the Calgary Rams. A friend of hers was on the Canadian Luge Team, and suggested she give skeleton a try. Jaclyn fell in love with the sport from the first corner – despite a little motion sickness!
Through her 15 year sliding career, she has competed on every IBSF circuit, including two race wins on the InterContinental Cup in 2015.
Off the track, Jaclyn works at TC Energy as an Innovation Advisor, facilitating the advancement of projects through the use of innovative processes and tools.
Jaclyn has a Bachelor of Commerce degree with a major in Entrepreneurship at the University of Calgary. Jaclyn loves fashion, coffee and recently started road biking.
Career Highlights
Gold
Silver
Bronze
Other
2022 - North American Cup, Park City, USA

2022 - North American Cup, Whistler, CAN

6th

4th

2020 – Intercontinental Cup, Lake Placid, USA

8th
9th

2020 – North American Cup, Lake Placid, USA
4th
2019 – Intercontinental Cup, Konigssee, GER
14th
2019 – Intercontinental Cup, Winterberg, GER
11th
2017 – Intercontinental Cup, Calgary, CAN

7th
6th

2017 – Intercontinental Cup, Calgary, CAN
6th
2017 – Intercontinental Cup, Calgary, CAN
2017 – Overall InterContinental Cup
5th
2017 – Canadian Championships, Calgary
2017 – Alberta Championships, Calgary
2016 – Intercontinental Cup, Konigssee, GER

10th
4th

2016 – Overall North American Cup
2016 – North American Cup, Park City, USA
2015 – Europa Cup, Konigssee , GER

5th
6th

2015 – North American Cup, Calgary, CAN
2015 – North American Cup, Whistler, CAN
2015 – Intercontinental Cup, Whistler, CAN
4th
2015 – Alberta Championships
2015 - Member of the Canadian InterContinental Cup Team
2014 – Canadian Championships, Calgary
2011 – Overall North American Cup
2010 – Overall North American Cup
World Cup Results
| | | |
| --- | --- | --- |
| Season | Location | Result |
| 2022/23 | | |
| | Altenberg, GER | 20th |
| | Winterberg, GER | 21st |
| | Lake Placid, USA | 19th |
| | Park City, USA | 14th |
| 2020/21 | | |
| | St. Moritz, SUI | 11th |
| | Winterberg, GER | 21st |
Intercontinental Cup Results
| | | |
| --- | --- | --- |
| Season | Location | Result |
| 2019/20 | Lake Placid, USA | 8th |
| | Lake Placid, USA | 9th |
| | Konigssee, GER | 14th |
| | Winterberg, GER | 11th |
| 2018/19 | | |
| | Lake Placid, USA | 16th |
| | Lake Placid, USA | 15th |
| | Park City, USA | 18th |
| | Park City, USA | 16th |
| | Winterberg, GER | 23rd |
| | Winterberg, GER | 19th |
| | Igls, AUT | 19th |
| | Igls, AUT | 17th |
| 2017/18 | | |
| | Altenberg, GER | 14th |
| | Altenberg, GER | 16th |
| | St. Moritz, SUI | 21st |
| | St. Moritz, SUI | 17th |
| | Calgary, CAN | 6th |
| | Calgary, CAN | 7th |
| | Whistler, CAN | 16th |
| | Whistler, CAN | 7th |
| 2016/17 | | |
| | Lake Placid, USA | 10th |
| | Lake Placid, USA | 8th |
| | Calgary, CAN | 2nd |
| | Calgary, CAN | 3rd |
| | Konigssee, GER | 10th |
| | Konigssee, GER | 4th |
| | Igls, AUT | 15th |
| | Igls, AUT | 16th |
| 2014/15 | | |
| | Calgary, CAN | 1st |
| | Calgary, CAN | 4th |
| | Whistler, CAN | 1st |
| | Whistler, CAN | 4th |
| | Winterberg, GER | 17th |
| | Konigssee, GER | 22nd |
| | Konigssee, GER | 22nd |