Jane Channell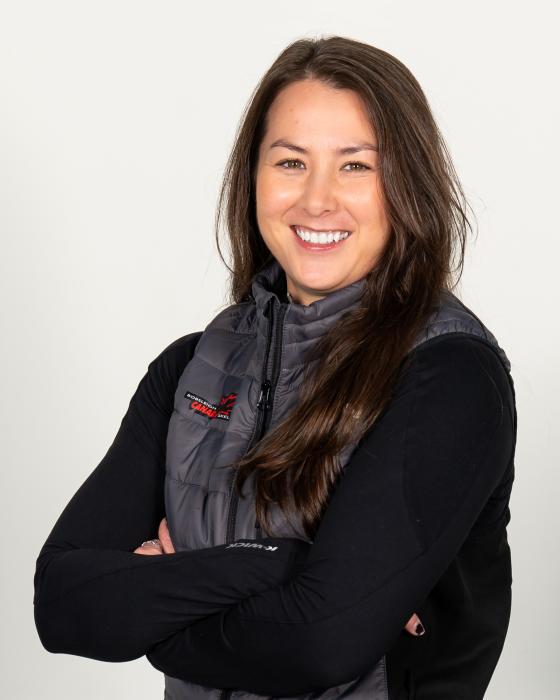 Born and raised in North Vancouver, sports were an integral part of Jane's high school career. While attending Simon Fraser University (SFU) to attain her BSc in Physical Geography, she continued competing in track and field and softball at the NAIA and NCAA div. 2 varsity level.
The 2002 Olympic Winter Games in Salt Lake City is what sparked Jane's interest in skeleton. Her dream took shape though in the lead up the 2010 Olympic Winter Games being hosted in her hometown of Vancouver. In 2009 she attended a Bobsleigh National Team camp, but it became clear that skeleton was what she loved to do. After graduating from Simon Fraser University in 2011, she moved to Whistler to fully commit to trying skeleton. Two years later she had worked her way up to the National Development Team in 2013. Jane relocated to Calgary where she competed on the Intercontinental Team in the 2013-14 season.
Her rookie season on the World Cup in 2015 was nothing short of impressive. She got the season off to a great start by capturing the Ice House women's start record for the fastest push. It ended with a fourth-place finish at the World Championships in Winterberg. Building on that foundation year, Jane took another step forward in 2016 finishing third in the overall World Cup circuit thanks to her first two career podium finishes. Jane first cracked the World Cup podium in Winterberg, Germany with a bronze-medal result. She topped that performance with a silver medal in Park City.
In the lead up to making her Olympic debut at the 2018 Games in PyeongChang, Jane set the tone early becoming the first woman ever to break the 5.00 second push mark in the Ice House when she tested 4.99 in the summer. She fed off that early success to step onto the World Cup podium at her home track at the Whistler Sliding Centre for the first time when she finished second.
After a 10th-place finish at her first Olympics, the road to the 2022 Games was anything but ordinary with the global pandemic significantly disrupting the pre-Game plan. Jane battled through adversity, returning to the World Cup circuit after a significant break with a bronze-medal finish in Konigssee. Jane went on to finish 17th in Beijing 2022.
Career Highlights
Gold
Silver
Bronze
Other
2023 - World Championships, St. Moritz, SUI

11th (Skeleton Mixed Team Competition)

6th (Women's Competition)

2023 - World Cup, Altenberg, GER
6th
2021 - World Cup, Koenigssee, GER
2021 - World Championships, Altenberg, GER
8th
2020 – World Championships, Altenberg, GER
8th
2020 – World Cup, St. Moritz, SUI
10th
2020 – World Cup, Winterberg, GER
6th
2019 – World Cup, Calgary, CAN
5th
7th
2019 – World Cup, Lake Placid, USA
10th
2018 – World Cup, Sigulda, LAT
4th
2018 – Olympic Winter Games, PyeongChang, KOR
10th
2018 – World Cup, Konigssee, GER
6th
2018 – World Cup, Altenberg, GER
6th
2017 – World Cup, Winterberg, GER
6th
2017 – World Cup, Whistler, CAN
2017 – World Cup, Lake Placid, USA
6th
2017 – World Cup, Igls, AUT
6th
2016 – World Cup, Lake Placid, USA
6th
2015 – World Cup, Altenberg, GER
7th
2015 – World Cup, Winterberg, GER
2015 – World Cup, Konigssee, GER
6th
2016 – World Cup, Lake Placid, USA
6th
2016 – World Cup, Park City, USA
2016 – World Cup, Whistler, CAN
4th
2016 – World Championships, Igls, AUT
13th
2015 – World Championships, Winterberg, GER
4th (Push Record)
2015 – World Cup, St. Moritz, SUI
7th
2015 – World Cup, Igls, AUT
7th
2014 – Intercontinental Cup, Winterberg, GER
Achieved All American status on the 4x100m relay team placing 3rd in 2008/Sélectionnée «All American» aux relais 4x100m; son équipe s'est classée 3e en 2008
Ran her personal best 100m time of 11.90s at the 2010 nationals/record personnel de 11,90 sur les 100m au championnat national 2010
Named track and field team captain in 2010 and 2011; sélectionnée chef de l'équipe d'athlétisme en 2010 et 2011
Won the GNAC Indoor track and field titles in both the 60m and 200m in 2011/Championne de course à pied intérieure GNAC 2011 aux distances de 60m et de 200m
Member of the All Conference winning softball team in 2011/Membre de l'équipe de balle molle victorieuse «All conference» 2011
Competing in all nine possible National Championships for track and field and softball/Elle a concouru à tous les 9 championnats nationaux qui existent en athlétisme et en balle molle
Olympic Winter Games Results
| | | |
| --- | --- | --- |
| Season | Location | Result |
| 2017/18 | PyeongChang, KOR | 10th |
| 2021/22 | Beijing, CHN | 17th |
World Championship Results
| | | |
| --- | --- | --- |
| Season | Location | Result |
| 2022/23 | St. Moritz, SUI | 11th (Skeleton Mixed Team Competition) |
| | | 6th (Women's Skeleton) |
| 2020/21 | Altenberg, GER | 8th (Women's Skeleton) |
| 2019/20 | Altenberg, GER | 8th (Women's Skeleton) |
| | | 2nd (Skeleton Mixed Team Competition) |
| 2016/17 | Konigssee, GER | 12th (Women's Skeleton) |
| | | 8th (Team Competition) |
| 2015/16 | Igls, AUT | 13th (Women's Skeleton) |
| | | 5th (Team Competition) |
| 2014/15 | Winterberg, GER | 4th Push Record (Women's) |
World Cup Results
| | | |
| --- | --- | --- |
| Season | Location | Result |
| 2022/23 | | |
| | Sigulda, LAT | 9th |
| | Innsbruck, AUT | 14th |
| | Altenberg, GER | 6th |
| | Altenberg, GER | 11th |
| | Winterberg, GER | 10th |
| | Lake Placid, USA | 13th |
| | Park City, USA | 19th |
| | Whistler, CAN | 8th |
| 2021/22 | | |
| | St Moritz, SUI | 7th |
| | Winterberg, GER | 9th |
| | Sigulda, LAT | 8th |
| | Altenberg, GER | 24th |
| | Winterberg, GER | 12th |
| | Altenberg, GER | 10th |
| | Igls, AUT | 12th |
| | | 7th |
| 2020/21 | | |
| | Konigssee, GER | 3rd |
| 2019/20 | | |
| | Sigulda, LAT | 16th |
| | St. Moritz, SUI | 10th |
| | Konigssee, GER | 15th |
| | Igls, AUT | 13th |
| | La Plagne, FRA | 20th |
| | Winterberg, GER | 6th |
| | Lake Placid, USA | 11th |
| | Lake Placid, USA | 17th |
| 2018/19 | | |
| | Calgary, CAN | 5th |
| | Calgary, CAN | 7th |
| | Lake Placid, USA | 10th |
| | St. Moritz, SUI | 13th |
| | Innsbruck, AUT | 15th |
| | Altenberg, GER | 19th |
| | Winterberg, GER | 11th |
| | Sigulda, LAT | 4th |
| 2017/18 | | |
| | Konigssee, GER | 6th |
| | St. Moritz, SUI | 14th |
| | Altenberg, GER | 6th |
| | Innsbruck, AUT | 14th |
| | Winterberg, GER | 6th |
| | Whistler, CAN | 2nd |
| | Park City, USA | 11th |
| | Lake Placid, USA | 6th |
| 2016/17 | | |
| | Pyeongchang, KOR | 13th |
| | Innsbruck, AUT | 6th |
| | Konigssee, GER | 11th |
| | St. Moritz, SUI | 9th |
| | Winterberg, GER | 12th |
| | Altenberg, GER | 11th |
| | Lake Placid, USA | 16th |
| | Whistler, CAN | 16th |
| 2015/16 | | |
| | Konigssee, GER | 11th |
| | St. Moritz, SUI | 9th |
| | Whistler, CAN | 4th |
| | Park City, USA | 2nd |
| | Lake Placid, USA | 6th |
| | Konigssee, GER | 6th |
| | Winterberg, GER | 3rd |
| | Altenberg, GER | 7th |
| 2014/15 | | |
| | Sochi, RUS | 13th |
| | Igls, AUT | 7th |
| | | 11th |
| | St. Moritz, SUI | 7th |
| | Konigssee, GER | 13th |
| | Altenberg, GER | 11th |
| 2013/14 | | |
| | Konigssee, GER | 18th |
Intercontinental Cup Results
| | | |
| --- | --- | --- |
| Season | Location | Result |
| 2020/21 | | |
| | Koenigssee, GER | 12th |
| | Altenberg, GER | 6th |
| 2014/15 | | |
| | Winterberg, GER | 2nd |
| | Koenigssee, GER | 5th |
| | | 9th |
| 2013/14 | | |
| | Park City, USA | 4th |
| | | 4th |
| | Whistler, CAN | 6th |
| | | 10th |
| | Altenberg, GER | 14th |
| | | 15th |
| | Igls, AUT | 12th |
| | | 11th |