Madison Charney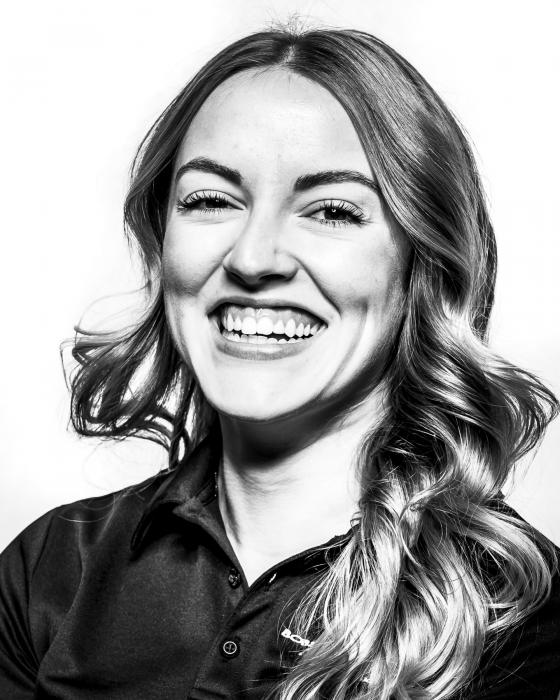 | | |
| --- | --- |
| Sport: | Skeleton |
| Height: | 163cm |
| Weight: | 63kg |
| Birth Date: | Oct. 5, 1994 (age 25) |
| Birth Place: | Brooks, Alta. |
| Residence: | Calgary |
| Twitter: | @madscharns |
| Instagram: | @madrose |
It was Madison's mom who originally nudged her towards the sport of skeleton. Shortly after the Charney family made the move from Brooks, Alta. to Calgary her Mother noticed Madison was missing something from her sporting life which included varsity rugby, volleyball and track and field. In the winter of 2010, Madison completed her first skeleton school and has been siding ever since.
Madison has represented Canada at the World Juniors five times, finishing seventh, ninth, 11th, 12th and 10th. She locked up a spot on Canada's World Cup squad four years ago, thanks to claiming her first national title. She has since split her time competing on World Cup and Intercontinental Cup circuits.
A self-described horrible singer, Madison loves her two dogs Molly and Rosie. Her favourite food is maple syrup because it goes with everything and she loves the movie Dumb and Dumber – giving her a laugh no matter when she watches it!
In the summer months Madison can be found outside soaking up the sun or watching her favourite football team play - Calgary Stampeders. She also enjoys heading back to Brooks, Alta. to hang out on the farm.
Madison is currently enrolled at Mount Royal University where she is working towards a business degree, taking courses only in the spring semester so she can focus on sliding in the winter.
Career Highlights
2019 – World Championships, Whistler, CAN: 17
2019 – World Cup, Lake Placid, USA: 16
2018 – Finished Third Overall on Intercontinental Cup circuit
2017 – Intercontinental Cup, Calgary, CAN: 2, 2
2017 – Intercontinental Cup, Lake Placid, USA: 6, 8
2017 – Intercontinental Cup, Calgary, CAN: 4, 4
2015 Canadian Champion/championne canadienne​
2014 – World Cup, Calgary, CAN: 10
2015 – Intercontinental Cup, Calgary, CAN: 2, 2
Represented Canada three times at the Junior World Championships
2014 – Alberta Champion/championne albertaine
World Championship Results
2019 - World Championships, Whistler, CAN: 17, 6 (team)
Junior World Championships
2017 – Junior World Championships, St. Moritz, SUI: 7
2016 – Junior World Championships, WInterberg, GER: 10
2015 – Junior World Championships, Altenberg, GER: 11
2014 – Junior World Championships, Winterberg, GER: 9
2012 – Junior World Championships, Igls, AUT: 12
World Cup Results
2020 – World Cup, Siggulda, LAT: 25
2020 – World Cup, St. Moritz, SUI: 20
2020 – World Cup, Konigssee, GER: 21
2020 – World Cup, Igls, AUT: 17
2020 – World Cup, La Plagne, FRA: 21
2020 – World Cup, Winterberg, GER: 18
2019 - World Cup, Lake Placid, USA: 20, 18
2019 – World Cup, Lake Placid, USA: 16
2014 – World Cup, Lake Placid, USA: 19
2014 – World Cup, Calgary, CAN: 10
Intercontinental Cup Results
2019 – Intercontinental Cup, Lake Placid, USA: 15, 14
2019 – Intercontinental Cup, Park City, USA: 12, 14
2018 – Intercontinental Cup, Winterberg, GER: 16, 18
2018 – Intercontinental Cup, Altenberg, GER: 10, 14
2018 – Intercontinental Cup, St. Moritz, SUI: 16, 15
2017 – Intercontinental Cup, Calgary, CAN: 2, 2
2017 – Intercontinental Cup, Lake Placid, USA: 6, 8
2017 – Intercontinental Cup, Calgary, CAN: 4, 4
2015 – Intercontinental Cup, Lake Placid, USA: 9, 9
2015 – Intercontinental Cup, Whistler, CAN: 5, 5
2015 – Intercontinental Cup, Whistler, CAN: 8, 7
2015 – Intercontinental Cup, Calgary, CAN: 2, 2