Natalie Coughlin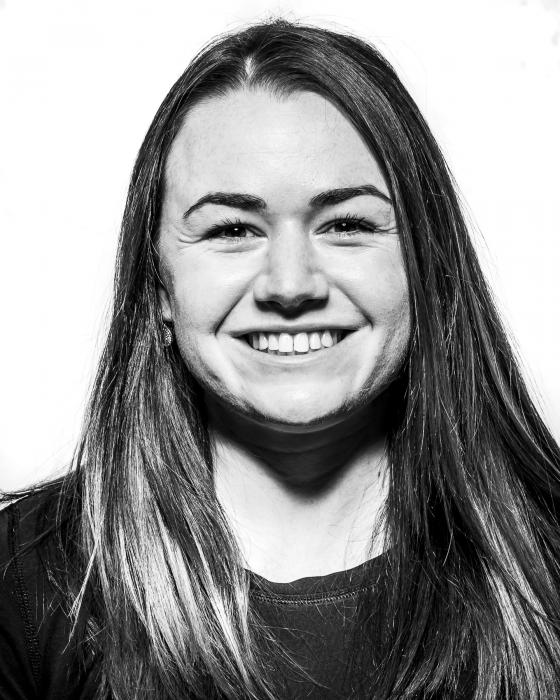 Following a 10-year national level gymnastics career, Natalie was forced to retire after an ankle injury and turned to track and field in university. She followed her parents to the University of Windsor. Natalie's dad was on the football and track and field squads, and became the jumps coach for 10 years after graduating.
Natalie competed on the varsity athletics team while completing a Bachelor of Science with a major in Honours Biology in 2018.
At the completion of her schooling, Natalie knew she had more to give to sport while watching the 2018 Winter Olympics.
Exploring different options, Natalie was intrigued by skeleton, noticing the sliding sports were part of the RBC Training Grounds. After completing her final track and field race, she registered to participate in RBC's first round of testing in hope of being recruited by Bobsleigh Canada Skeleton. She was invited to the BCS combine, and then to the Prospects Camp before attending her first sliding school in Calgary.
Did You Know…
Natalie studied abroad in New Zealand for a semester at Victoria University of Wellington. A self-admitted adrenaline junkie, Natalie went bungee jumping on the largest swing in the world, and went sky diving with her parents….If she wasn't sliding she would be back in school with the goal of becoming a Physician Assistant. She is a lover of chocolate, Disney movies and travelling. She enjoys dressing her dog up in costumes.
Career Highlights
Gold
Silver
Bronze
Other
2023 - North American Cup, Lake Placid, USA
5th / 5th
2022 - North American Cup, Lake Placid, USA
2022 - North American Cup, Park City, USA
2020 – North American Cup, Lake Placid, USA

8th
6th
8th

2019 – North American Cup, Park City, USA

15th
13th
11th

2019 – North American Cup, Lake Placid, USA

19th
16th
Competed in gymnastics at the national level when she was 16/A concouru en gymnastique au niveau national quand elle avait 16 ans
Competed in varsity track as a long jumper at the University of Windsor for four years/A concouru au saut en longueur pendant quatre ans lorsqu'elle était étudiante à l'Université de Windsor