Tirza Lara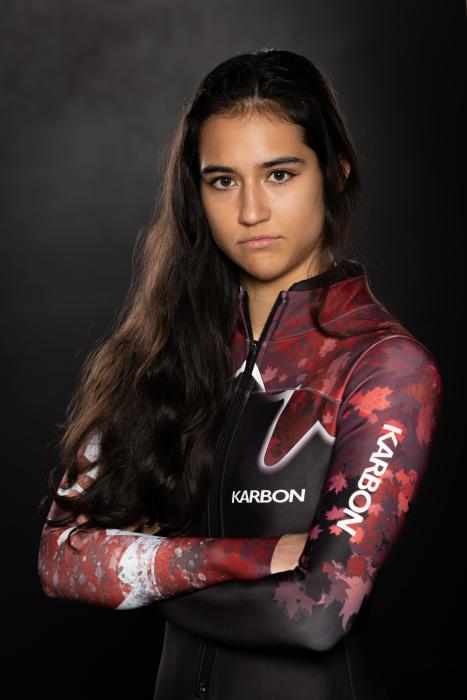 Tirza did ballet for more than 10 years with aspirations to get into a company in Vancouver. She had supplemented her training with flamenco and lyrical, so being adaptable and coordinated was her strong suit. However, a knee injury sidelined that dream and Tirza decided to find something else to get involved in.
Her younger brother was speed skating at the time with a family that had gone to the Olympics, so that sparked some interest in trying a winter sport. With the help of Google, Tirza found out the Whistler Sliding Centre was hosting a public skeleton taster for people her age. She was instantly hooked and invited to stay in Whistler full time with the BC program.
Progressing was difficult between the pandemic and not having a sprint background. But Tirz is a big proponent of being patient and working hard, which has helped her improve every season and become more competitive.
Her favourite tracks to slide on are Whistler and Lake Placid for their technical similarities.
Outside of sport Tirza is studying online to get a Bachelor's Degree in Human Science, with the goal of getting a Master's in Neuroscience so she can get into clinical research. She'd love to study head injuries, especially in sliding sports so she can help make sliding safer and more accessible. Tirza also enjoys skiing (downhill and nordic), road trips, and all things chocolate.
Did You Know… Beyonce is Tirza's hero. She used to eat lemons as a kid. She used to live in a small town near Kamloops in a little cabin, and she canoed to elementary school each morning.
Career Highlights
| | Gold | Silver | Bronze | Other |
| --- | --- | --- | --- | --- |
| 2023 - North American Cup, Lake Placid, USA | | | | 6th / 6th |
| 2023 - Junior World Championships, Winterberg, GER | | | | 14th |
| 2022 - North American Cup, Lake Placid, USA | | | | 5th |
| 2022 - North American Cup, Park City, USA | | | | 5th & 6th |
| 2021 - Alberta Skeleton Championship, Whistler, CAN | | | | |
World Championship Results
Junior World Championships
| Season | Location | Result |
| --- | --- | --- |
| 2022/23 | Winterberg, GER | 14th |
| | | |