Christine De Bruin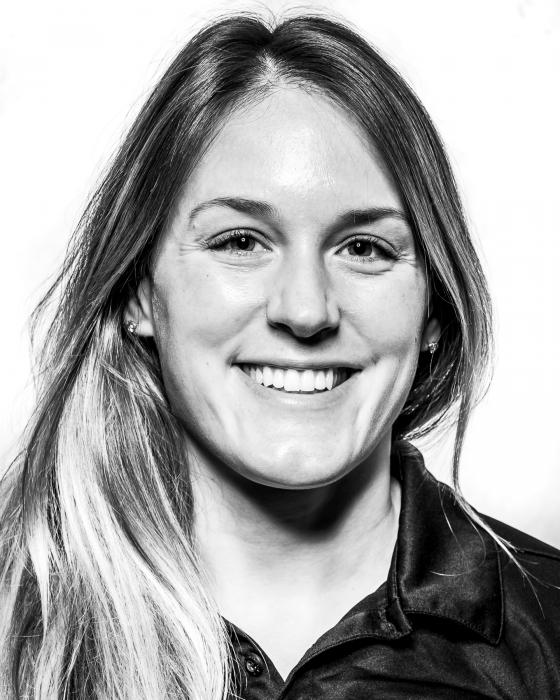 Christine de Bruin had been representing the University of Alberta in track and field for two years when she decided she was ready to stop competing. After hearing this, her coach convinced her to go to Calgary to try bobsleigh. He told her that her chances to make the national team in track were small, but her chances of going to the Olympics for bobsleigh were great. She soon made the development team as a brakeman, immediately taking a leave from school.
A year and a half in, she was redirected from the path of being a World Cup brakeman to a development pilot. Doubting this decision at first, she got all the confidence she needed when she finished fourth in her first North American Cup race in March 2013, less than two months after she started driving. In November 2015, Christine won three North American Cup races in a row. It was especially satisfying coming off a year when she was hindered by a bulged disc in her back. Christine made her World Cup debut as a pilot in December 2016 in Whistler. She finished a career-best sixth in November 2017 in Lake Placid with Cynthia Appiah.
Her career development into a world-class pilot went to a whole new level in 2018 when she qualified to represent Canada at Olympic Winter Games in PyeongChang, Korea. Christine teamed up with Melissa Lotholz to an impressive seventh-place finish in their Olympic debut.
Constantly pushing to be a stronger, faster and better pilot, Christine accomplished another first in the post-Olympic year where she drove to her first two World Cup podiums with Kristen Bujnowski. The two Canucks captured the world's attention with a silver-medal finish at a World Cup stop in Altenberg and in Lake Placid before winning their first career bronze medal at the World Championships on home ice in Whistler.
The Canadian women have been on quite a run since climbing onto the World Championship podium in 2019.
The Canadian duo carried the momentum into the 2020 season, Christine and Kristen confirmed they have officially arrived on the international race scene, sliding onto the World Championship podium a second-straight year when they won the bronze.
The third-place triumph in Altenberg, Germany capped off a strong season where the Canucks finished in the top-five in seven of the eight World Cup races, adding a silver and bronze medal to their resumes. They also had two fourth-place finishes. Consistently in the medal mix, the lone Canadian sled secured third place in the Overall World Cup standings – an achievement Christine claimed is proof they belong in discussions with the world's best.
Christine started competing in bobsleigh at age 22. She has completed two years of a Bachelor of Physical Education and Recreation at the University of Alberta before putting studies on temporary hiatus to pursue bobsleigh. Christine enjoys riding her motorcycle and floating down the Bow River. Her husband, Ivo de Bruin, is the top pilot for the Netherlands. Christine says watching Donovan Bailey win the 100m at Atlanta 1996 inspired her dream to compete for Team Canada. Her favourite quote: "It will cost you nothing to dream and everything not to." – Rodney White…
Career Highlights
Gold
Silver
Bronze
Other
2021 - World Cup Konigssee, GER

7th Monobob

4th 2woman

2021 - World Cup, St Moritz, SUI
8th (2woman)
2021 - World Cup, Winterberg, GER
5th 2woman
2020 – World Championships, Altenberg, GER
2020 – Finished Third Overall on World Cup Circuit
2020 – World Cup, Sigulda, LAT
5th
2020 – World Cup, St. Moritz, SUI
5th
2020 – World Cup, Konigssee, GER
4th
2020 – World Cup, Igls, AUT
4th
2020 – World Cup, La Plagne, FRA
2020 – World Cup, Winterberg, GER
7th
2019 – World Cup, Lake Placid, USA
5th
2019 – World Championships, Whistler, CAN
2019 – World Cup, Lake Placid, USA
2019 – World Cup, Altenberg, GER
2018 – Olympic Winter Games, PyeongChang, KOR
7th
2018 – Europe Cup, Koenigssee, GER (Monobob)
2017 – World Cup, Igls, AUT:
9th
2017 – World Cup, Whistler, CAN
9th
2017 – World Cup, Lake Placid, USA
6th
2016 – World Cup, Lake Placid, USA
8th
Olympic Winter Games Results
Pilot
| | | | | |
| --- | --- | --- | --- | --- |
| Season | Location | Discipline | Result | Crew |
| 2021/22 | Beijing, CHN | Monobob | 3rd | |
| | | 2woman | 5th | De Bruin, Bujnowski |
| 2017/18 | Pyeongchang, KOR | 2woman | 7th | De Bruin, Lotholz |
World Championship Results
Pilot
| | | | | |
| --- | --- | --- | --- | --- |
| Season | Location | Discipline | Result | Crew |
| 2020/21 | Altenberg, GER | 2woman | 16th | de Bruin, Villani |
| | | Monobob | 16th | |
| 2019/20 | Altenberg, GER | 2woman | 3rd | de Bruin, Bujnowski |
| 2018/19 | Whistler, CAN | 2woman | 3rd | de Bruin, Bujnowski |
| | | Team | 2nd | Greszczyszyn, Joyce, Rahneva, de Bruin, Poloniato, Bujnowski |
| 2017/18 | Koenigssee, GER | 2woman | 13th | de Bruin, Thibault |
| | | Team | 10th | Neufeldt, Uhlaender, Olsen, Mccue, Weinstock, de Bruin |
| 2016/17 | Innsbruck, AUT | 2woman | 16th | de Bruin, Appiah |
World Cup Results
Pilot
| | | | | |
| --- | --- | --- | --- | --- |
| Season | Location | Discipline | Result | Crew |
| 2021/22 | | | | |
| | St Moritz, SUI | 2woman | 6th | de Bruin, Bujnowski |
| | | Monobob | 6th | |
| | Winterberg, GER | 2woman | 5th | de Bruin, Bujnowski |
| | | Monobob | 8th | |
| | Sigulda, LAT | 2woman | 3rd | de Bruin, Bujnowski |
| | | Monobob | 1st | |
| | Altenberg, GER | 2woman | 16th | de Bruin, Bujnowski |
| | | Monobob | 1st | |
| | Winterberg, GER | 2woman | 4th | de Bruin, Bujnowski |
| | | Monobob | 9th | |
| | Altenberg, GER | 2woman | 3rd | de Bruin, Bujnowski |
| | | Monobob | 4th | |
| | Igls, AUT | 2woman | 3rd | de Bruin, Bujnowski |
| | | Monobob | 4th | |
| | | 2woman | 3rd | de Bruin, Bujnowski |
| | | Monobob | 7th | |
| 2020/21 | | | | |
| | Konigssee, GER | 2woman | 4th | de Bruin, Villani |
| | | Monobob | 7th | |
| | St Moritz, SUI | 2woman | 8th | de Bruin, Villani |
| | | Monobob | 16th | |
| | Winterberg, GER | 2woman | 5th | de Bruin, Villani |
| 2019/20 | | | | |
| | Sigulda, LAT | 2woman | 5th | de Bruin, Bujnowski |
| | St Moritz, SUI | 2woman | 5th | de Bruin, Bujnowski |
| | Konigssee, GER | 2woman | 4th | de Bruin, Bujnowski |
| | Innsbruck, GER | 2woman | 4th | de Bruin, Bujnowski |
| | La Plagne, FRA | 2woman | 2nd | de Bruin, Bujnowski |
| | Winterberg, GER | 2woman | 7th | de Bruin, Bujnowski |
| | Lake Placid, USA | 2woman | 3rd | de Bruin, Bujnowski |
| | | 2woman | 5th | de Bruin, Richardson Wilson |
| 2018/19 | | | | |
| | Lake Placid, USA | 2woman | 2nd | de Bruin, Bujnowski |
| | Koenigssee, GER | 2woman | 10th | de Bruin, McCue |
| | Altenberg, GER | 2woman | 2nd | de Bruin, Bujnowski |
| 2017/18 | | | | |
| | Koenigssee, GER | 2woman | 14th | de Bruin, Appiah |
| | St Moritz, SUI | 2woman | 14th | de Bruin, Lotholz |
| | Altenberg, GER | 2woman | 13th | de Bruin, Appiah |
| | Innsbruck, AUT | 2woman | 9th | de Bruin, Bujnowski |
| | Winterberg, GER | 2woman | 21st | de Bruin, Appiah |
| | Whistler, CAN | 2woman | 9th | de Bruin, Bujnowski |
| | Park City, USA | 2woman | 11th | de Bruin, Appiah |
| | Lake Placid, USA | 2woman | 6th | de Bruin, Appiah |
| 2016/17 | | | | |
| | Pyeongchang, KOR | 2woman | 17th | de Bruin, Thibault |
| | Innsbruck, AUT | 2woman | 11th | de Bruin, Medeiros |
| | Koenigssee, GER | 2woman | 16th | de Bruin, Medeiros |
| | Winterberg, GER | 2woman | 18th | de Bruin, Medeiros |
| | Lake Placid, USA | 2woman | 8th | de Bruin, Medeiros |
| | Whistler, CAN | 2woman | 12th | de Bruin, Thibault |