Kori Hol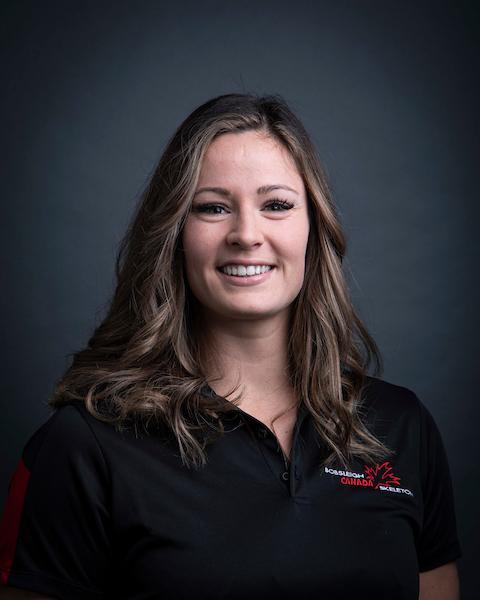 | | |
| --- | --- |
| Sport: | Bobsleigh |
| Position: | Pilot |
| Height: | 178cm |
| Weight: | 80kg |
| Birth Date: | Oct. 10, 1992 (age 28) |
| Birth Place: | Vancouver, BC |
| Residence: | Calgary |
| Instagram: | @korihol |
A standout athlete, Kori was recruited into the sport from Olympian Florian Linder who identified her while playing soccer at the University of Lethbridge while pursuing a degree in Kinesiology.
Next thing she knew, she was heading up the road to Calgary to participate in a testing camp in September 2017, and shortly thereafter was in Whistler, B.C. participating in a driving school with Olympic silver medallist, Helen Upperton. Whistler and Lake Placid remain her two favourite tracks in the world.
Kori has a big sport background. She grew up a dancer which attributes to her ability to pick sports up really quick. She also played college basketball at Langara College in Vancouver. Her main sport outside of bobsleigh though is definitely volleyball.
When not training or competing, Kori enjoys spending time at the lake in Osoyoos, B.C. with her family wakeboarding and surfing, or hitting the slopes at Sun Peaks in Kamloops, snowboarding the days away.
Kori also loves surfing and going to Waikiki, Hawaii as often as she can to surf. She loves animals so in her spare time she dog sits and dog walks as often as she can, but her heart belongs to her parents' mini huskies Stormy and Nyx. Kori loves her nephews, Jaxson and Rowan, with all her heart, and is anxiously awaiting the arrival of a new niece this year!!
Did You Know…
Kori can pop a champagne bottle open with a champagne flute, is a lover of chocolate and would be travelling the world, teaching or coaching if she wasn't chasing the international podium in sport
Career Highlights
| | | | | |
| --- | --- | --- | --- | --- |
| | Gold | Silver | Bronze | Other |
| 2020 - Finished First Overall on North America's Cup Circuit | | | | |
| 2019 – World Championships, Whistler, CAN | | | | 14th 2woman |
| 2019 – World Cup, Calgary, CAN | | | | 12th 2woman |
| 2019 – Finished First Overall on North America's Cup Circuit | | | | |
| 2019 – North America's Cup, Calgary, CAN | 2woman | 2woman | | |
| 2019 – North America's Cup, Lake Placid, USA | | | 2woman | |
| 2018 – Junior World Championships, St. Moritz, SUI | | | | 9th 2woman |
| | | | | |
World Championship Results
Pilot
| | | | | |
| --- | --- | --- | --- | --- |
| Season | Location | Discipline | Result | Crew |
| 2018/19 | Whistler, CAN | 2woman | 14th | Hol, Lotholz |
| | | Team | 6th | Doyle, Medeiros, Hol, Charney, Baumgartner, Variola |
World Cup Results
Pilot
| | | | | |
| --- | --- | --- | --- | --- |
| Season | Location | Discipline | Result | Crew |
| 2018/19 | Calgary, CAN | 2woman | 12th | Hol, Lotholz |