Dawn Richardson Wilson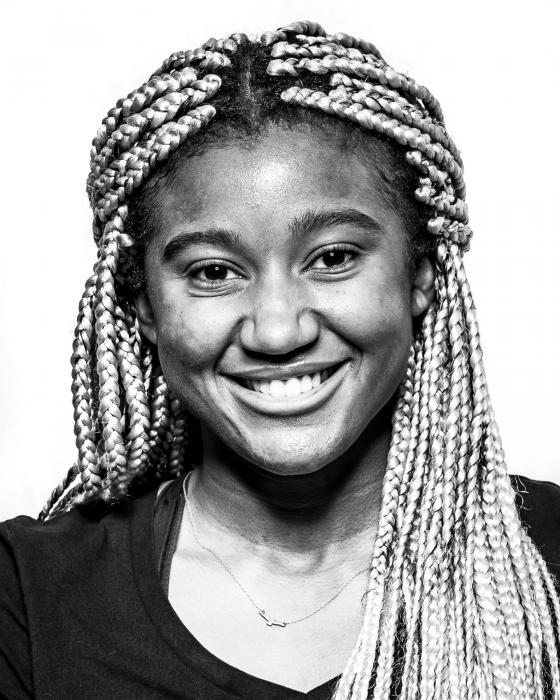 Dawn's journey into bobsleigh all began when she was having a conversation with her lifelong friend, Dean Walls, who just happens to be her mentor, as well as her high school basketball coach.
He drew her attention to an open recruitment camp for bobsleigh that was taking place in Edmonton. Immediately, Dawn began training with her strength and conditioning coach, Alex Tonsi, who had been helping her since Grade 10 when she first started Olympic weightlifting.
Dawn comes from a variety of sport backgrounds: rugby, track and field, ultimate frisbee; but bobsleigh is a completely new direction for her. To her surprise, it actually had very similar properties to other sports that she immediately fell in love with – team work, strength training, technicality and speed.
Nervous heading into her first camp, the rest is history. Dawn is well on her way to chasing her Olympic dreams in bobsleigh. After earning the opportunity to compete in two World Cup races last season, Dawn also secured a spot on the Senior Bobsleigh Team for the 2020-21 season.
While her focus is on sport, she is currently working towards a degree in Sociology (major) with a criminology stream and a psychology minor. Her ultimate goal when her sporting days are behind her is to be a part of the RCMP. She has never wavered from that goal.
Outside of sport, Dawn loves to stay very active during the summer months. She takes part in ultimate frisbee alongside her team "The Undiscovered" (pun- intended) which is one of the many highlights of her summer. She also tries to spend as much of my time outdoors because when you're from a place that winter is not your main season you treasure the sun. She loves to cook, which is also a creative outlet for her.
Did You Know…
Dawn's heroes in life are her family and friends that each share a special trait and characteristic that she not only admires but looks up to. They help her to grow and be a better version of herself. They are not scared to be upright and honest with her. Dawn considers herself the ultimate board game supplier. She enjoys working with her hands – be it cooking or building a bench or a birdhouse from scratch.
Career Highlights
| | | | | |
| --- | --- | --- | --- | --- |
| | Gold | Silver | Bronze | Other |
| 2021 - World Championship, Altenberg, GER | | | | 12th 2woman |
| 2021 - World Cup, Igls, AUT | | | | 4th 2woman |
| 2021 - World Cup, Konigssee, GER | | | | 8th 2woman |
| 2021 - World Cup, St Moritz, SUI | | | | 11th 2woman |
| 2020 - World Cup, Lake Placid, USA | | | | 5th 2woman |
| 2020 - World Cup Igls, AUT: | | | | 10th 2woman |
| 2020 - North American Cup, Lake Placid: | | | | |
| Finished First Place Overall in 2019 North America's Cup | 2woman | | | |
| 2019 – North America's Cup, Whistler, CAN | | | | 6th 2woman |
| 2019 – North America's Cup, Calgary, CAN | 2woman | 2woman | | |
| 2018 – North America's Cup, Park City, USA | | | | 6th 2woman |
| 2018 – North America's Cup, Lake Placid, USA | | | 2woman | 5th 2woman |
Olympic Winter Games Results
| | | | | |
| --- | --- | --- | --- | --- |
| Season | Location | Discipline | Result | Crew |
| 2021/22 | Beijing, CHN | 2woman | 8th | Appiah, Richardson Wilson |
World Championship Results
Brakewoman
| | | | | |
| --- | --- | --- | --- | --- |
| Season | Location | Discipline | Result | Crew |
| 2020/21 | Altenberg, GER | 2woman | 12th | Rissling, Richardson Wilson |
| | | | | |
World Cup Results
Brakewoman
| | | | | |
| --- | --- | --- | --- | --- |
| Season | Location | Discipline | Result | Crew |
| 2021/22 | | | | |
| | St Moritz, SUI | 2woman | 7th | Appiah, Richardson Wilson |
| | Winterberg, GER | 2woman | 12th | Appiah, Richardson Wilson |
| | Altenberg, GER | 2woman | 21st | Appiah, Richardson Wilson |
| | Winterberg, GER | 2woman | 8th | Appiah, Richardson Wilson |
| | Altenberg, GER | 2woman | 14th | Appiah, Richardson Wilson |
| | Igls, AUT | 2woman | 8th | Appiah, Richardson Wilson |
| | | 2woman | 12th | Appiah, Richardson Wilson |
| 2020/21 | | | | |
| | Igls, AUT | 2woman | 4th | Appiah, Richardson Wilson |
| | Konigssee, GER | 2woman | 8th | Rissling, Richardson Wilson |
| | St Moritz, SUI | 2woman | 11th | Rissling, Richardson Wilson |
| 2019/20 | | | | |
| | Igls, AUT | 2woman | 10th | Appiah, Richardson Wilson |
| | Lake Placid, USA | 2woman | 5th | De Bruin, Richardson Wilson |