Stefanie Schoenberger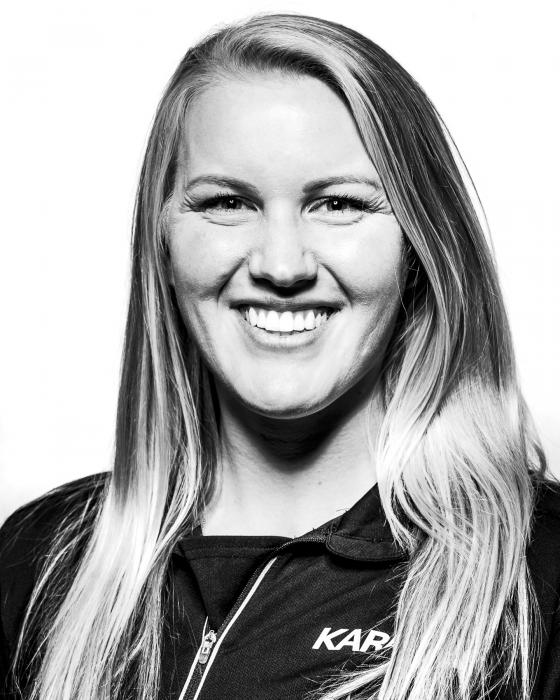 Working out in a gym in 2018, Stefanie was approached by someone who said she could be good at bobsleigh. That person later became her sprint coach. Caught off guard, she researched the sport when she returned home, and contacted the Whistler Sliding Centre where she later attended a Discover Bobsleigh program. She has been hooked ever since.
Weeks later, Stefanie was asked to compete as a brakeman in the B.C. Cup race where she got to slide from the top of the Whistler Sliding Centre. Following that race, she participated in a five-day pilot school in Whistler – which for obvious reasons – is her favourite track in the world.
That summer, Stefanie participated in three recruitment camps for Bobsleigh Canada Skeleton and became a member of the National Development Team where she continues to focus on her development in the sport.
Stefanie has always been very active in sport. She played volleyball throughout elementary and high school, and continues to play recreationally in her spare time. She began her post-secondary education at College of the Rockies in Cranbrook, B.C. where she played on the COTR Avalanche Volleyball Team in 2011-12. She completed her Bachelor of Science, Biology Major at the University of the Fraser Valley in Abbotsford, B.C. where she rowed for the UFV Cascades Rowing Team.
Outside of sport, Stefanie works as a fisheries/aquatic biologist in Abbotsford, B.C. for Nova Pacific Environmental where she does environmental assessments, permitting and monitoring for various projects in the Fraser Valley. She conducts habitat assessments, fish salvage, and spawning surveys for Pacific salmon and trout. Her favourite part of her job is working with amphibians – in particular the endangered Oregon Spotted Frog.
Stefanie also enjoys traveling, hiking, camping, hunting, fishing, board games, video games and reading, all while enjoying life with her husband, Rannon. She is also a self-described crazy cat lady with two little fur babies at home – Larka and Sprocket.

Did You Know...
Stefanie calls herself a super-nerd who used to participate in Live Action Role Playing groups. She made her own set of leather armour as well as a foam axe and mace. She hopes to make a Diablo 3 inspired cosplay for San Diego Comic Con one day.
Career Highlights
Brakewoman
| | | | | |
| --- | --- | --- | --- | --- |
| | Gold | Silver | Bronze | Other |
| 2019/20 - North American Cup, Lake Placid, USA: | | | | 5th, 6th, 5th |
| 2019/20 - World Cup, Konigssee, GER: | | | | 9th |
| 2019/20 - North American Cup, Park City, USA: | | | | 5th, 6th, 5th |
| 2018/19 Fore-running the World Championships in Whistler, CAN | | | | |
| 2018/19 Lake Placid, USA | | | 2woman | 4th 2woman |
| 2017/18 Whistler, CAN | 2woman | | | |