Bianca Ribi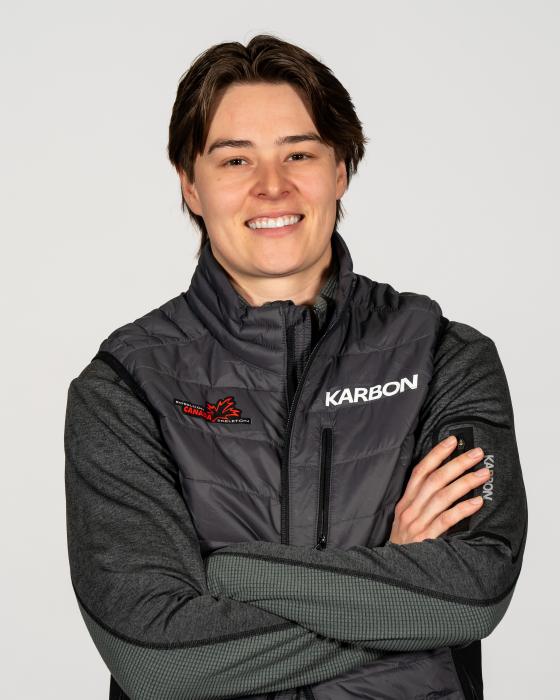 Bianca played elite soccer her entire life. She was in the Canadian National Program for three years, and competed in four Canadian National Championships – two at the club level (finishing 4th, 3rd) respectively, and two all-star national championships where she received the golden boot, for most goals scored in the tournament.
Bianca was recruited and offered scholarships by many universities to play soccer, but ultimately deciding education was most important. She accepted and committed to the Ivy League, Dartmouth College. While earning her degree in Psychology and completing the pre-medical school requirements, Bianca played four years on the varsity soccer team. A college career highlight was being named, by her teammates and coaches, Captain of her senior year.
Bianca first became interested in bobsleigh a few months after graduating from Dartmouth and returning home June of 2018. She wasn't ready to finish her athletic career, but knew she was ready for a new sport. Her dad was the one who thought bobsleigh would be something she would enjoy, but also be successful in, as it combined her love for speed and strength.
Her dad then introduced her to a long-time friend of his, who also happens to be a Canadian bobsleigh great, Lyndon Rush! After talking with Lyndon, she knew it was something she wanted to pursue. She trained for two months, learning for the first time how to power lift, and getting coached on how to sprint properly. From there she went to her first bobsleigh try-out. Her results turned a few heads and she was invited to the Prospect Camp. From there, she was invited to push testing with the National Team! In the fall of 2018, Bianca was fortunate to be selected onto the National Bobsleigh Program. She spent her rookie season traveling through Germany, getting her first World Cup race, and at the end of the season getting to compete in the team race at World Championships on home ice in Whistler! In 2019/20, she has made the transition to the front seat, and is one of three Development Bobsleigh Team pilots focused on finding precious seconds driving tracks around the world.
Did You Know…
Bianca hopes to pursue a medical degree after her bobsleigh career and help athletes through sports medicine and orthopedics. She is currently working with Banff Sport Medicine clinic in Banff, Alberta researching bilateral ACL reconstruction! This is an injury that is close to her personally as she suffered two ACL tears during her soccer career. She has come full circle and is working with the very surgeon who repaired both of her ACL tears years ago, who she has remained friends with to this day! Her hope is to raise awareness, educate, prevent, and increase successful rehabilitation so that surgeons and patients can better prepare, leading to injury minimization and when injury does happen, patients can have the best chance of a positive outcome and return to sport. The Banff Sport Med research team and Bianca are in the final stages of their research, and hope to have this paper published in a Medical Journal soon!...her hero is her dad who taught her everything she knows about being an athlete….highlight of her bobsleigh career was competing in her first World Cup in Altenberg, Germany in front of a huge crowd full of energy.
Career Highlights
Women's Monobob
Gold
Silver
Bronze
Other
2021 - Women's Monobob, Park City, USA
5th
2021 - Women's Monobob, Whistler, CAN
5th
2019 - Women's Monobob Event, Igls, AUT
5th
2019 - Women's Monobob Event, Konigssee
11th
2019 – Women's Monobob Event, Lake Placid, USA

5th

5th

4th
Pilot
Gold
Silver
Bronze
Other
2021 - Junior World Championship, St Moritz, SUI
9th 2woman
2021 - Europe Cup, Igls, AUT
7th
2021 - Europe Cup, Altenberg, GER
6th
2020 - North American Cup, Lake Placid, USA:

5th

6th

5th

2019 - Europe Cup, Konigssee, GER:

19th

2019 - North American Cup, Park City, USA:

5th

6th

5th
Brakewoman
| | | | | |
| --- | --- | --- | --- | --- |
| | Gold | Silver | Bronze | Other |
| 2019 - World Championship, Whistler, CAN | | | | 7th |
| 2019 - World Cup, Altenberg, GER | | | | 10th |
| 2018 – Europe Cup, Konigssee, GER | | | | 6th |
World Championship Results
Junior World Championship
| | | | | |
| --- | --- | --- | --- | --- |
| Season | Location | Discipline | Result | Crew |
| 2020/21 | St Mortiz, SUI | 2woman | 9th | Ribi, Haughey |
World Cup Results
Brakeman
| | | | | |
| --- | --- | --- | --- | --- |
| Season | Location | Discipline | Result | Crew |
| 2018/19 | Altenberg, GER | 2woman | 10th | Rissling, Ribi |