Sara Villani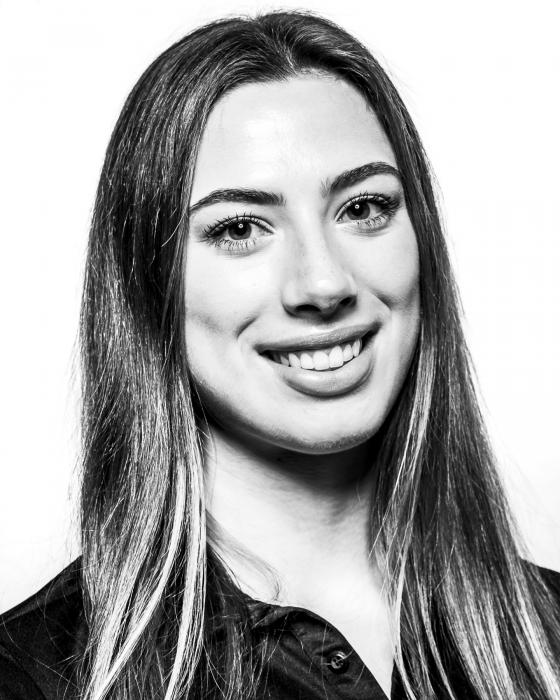 The drive for Sara to be an athlete started back in her gymnastics days as a young child. She knew early on she would not be able to continue that sport, but was keen to find her next passion. In came track and field. Sara found success in her early high school track and field career, which inspired her to continue to pursue the sport at a university level.
In her first year of multi-event training at Western University, Sara won the 2015 Junior National Championships in the heptathlon, which qualified her to represent Canada at the 2015 Junior Pan Am Games held in Edmonton. In her second year, while competing in the pentathlon at the Provincial University Championships (OUAs), she miscalculated a step in one of her long jump warm-ups and would later be diagnosed with a bone bruise in her ankle. Sara ended up with gold and was ranked first going into the Canadian University Championships (CIS, now USports), but the pain in her ankle was high. At CIS, she got to the second event, high jump, and it was evident she would not be able to continue the competition…She had DNF next to her name.
After this experience, Sara became very unsure of her next steps. After a lot of back and forth, she decided that she would specialize in the throws. In 2019, she found herself standing on the podium in second place at the USports Championships in shot put.
In 2018, Sara attended an RBC Training Ground event where participants are put through various fitness tests such as a broad jump, vertical jump test, 30m sprint, etc. Sara ended up winning a few of the individual events and the overall for the women. It was here where she was recruited to a number of different sports including bobsleigh.
In December of 2018, Sara had her first experience in a bobsled in Calgary. She had no clue what to expect…She had seen it on TV, but "you don't know what you don't know". Her first run down the track ended in a crash! Luckily, that did not scare her off and she finished the week. She came back home to Ontario and knew that she was going to become a bobsledder.
In October of 2019, she was announced to the Team Canada Development team, and has progressed nicely. Now in just her second year in the sport she has earned a spot on the Senior Bobsleigh Team, and now has her eyes locked on the ultimate goal of winning gold at the 2022 Olympic Winter Games.
Did You Know…
Sara has never eaten a Twinkie. She currently has three adopted pets (two cats, one dog). Sara has an honours double major in psychology and thanatology. She played trumpet for four years in middle school and high school.
Career Highlights
Gold
Silver
Bronze
Other
2021 - World Championships, Altenberg, GER
16th 2woman
2021 - World Cup, Igls, AUT
5th 2woman
2021 - World Cup, Konigssee, GER
4th 2woman
2021 - World Cup, St Moritz, SUI
8th 2woman
2021 - World Cup, Winterberg, GER
5th 2woman
2020 – North American Cup, Lake Placid, USA

6th 2woman
2019 – North American Cup, Park City, USA

2woman

2woman

2woman

2019 – North American Cup, Lake Placid, USA

6th 2woman

9th 2woman
Track and Field/Athlétisme
2018-2019
– OUA Silver Medalist in Shot Put/Médaillée d'argent OUA en lancer du poids
– USports Silver Medalist in Shot Put/Médaillée d'argent OUA en lancer du poids
– Western University Women's Shot Put Record Holder/Détient le record féminin en lancer du poids à l'Université Western
2015-2016
– Ontario's Junior Women's Top Athlete of the Year Award/Prix d'athlète de l'année de l'Ontario, femmes juniors
– OUA Gold Medalist in the Pentathlon/Médaillée d'or OUA en pentathlon
2014-2015
– OUA Bronze Medalist in the Pentathlon/Médaillée de bronze OUA en pentathlon
– Junior National Champion in the Heptathlon/Championne nationale junior dans l'heptathlon
– Represented Team Canada at the 2015 Junior Pan American Games in Edmonton/Membre d'Équipe Canada aux Jeux panaméricains juniors 2015 à Edmonton
Olympic Winter Games Results
| | | | | |
| --- | --- | --- | --- | --- |
| Season | Location | Discipline | Result | Crew |
| 2021/22 | Beijing, CHN | 2woman | 12th | Lotholz, Villani |
World Championship Results
| | | | | |
| --- | --- | --- | --- | --- |
| Season | Location | Discipline | Result | Crew |
| 2020/21 | Altenberg, GER | 2woman | 16th | de Bruin, Villani |
World Cup Results
| | | | | |
| --- | --- | --- | --- | --- |
| Season | Location | Discipline | Result | Crew |
| 2021/22 | | | | |
| | St Moritz, SUI | 2woman | 12th | Lotholz, Villani |
| | Altenberg, GER | 2woman | 7th | Lotholz, Villani |
| | Winterberg, GER | 2woman | 11th | Lotholz, Villani |
| | Altenberg, GER | 2woman | 11th | Lotholz, Villani |
| | Igls, AUT | 2woman | 9th | Lotholz, Villani |
| 2020/21 | | | | |
| | Igls, AUT | 2woman | 5th | Lotholz, Villani |
| | Konigssee, GER | 2woman | 4th | de Bruin, Villani |
| | St Moritz, SUI | 2woman | 8th | de Bruin, Villani |
| | Winterberg, GER | 2woman | 5th | de Bruin, Villani |