Niamh Haughey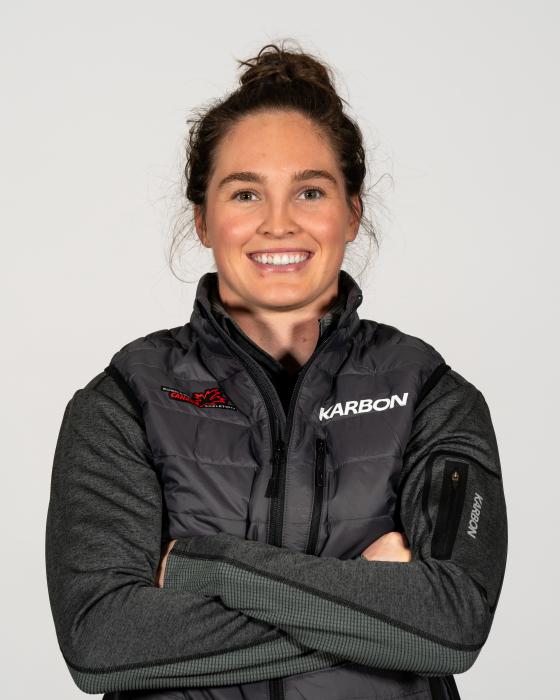 Niamh took a completely different track into the sport of bobsleigh than most of her teammates.
Growing up in Ireland, Niamh played Gaelic Football – mostly because they didn't have ice hockey.
After attending an RBC Training Ground event, Bobsleigh Canada Skeleton came calling, asking her to try out for the national program. Still attending Brock University where she played both hockey and rugby, Niamh did pursue bobsleigh until 2020 as varsity sports were canceled due to COVID and the rest is history.
Her first major international experience was competing with Bianca Ribi at the 2020 World Junior Championships. Niamh was also part of Canada's 2022 Olympic Team playing a key alternate role, and now pushing the nation's top sleds on the World Cup circuit. Her favourite track to compete on is the "Sleeping Dragon" at the Yanqing Sliding Centre in China, or the braking section at Igls, Austria.
Did You Know…Niamh played 7's rugby with Rugby Canada's Development Team. When she lived in Ireland, she could use her own name at Starbucks she uses a different name in Canada. If she wasn't sliding, she would be making and drinking coffee. When Niamh broke her ankle in 2019, the surgeon removed part of her talus and let her keep some bits of the bone!
Career Highlights
| | | | | |
| --- | --- | --- | --- | --- |
| | Gold | Silver | Bronze | Other |
| 2023 - World Championships, St. Moritz, SUI: | | | | 8th |
| 2022 - North American Cup, Whistler, CAN: | | | | |
| 2021 - Junior World Championship, St Moritz, SUI | | | | 9th |
| 2021 - Europe Cup, Innsbruck, AUT | | | | 5th |
| 2021 - Europe Cup, Altenberg, GER | | | | 5th |
Olympic Winter Games Results
| | | | | |
| --- | --- | --- | --- | --- |
| Season | Location | Discipline | Result | Crew |
| 2022 | Beijing, CHINA | Alternate | | |
World Championship Results
| Season | Location | Discipline | Result | Crew |
| --- | --- | --- | --- | --- |
| 2023 | St. Moritz, SUI | 2- Woman | 8th | Appiah, Haughey |
Junior World Championships Results
| Season | Location | Discipline | Result | Crew |
| --- | --- | --- | --- | --- |
| 2021 | St. Moritz, SUI | 2- Woman | 9th | Ribi, Haughey |
World Cup Results
| Season | Location | Discipline | Result | Crew |
| --- | --- | --- | --- | --- |
| 2022/23 | | | | |
| | Innsbruck, AUT | 2- Woman | 9th | Appiah, Haughey |
| | Altenberg, GER | 2- Woman | 7th | Appiah, Haughey |
| | Altenberg, GER | 2- Woman | 7th | Ribi, Haughey |
| | Winterberg, GER | 2- Woman | 12th | Ribi, Haughey |
| | Lake Placid, USA | 2- Woman | 4th | Ribi, Haughey |
| | Park City, USA | 2- Woman | 5th | Ribi, Haughey |
| | Whistler, CAN | 2- Woman | 5th | Ribi, Haughey |