Kayden Johnson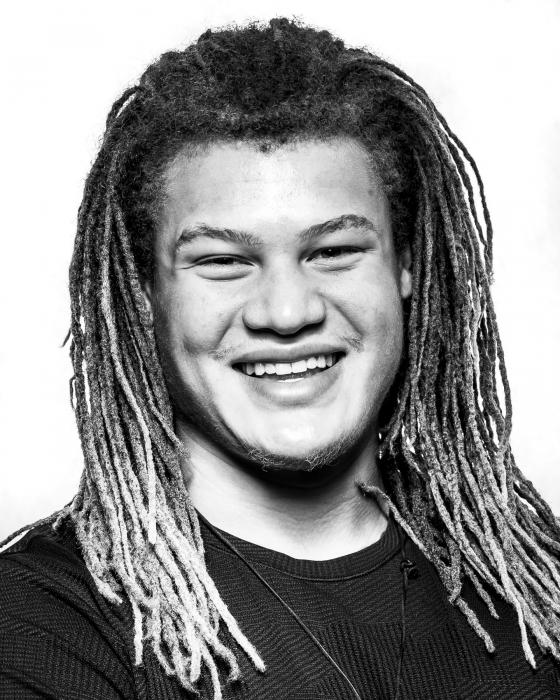 A world class hurdler, a standout running back in the CFL and now a high-performance bobsledder. Kayden Johnson is an all-around gifted athlete.
Kayden was one of the most intriguing athletes drafted by the B.C. Lions in 2020. Tall, powerfull, explosive and strong, Kayden was considered to by many as the top running back available.
The same qualities caught the eye of Canada's bobsleigh coaches when the multi-sport athlete won the 2018 RBC Training Ground in Winnipeg. The following week they had the Saskatchewan product learning how to push in the Ice House. He took his first memorable trip from the top of the Whistler Sliding Centre in the fall of 2020, and was immediately hooked on the excitement and intensity of the sport.
Kayden's path to compete in elite level sports began in track and field as medal-winning 60-metre hurdler at York University. His strong results led him to being named York's male athlete of the year in 2018.
Kayden's comes by his athletic gift honestly. His father, Winchester, was a decathlete who represented Canada at the masters level. Kayden's mother, Angy, was a member of the University of Saskatchewan Huskies' basketball and soccer teams. She also represented Team Saskatchewan in hockey at the 1989 National Championships.
When not chasing his sporting dreams, Kayden has expressed a desire to pursue a film career after majoring in Theatre at York University prior to completing a year of Kinesiology at the University of Saskatchewan. But for now, his ultimate goals are to make Canada's Olympic Team.
Did You Know...
Kayden's party trick is doing backflips. He loves meditating, hiking and climbing mountains.
Career Highlights
Gold
Silver
Bronze
Other
2021 - North American Cup, Whistler, CAN

7th
10th
10th
Football
CFL Running Back with the BC Lions/Porteur de ballon avec les BC Lions
Team Canada U18 and U19 World Junior Championships Silver Medallist/Médaillé d'argent avec Équipe Canada au Championnat du monde junior M18 et M19
York University Runing Back/Porteur de ballon pour l'équipe de football de l'Université York
Argo Cup (Red and Blue Bowl) Rushing Record/Record des verges en Coupe Argo (Red and Blue Bowl)
2019 East West Bowl/Participant au Championnat Est-Ouest 2019
Track and Field/Athlétisme
Team Canada Decathlete at Pan Am Jr Games and NACAC Championships/Décathlonien d'Équipe Canada aux Jeux panaméricains juniors et NACAC
OUA and Usports Gold Medallist (60m Hurdles)/Médaillé d'or OUA et Usports (60m haies)
OUA Silver Medallist in Heptathlon/Médaillé d'argent OUA en heptathlon
Saskatchewan Record Holder (60m Hurdles, 110m Hurdles)/Détenteur du record saskatchewanais (60m haies, 100m haies)
Saskatchewan Male Athlete of the Year/Athlète masculin de l'année de Saskatchewan
York University Male Athlete of the Year/Athlète masculin de l'année de l'Université York