Erica Voss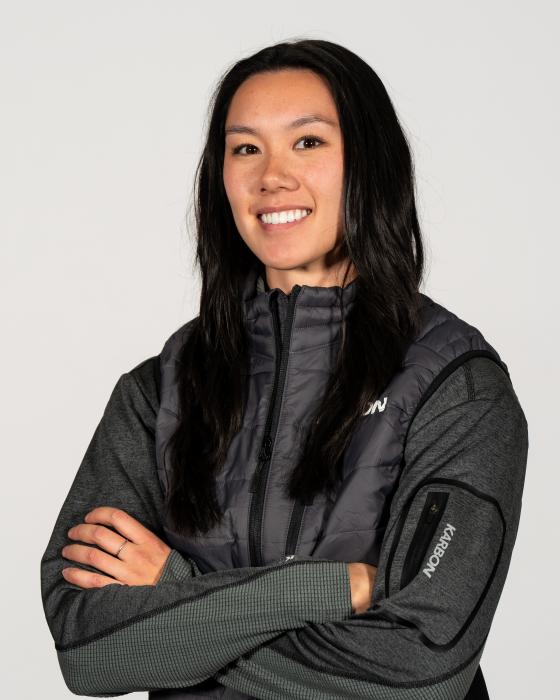 The spark to Erica's Olympic dream was ignited at her first track meet when she was seven years old. By the time she was 12, she knew she wanted to be an Olympian after watching the 2008 Olympic Summer Games in Beijing. But she thought that dream would be found in track and field.
Erica trained as a sprinter, then a long and triple jump athlete, but fell in love with ringette. Recognizing ringette is not an Olympic sport, she thought her dream of competing in the Games would end there.
However, things were reignited in 2018 when she attended an RBC Training Ground. Shortly after, she was at the Ontario Final and then received an invitation to attend a Bobsleigh Canada Skeleton Testing Camp in Toronto, and is now racing her way down icy chutes around the world.
Her dream came full circle. Erica was an alternate on Team Canada at the 2022 Olympic Winter Games in Beijing, China. She's now splitting her time as a brakeman on the Senior Bobsleigh Team and a development pilot.
Erica has always been a gifted athlete. In her 18 year ringette career, she attended Ontario Winter Games, Canadian Ringette Championships and was twice named National Ringette League defenseman of the year.
In 2019, Erica graduated from the University of Toronto with an honours degree in Mechanical Engineering. She is currently working as an energy analyst for a consulting company that focuses on energy management for commercial real estate properties.
When not training or working, Erica enjoys painting and drawing. She still tries to help coach her sisters ringette team when time allows.
Did You Know…
Her first time down a bobsleigh track was at a pilot school in Calgary. She was the first sled off with Sara Villani in the back, and they crashed.
They both got back in that week and is proud to continue telling the story while chasing her Olympic dreams to this day.
Career Highlights
| | | | | |
| --- | --- | --- | --- | --- |
| | Gold | Silver | Bronze | Other |
| 2023 - World Championships, St. Moritz, SUI: 2- Woman | | | | 13th |
| 2022- Push World Championships, Lake Placid, USA: | | | | |
| 2021 - World Championships, Altenberg, GER | | | | 9th |
| 2021 - World Cup, Igls, AUT | | | | 11th |
| 2021 - World Cup, Konigssee, GER | | | | 15th |
| 2021 - Europe Cup, Altenberg, GER | | | | |
World Championship Results
Brakewoman
| | | | | |
| --- | --- | --- | --- | --- |
| Season | Location | Discipline | Result | Crew |
| 2022/23 | St. Moritz, SUI | 2- Woman | 13th | Ribi, Voss |
| 2020/21 | Altenberg, GER | 2- Woman | 9th | Appiah, Voss |
| | | | | |
World Cup Results
| | | | | |
| --- | --- | --- | --- | --- |
| Season | Location | Discipline | Result | Crew |
| 2022/23 | | | | |
| | Altenberg, GER | 2- Woman | 12th | Ribi, Voss |
| | Lake Placid, USA | 2- Woman | 7th | Appiah, Voss |
| 2021/22 | | | | |
| | Igls, AUT | 2- Woman | 11th | Lothoz, Voss |
| 2020/21 | | | | |
| | Igls, AUT | 2- Woman | 11th | Rissling, Voss |
| | Konigssee, GER | 2- Woman | 15th | Lotholz, Voss |