Leah Walkeden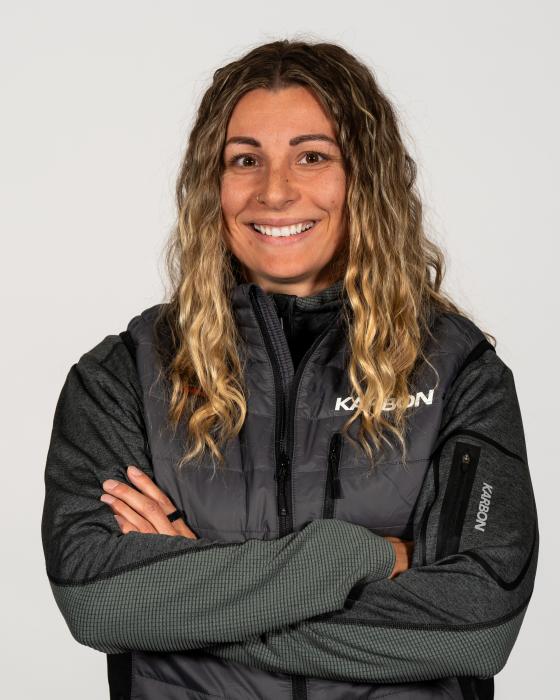 | | |
| --- | --- |
| Sport: | Bobsleigh |
| Position: | Brakeman |
| Birth Date: | Feb. 10, 1993 (age 30) |
| Birth Place: | Edmonton. AB |
| Residence: | Ardrossan, Alta. |
| Instagram: | @_Walkeden |
As a sprinter from the University of Alberta, bobsleigh isn't a foreign post sprinting career change.
Following in the footsteps of Neville Wright, Christine de Bruin, Melissa Lotholz, and Alysia Rissling from the basketball side, Leah knew that before she was finished with her sporting career that she would like to give sliding a go. She attended the prospect camp in Calgary in October of 2021 after doing a 'learn to push' and a few Ice House sessions with Alberta Bobsleigh Association.
In her first season pushing Canadian sleds on the North American Cup circuit, she celebrated two podium finishes and five, top-5 placings in six races.
Before switching to bobsleigh, Leah was a short sprinter on the track. She specialized in the 100m in the later years of her career to focus on putting herself in the best position possible to be on the Canadian women's 4x100m relay squad.
The last few seasons of her track career were slowed by injuries starting with putting her pelvis out in the fastest 100m race of her life which derailed the rest of her 2018 season, and then partially tearing her plantaris in her calf in April 2019 which ended her season.
Outside of sport, Leah runs her own small, handmade business. She specializes in sewing and logoing custom makeup bags, making t-shirts and sweaters, and laser engraving on things such as flasks, beer mugs, and shot glasses. She had her first six-figure revenue year in 2020 despite the pandemic!
Leah has a Bachelors of Kinesiology from the University of Alberta with a major in biomechanics and a minor in fashion design. After graduating, she was unable to get a job doing the biomechanical work she was interested in doing while she was training full time for track and field, so she started her Etsy shop using a bit of her fashion design training from school and the skills she's learned her whole life from her mom who has a similar business.
Did You Know…
Leah had pet ducks her whole life growing up – Quack! Her dream is to open a brick and mortar store that will design and make products on the spot while customers wait for their orders.

Career Highlights
Bobsled
| | Gold | Silver | Bronze | Other |
| --- | --- | --- | --- | --- |
| 2023 - World Cup, Sigulda, LAT | | | | 6th |
| 2022- Push World Championships, Lake Placid, USA | | | | |
| 2022 - North American Cup, Whistler, CAN | | | | |
Track & Field
2009 - IAAF World Youth Championships, 100m & Medley Relay
2010 – IAAF World Junior Championships, 4x100m Relay
2015 – World Universiade Games,100m, 200m, 4x100m Relay
2017 – World Universiade Games, 100m, 4x100m
2017 – Jeux de la Francophonie, 100m, 4x100m relay
11 x CanWest Track & Field Medalist
4x CIS / USport Track & Field Medalist
60m & 4x200m Record Holder University of Alberta
2011/2012 – University of Alberta Rookie Of The Year
2012 – 100m Finalist at Canadian Olympic Trials
World Cup Results
| Season | Location | Discipline | Result | Crew |
| --- | --- | --- | --- | --- |
| 2022/23 | | | | |
| | Sigulda, LAT | 2- Woman | 6th | Appiah, Walkeden |
| | Altenberg, GER | 2- Woman | DSQ | Appiah, Walkeden |
| | Winterberg, GER | 2- Woman | 9th | Appiah, Walkeden |
| | Whistler, CAN | 2- Woman | 6th | Appiah, Walkeden |
| | Park City, USA | 2- Woman | 7th | Appiah, Walkeden |