Evan Neufeldt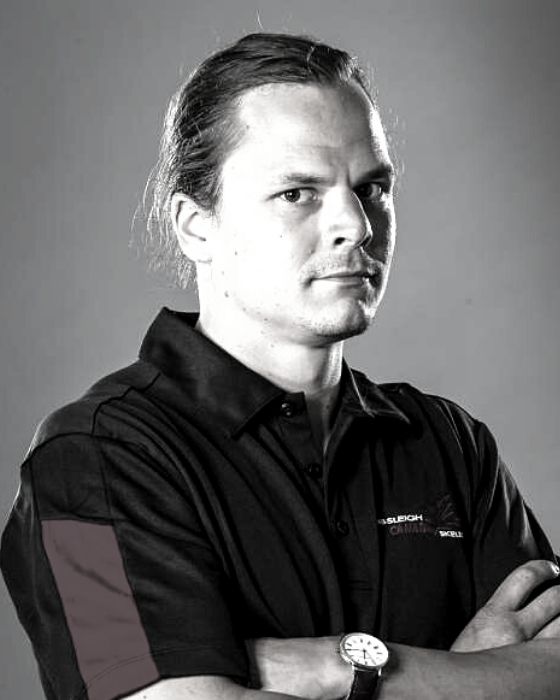 Evan began his skeleton journey in 2010 after a shoulder repair forced a break in his University education, and varsity track and field career. He competed in indoor Pentathlon (2007-2010) at the University of Saskatchewan.
Evan had quite a run inn track, making nationals regularly where he went on to place 12th, 8th, 8th respectively. He also competed in decathlon at the 2009 Canada Summer Games, finishing 6th.
Hailing from the prairies, Evan has always loved the mountains, and traveling downhill at speed - first tobogganing and later skiing, then his brother taught him to snowboard! His dad facilitated and encouraged annual ski trips to the Rockies which led him to living and working at Sunshine Village in Banff for one year.
He took a skeleton orientation course in 2010, and first competed on the World Cup in 2014-15. His best World Cup result was 8h. He competed at the 2016 and 2015 World Championships, and was an alternate for Canada at the 2022 and 2018 Olympics.

Battling health issues, Evan took a break from the sport for two years in 2018 and returned to the University of Saskatchewan to work towards a Bachelor Studio Art degree (sculpture/printmaking).
He was diagnosed with left temporal lobe epilepsy in 2019 and lost his drivers license, but worked his way back to skeleton in 2020, ad back onto the World Cup one year later.

Evan appreciates the support of the international sliding community through his journey, and partnering with other nations on Tour to get him to races around the world. He is driven to show epileptics and other folks they can push forward to overcome obstacles. Epilepsy Canada president Gary Collins has been a mentor for Evan, and sliding coach Joe Cecchini has helped me to make my way back to the top of the pyramid in Canadian sliding.
Evan has always been involved in competition, briefly playing piano, and occasional art entrees in early elementary school, then fastball, football, ultimate frisbee, and track and field.
His party trick is a back flip, and his hero is Elon Musk because he's working on solving epilepsy while also building rockets.
Career Highlights
Gold
Silver
Bronze
Other
2023 - World Championships, St. Moritz, SUI

11th (Skeleton Mixed Team Competition)

27th (Men's Competition)

2021 - Europe Cup - Igls, AUT
10th
2021 - Europe Cup - Winterberg, GER

12th
7th

2021 - North America's Cup, Whistler, CAN
2021 - First Place Team Selections
2017 - Intercontinental Cup, Calgary, CAN

10th

2016 – World Championships, Igls, AUT

25th
2015 - World Cup, St Moritz, SUI
8th
2015 - World Championships, Winterberg, GER

23rd

2014 - North America's Cup, Lake Placid, USA
9th
2013 - North America's Cup, Park City, USA

4th
5th
World Championship Results
| | | | |
| --- | --- | --- | --- |
| Season | Location | Discipline, | Result |
| 2022/23 | St. Moritz, SUI | Skeleton Mixed Team Competition | 11th |
| | | Men's Skeleton | 27th |
| 2015/16 | Innsbruck, AUT | Men's Skeleton | 25th |
| 2014/15 | Winterberg, GER | Men's Skeleton | 23rd |
World Cup Results
| | | |
| --- | --- | --- |
| Season | Location | Result |
| 2022/23 | | |
| | Altenberg, GER | 23rd |
| | Altenberg, GER | 18th |
| | Winterberg, GER | 20th |
| | Park City, USA | 17th |
| | Whister, CAN | 13th |
| 2021/22 | | |
| | St Moritz, SUI | 27th |
| | Winterberg, GER | 28th |
| | Sigulda, LAT | 24th |
| 2016/17 | | |
| | Pyeongchang, KOR | 23rd |
| 2015/16 | | |
| | Whistler, CAN | 22nd |
| 2014/15 | | |
| | Sochi, RUS | 19th |
| | Innsbruck, AUT | 21st |
| | St Moritz, SUI | 8th |
| | Koenigssee, GER | 19th |
| | Altenberg, GER | 19th |
Intercontinental Cup Results
| | | |
| --- | --- | --- |
| Season | Location | Result |
| 2017/18 | | |
| | Altenberg, GER | 11th |
| | | 14th |
| | St Moritz, SUI | 18th |
| | | 27th |
| | Calgary, CAN | 10th |
| | | 6th |
| | Whistler, CAN | 10th |
| | | 5th |
| 2016/17 | | |
| | Lake Placid, USA | 17th |
| | | 16th |
| | Calgary, CAN | 2nd |
| | | 10th |
| | Koenigssee, GER | 6th |
| | | 7th |
| | Innsbruck, AUT | 9th |
| | | 9th |
| 2015/16 | | |
| | Koenigssee, GER | 9th |
| | | 10th |
| | Innsbruck, AUT | 9th |
| | | 8th |
| | Whistler, CAN | 6th |
| | | 8th |
| | Lake Placid, USA | 9th |
| | | 11th |
| 2014/15 | | |
| | Wintergberg, GER | 8th |
| | Koenigssee, GER | 8th |
| | | 10th |