Evan Neufeldt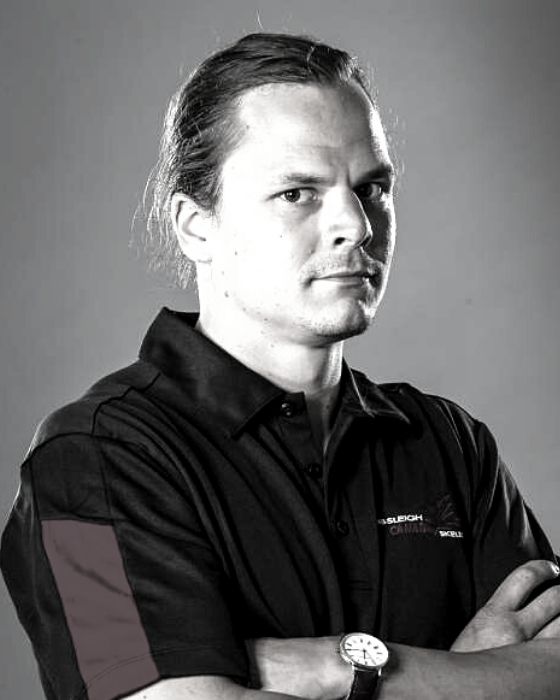 Evan began his skeleton journey in 2011 after a shoulder injury, and subsequent repair forced a break in his University education, and varsity sports career.
Hailing from the prairies, Evan has always loved the mountains, and traveling downhill at speed - first tobogganing and later skiing, then his brother taught him to snowboard! His dad facilitated and encouraged nearly annual ski trips to the Rockies which led him to living and working at Sunshine Village in Banff for one year.
Evan has always been involved in competition, briefly playing piano, and occasional art entrees in early elementary school, then fastball, football, ultimate frisbee, and track and field. Evan loves to run, though he admittedly is not the fastest sprinter. He found himself in the runner's roll: pinch runner and fielder on fastball teams, running back in high school football at Rosthern Junior College (2003,2004), and he was a striker on competitive ultimate frisbee teams (Tommy Douglas Dream Machine - U of S Men's 2007-2009).
Evan got serious about competition while in university track and field. Competing in pentathlon for the University of Saskatchewan from 2008-2010 (60m Hurdles-8.78sec, Long Jump-6.6m Shot put-10.91m High Jump-1.95m, 1000m-2:45min), Evan finished 12th, eighth, and eighth nationally, and came out with two bronze medals from Canada West Championships in Pentathlon and 4x200m relay 2010. In 2009 he was sixth at Canada Summer Games in decathlon. His track and field career was short, but it taught him so much about sport, competition, and friendship.
A torn shoulder from a bad layout at a frisbee game in spring of 2010 was another teacher in sports and life for Evan! After surgery and nine months of rehab, he found himself in Calgary pushing a skeleton sled in the Ice House late summer 2011. No stranger to tobogganing, the Ice House brought Evan back to his childhood in Saskatchewan!
On break from school, and sports, Evan was free to move to Calgary for this unknown world of winter sports. A calculated gamble, an adventure, and what a ride! Evan left his family, friends to begin his first season in skeleton. Evan had ups and downs, learning a new sport at 24 years old! He went back to Saskatchewan for the following summer, and at the beginning of his second season, things got a little more serious in sport. Evan started training with coach Michael Steen, and began really trying to go faster! He made his debut on the World Cup Team during the 2014-15 season.
Evan has been on a fast development curve with many ups and downs like the technical events of track and field. Much to learn – Evan is focused and excited for the ride! His party trick is a backflip, and his hero is Elon Musk because he's working on solving epilepsy while also building rockets.
Career Highlights
Gold
Silver
Bronze
Other
2021 - Europe Cup - Igls, AUT
10th
2021 - Europe Cup - Winterberg, GER

12th
7th

2021 - North America's Cup, Whistler, CAN
2021 - First Place Team Selections
2017 - Intercontinental Cup, Calgary, CAN

10th

2016 – World Championships, Igls, AUT

25th
2015 - World Cup, St Moritz, SUI
8th
2015 - World Championships, Winterberg, GER

23rd

2014 - North America's Cup, Lake Placid, USA
9th
2013 - North America's Cup, Park City, USA

4th
5th
World Championship Results
| | | | |
| --- | --- | --- | --- |
| Season | Location | Discipline, | Result |
| 2015/16 | Innsbruck, AUT | Men's Skeleton | 25th |
| 2014/15 | Winterberg, GER | Men's Skeleton | 23rd |
World Cup Results
| | | |
| --- | --- | --- |
| Season | Location | Result |
| 2021/22 | | |
| | St Moritz, SUI | 27th |
| | Winterberg, GER | 28th |
| | Sigulda, LAT | 24th |
| 2016/17 | | |
| | Pyeongchang, KOR | 23rd |
| 2015/16 | | |
| | Whistler, CAN | 22nd |
| 2014/15 | | |
| | Sochi, RUS | 19th |
| | Innsbruck, AUT | 21st |
| | St Moritz, SUI | 8th |
| | Koenigssee, GER | 19th |
| | Altenberg, GER | 19th |
Intercontinental Cup Results
| | | |
| --- | --- | --- |
| Season | Location | Result |
| 2017/18 | | |
| | Altenberg, GER | 11th |
| | | 14th |
| | St Moritz, SUI | 18th |
| | | 27th |
| | Calgary, CAN | 10th |
| | | 6th |
| | Whistler, CAN | 10th |
| | | 5th |
| 2016/17 | | |
| | Lake Placid, USA | 17th |
| | | 16th |
| | Calgary, CAN | 2nd |
| | | 10th |
| | Koenigssee, GER | 6th |
| | | 7th |
| | Innsbruck, AUT | 9th |
| | | 9th |
| 2015/16 | | |
| | Koenigssee, GER | 9th |
| | | 10th |
| | Innsbruck, AUT | 9th |
| | | 8th |
| | Whistler, CAN | 6th |
| | | 8th |
| | Lake Placid, USA | 9th |
| | | 11th |
| 2014/15 | | |
| | Wintergberg, GER | 8th |
| | Koenigssee, GER | 8th |
| | | 10th |