Patrick Rooney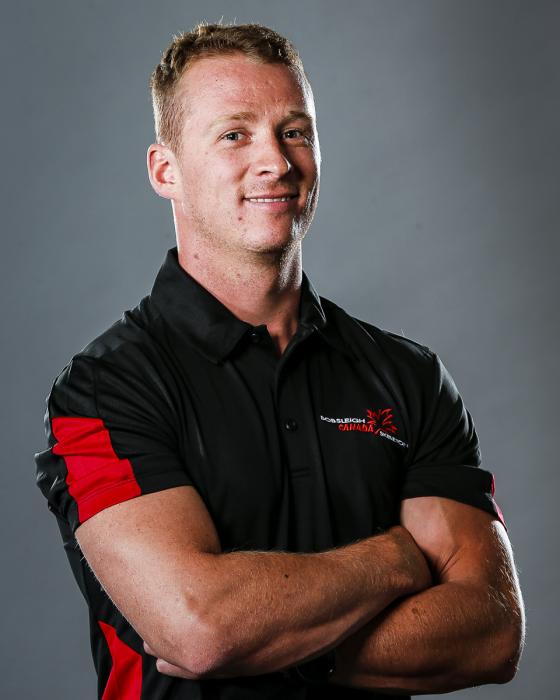 | | |
| --- | --- |
| Sport: | Skeleton |
| Height: | 181cm |
| Weight: | 90kg |
| Birth Date: | Nov. 30, -0001 (age 2020) |
| Birth Place: | Calgary |
| Residence: | Calgary |
| Twitter: | @patrickr00ney |
Patrick was introduced to skeleton by his cousin who works at the Canadian Sport Institute in Vancouver where he did a Talent ID Camp. Shortly after Patrick was sent down the Whistler Sliding Centre track and he was instantly hooked on the sport.
A talented athlete, Patrick spent his early sport days playing competitive hockey, and loved trying all sports. After graduating high shchool he studied engineering for two years before focusing his time on pursuing his Olympic dream. Patrick credits his cousin for giving him the drive to push for a career in elite athletics. While he strives for a career in elite athletics, Patrick is also dedicated to pursuing a degree in project management at the same time.
When not sliding, Patrick enjoys fishing, golfing, hunting, hockey, cars and learning.
Career Highlights
2018 – World Cup, St. Moritz, SUI: 28
2018 – Intercontinental Cup, St. Moritz, SUI: 6
2017 – Intercontinental Cup, Calgary, CAN: 5, 20
2015 – Intercontinental Cup, Whistler, CAN: 3, 5
2014 – Intercontinental Cup, Winterberg, GER: 10
2015 – Intercontinental Cup, Whistler, CAN: 4, 6
2015 – Intercontinental Cup, Calgary, CAN: 6, 4
World Cup Results
2018 – World Cup, St. Moritz, SUI: 28
2014 – World Cup, Konigssee, GER: 22
Intercontinental Cup Results
2018 – Intercontinental Cup, Winterberg, GER: 17, 18
2018 – Intercontinental Cup, Igls, AUT: 21, 19
2018 – Intercontinental Cup, St. Moritz, SUI: 6
2017 – Intercontinental Cup, Calgary, CAN: 5, 20
2017 – Intercontinental Cup, Calgary, CAN: 13, 11
2015 – Intercontinental Cup, Lake Placid, USA: 8, 10
2015 – Intercontinental Cup, Whistler, CAN: 3, 5
2016 – Intercontinental Cup, Igls, AUT: 13, 14
2016 – Intercontinental Cup, Konigssee, GER: 14, 16
2014 – Intercontinental Cup, Winterberg, GER: 10
2015 – Intercontinental Cup, Whistler, CAN: 4, 6
2015 – Intercontinental Cup, Calgary, CAN: 6, 4