Mark Lynch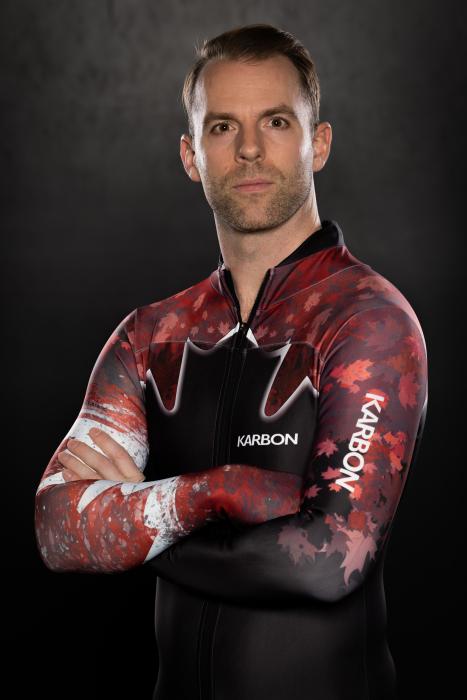 | | |
| --- | --- |
| Sport: | Skeleton |
| Birth Date: | Dec. 1, 1987 (age 35) |
| Birth Place: | Ottawa |
| Residence: | Calgary |
| Hometown: | St. John's, Nfld. |
| Instagram: | @regnarlynch |
Relocating south down Highway 2 from Edmonton to Calgary in 2013 turned into quite a trip for Mark Lynch. Making the move for work, Mark took advantage of the Olympic legacy facilities and hopped on a skeleton sled.
After reaching out to the Alberta Skeleton Association, they invited him to a driving school in October 2013, and he has been headfirst downhill ever since.
After completing a very recreational first season, Mark took the sport more seriously the following year and joined Team Paes for his dryland and Ice House training. At the start of his third season, he competed in his first North American Cup race in Calgary and finished eighth. Due to an injury to a teammate that season, he was called up to the Europe Cup circuit for the second half where he continued his development.
Mark is now in his 10th year, and fifth on the National Senior Skeleton Team. As a non-sprinter, his sprinting/pushing has developed alongside his sliding abilities.
Mark is a true Canadian, having lived across the country. He was born in Ottawa and then moved to Fredericton, N.B. when he was three years old. When he was 11, his family moved to St. John's, Nfld. where he lived until the end of university. Mark loved all sports. He played hockey, rugby, golf and volleyball growing up. He holds a second-degree black belt in taekwondo.
While in university, he completed six internships, two of them in Houston, TX and one in The Netherlands. After university, he moved to Edmonton to start work with Schlumberger. He worked for three years on the oil rigs in Northern Alberta before moving to Calgary to work as a technical sales engineer. Today, Mark works full time as a sales engineer in addition to his full-time commitment to skeleton.
Outside of skeleton he enjoys golf, snowboarding/skiing, travelling and cooking. He is the oldest of three kids in his family with a younger brother and sister, who live in Calgary along with Mark's parents
Career Highlights
Gold
Silver
Bronze
Other
2021 - World Championships, GER
21st
2021 - World Cup, Winterberg, GER
18th
2020 - Intercontinental Cup, PyeongChang, KOR

7th
8th

2019 - Intercontinental Cup, Winterberg, GER
10th
2019 - Intercontinental Cup, Sochi, RUS

19th
15th

2019 – World Championships, Whistler, CAN

23rd
2019 – Intercontinental Cup, Lake Placid, USA

15th
15th

2019 – Intercontinental Cup, Park City, USA

13th
12th

2018 – National Team Selection Races
4th
2017 – North America's Cup, Calgary, CAN
5th
2017 – North America's Cup, Whistler, CAN
4th
2015 – North America's Cup, Calgary, CAN
8th
World Championship Results
| | | |
| --- | --- | --- |
| Season | Location | Result |
| 2020/21 | Altenberg, GER | 21st |
| 2018/19 | Whistler, CAN | 23rd |
| | | 7th (team) |
World Cup Results
| | | |
| --- | --- | --- |
| Season | Location | Result |
| 2022/23 | | |
| | Altenberg, GER | 19th |
| 2021/22 | | |
| | Altenberg, GER | 27th |
| | Winterberg, GER | 27th |
| | Altenberg, GER | 25th |
| | Igls, AUT | 26th |
| | | 25th |
| 2020/21 | | |
| | Konigssee, GER | 22nd |
| | St. Moritz, SUI | 24th |
| | Winterberg, GER | 18th |
Intercontinental Cup Results
| | | |
| --- | --- | --- |
| Season | Location | Result |
| 2022/23 | | |
| | Pyeongchang, KOR | 8th |
| | Pyeongchang, KOR | 8th |
| | Winterberg, GER | 13th |
| | Winterberg, GER | 15th |
| 2021/22 | | |
| | Altenberg, GER | 21st |
| 2020/21 | | |
| | Koenigssee, GER | 16th |
| 2019/20 | | |
| | Pyeonchang, KOR | 7th |
| | | 8th |
| | Lake Placid, USA | 20th |
| | | 17th |
| | Koenigssee, GER | 18th |
| | Winterberg, GER | 10th |
| | Sochi, RUS | 19th |
| | | 15th |
| 2018/19 | | |
| | Lake Placid, USA | 15th |
| | | 15th |
| | Park City, USA | 13th |
| | | 12th |
| | Winterberg, GER | 25th |
| | | 23rd |
| | Igls, AUT | 25th |
| | | 25th |