Grace Dafoe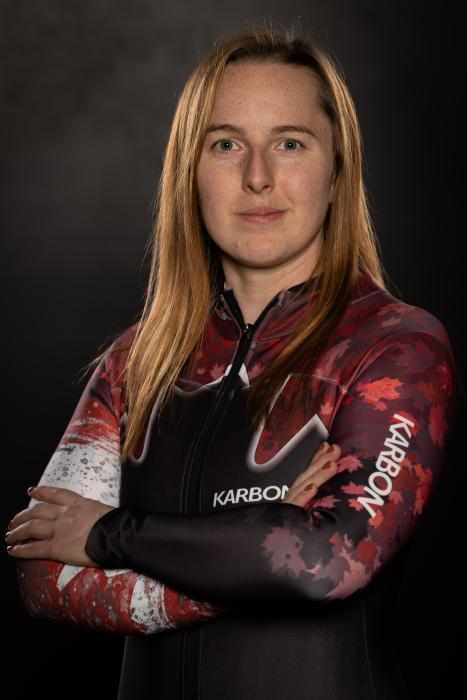 A born and raised Calgarian, Grace always had a passion for competing on ice. It began with figure skating – a sport she competed in from ages 3-18 – this led her to Canada Olympic Park, where the ice rinks had just been completed. It was there, while completing her final years of figure skating, she contemplated other sports available to try at WinSport.
With competitive juices still flowing, Grace contacted the Alberta Skeleton Association and participated in a "Discover Skeleton" session in 2012. Olympic gold medallist, Jon Montgomery, was a guest instructor. She completed the driving school and 10 months later, despite crashing in nearly every Alberta Skeleton race, Grace was hooked.
Working her way through the development pathway, Grace's first win came on her home track in 2015 when she won the North America's Cup race in Calgary. She says standing on the podium, listening to the Canadian anthem, is her favourite sporting memory. Her first trip off the continent for skeleton was when Grace represented Canada at the Junior World Championships 2016 in Winterberg, Germany. In 2019, It was a life goal achieved, when she was finally appointed to the National Team for the first time.
Grace's favourite track is at the birthplace of the sport in St. Moritz, Switzerland. She grew up idolizing Canada's Olympic medal winning figure skater, Joannie Rochette. She says watching Joannie skate to the Olympic podium days after losing her mom was one of the most resilient performances ever.
Grace spends a great deal of time working in the community in Calgary, and is associated with KidSport Calgary and Classroom Champions, where she mentors kids in classrooms, instilling life lessons sport presents for the next generation. She also holds a full time job supporting the teachers in the Classroom Champions programming.
Grace holds a Bachelor of Health & Physical Education with a major in Physical Literacy from Mount Royal University. Committed to the MRU Alumni Community,
Grace returns to the school each spring to talk to new graduates about career opportunities and pathways available to them.
Career Highlights
Gold
Silver
Bronze
Other
2021 - North American Cup, Lake Placid, USA
7th
5th
2021 - North American Cup, Park City, USA
6th
8th
2020 – Intercontinental Cup, Lake Placid, USA

17th
16th

2020 – North American Cup, Lake Placid, USA

11th
16th

2019 – Intercontinental Cup, Konigssee, GER
17th
2019 – Intercontinental Cup, Winterberg, GER
18th
2019 – North American Cup, Lake Placid, USA

18th
23rd

2019 – Canadian Selection Races, Whistler, CAN

5th
2018 – North America's Cup Overall
2017 – North America's Cup, Whistler, CAN
2016 – Junior World Championships, Winterberg, GER
19th
2015 – North America's Cup Overall
2015 – North America's Cup, Calgary, CAN
Intercontinental Cup Results
| | | |
| --- | --- | --- |
| Season | Location | Result |
| 2019/20 | Lake Placid, USA | 17th |
| | | 16th |
| | Konigssee, GER | 17th |
| | Winterberg, GER | 18th |