Troy Wilson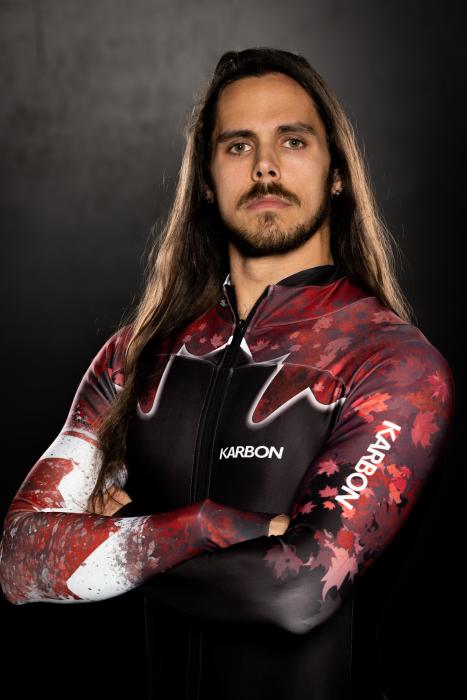 A former track and field athlete, Troy was first introduced to skeleton through the RBC Training Grounds. After his second time taking part in the program, Troy was contacted by Bobsleigh Canada Skeleton to participate in further testing. It was at this time he decided to move across the country to pursue his Olympic dream.
Troy competed in the decathlon and indoor heptathlon events for the University of New Brunswick. In his third season, he was named captain of the team. He has been a part of five Bobsleigh Canada Skeleton Testing Camps. He finally hit the sprint standard in the fall of 2019 and has not looked back.
Troy says his mom is his hero. Not only a single parent raising three kids, but Troy says it was his mom who showed him anything is possible. On Halloween 2003, Troy's mother suffered a mid-brain stroke which nearly killed her. Not only did she make a full recovery, but she went back to school to become a nurse and graduated in 2012 at the top of her class. 'It's never too later to follow your dreams!'
Outside of sport he has a Bachelors of Science in Kinesiology with Honours from the University of New Brunswick. Tory is currently finishing his Masters of Science in Kinesiology from the University of New Brunswick. He would like to continue his education by completing a PhD in Biomedical Engineering, working towards a more neurally-integrated control systems for prosthetic limbs.
Did You Know...
Troy enjoys reading and learning about mathematics, hiking/camping in the mountains, cooking (mostly baking breakfast food – he has a fixation on breakfast), going to shows, loves horrible jokes, is a full-time personal trainer at World Health Edgemont. He was inspired to represent Canada at the Olympics after watching the men's and women's hockey teams win gold in 2002 Salt Lake City – the same year skeleton made its return to the Olympic programme. Halloween is his favourite holiday, and Ridley Scott's 1979 Alien is his favourite movie. His favourite actress/actor is Sigourney Weaver. He loves heavy metal music and his top band is Black Sabbath and TWRP.

Career Highlights
Gold
Silver
Bronze
Other
2021 - North American Cup, Whistler, CAN
17th
2021 North American Cup, Park City, USA

11th
9th
9th

2-21 North American Cup, Lake Placid, USA

5th
5th

2020 - North American Cup, Lake Placid, USA:

12th

16th
14th
2019- North American Cup, Park City, USA:

11th
10th
11th

2019- North American Cup, Lake Placid, USA:

15th
15th