Patrick Farias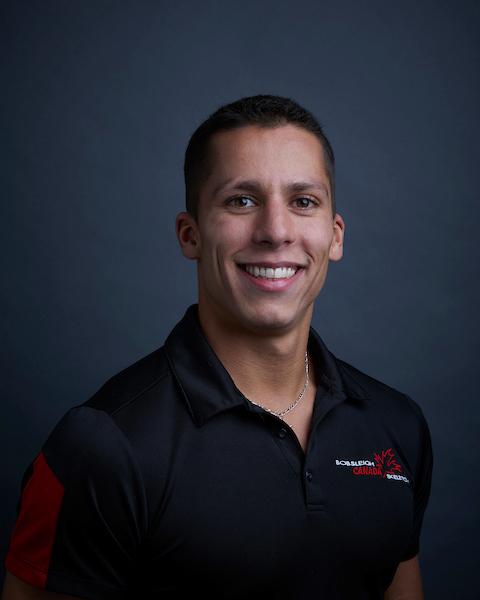 Patrick has wanted to be a professional athlete his entire life. First it was to be a soccer player at a young age, then after watching the Sydney 2000 Olympic Games he fell in love with gymnastics and he was determined to pursue his dream of competing for Canada at the Olympics.
During his school years, Patrick competed as an elite gymnast and played football throughout high school before deciding to focus solely on gymnastics to better his shot of making it to the Olympic Games. However, an unexpected injury which placed him in traumatic brain injury rehab that resulted in two years of recovery, Patrick was forced to retire.
After completing his rehab, he discovered he was still hungry for competitive sport and the Olympic dream was still very much alive within him. All he could do at that time was run, so he began to run, worked out in city parks and his basement to get back into shape. He eventually walked onto his University track and field team where he competed as a sprinter.
Realizing he was too late to make it to the Olympics as a sprinter, Patrick entered the RBC training ground in hopes of being picked-up by the Canadian skeleton program. Three years later, that Olympic dream is now within his grasp as a member of the national team.
Patrick holds a Degree in Honours Biology from McGill University with his research focus on Ichthyology (fish). While focused entirely on his pursuit of excellence, Patrick works in the off-season as a biologist, most recently interning at the Bimini Biological Field Station aka 'Shark Lab' in South Bimini, tagging and working on shark research. He hopes to one day pursue a degree in Veterinary Medicine.
While he could train all day, when he does have downtown, he enjoys watching all sports, particularly football, and nature documentaries.
Did You Know...
Patrick's heroes are Steve Irwin and Mohammad Ali. He can dance bachata and can name every species of shark on earth.
Career Highlights
2019 – World Cup Forerunner in Calgary/ouvreur de piste en Coupe du monde à Calgary
2019 – North America's Cup Forerunner in Calgary/ouvreur de piste en Coupe nord-américaine à Calgary