Hallie Clarke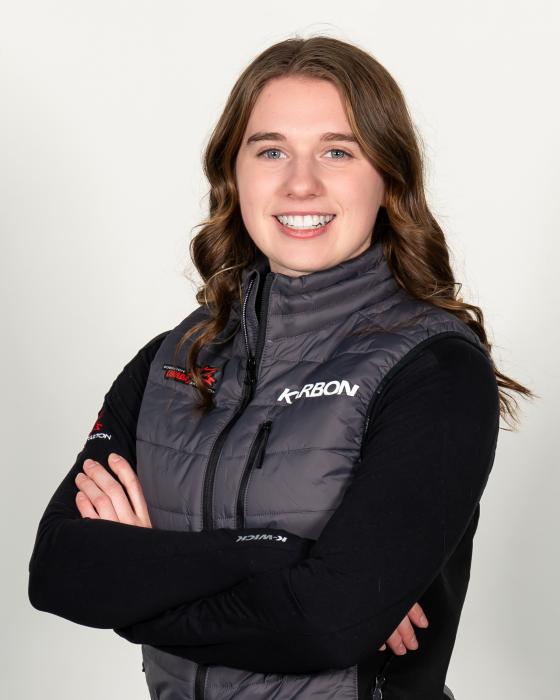 Hallie pushed a sled for the first time in 2018 when she was 14 years old. She didn't know what skeleton was at the time, but after just moving to Calgary she was ready to try something new. When she saw a learn to push sign for skeleton at Winsport's Ice House, she decided to go out on a whim and try it. It was love at first sight and she hasn't stopped since.
During her sliding school in Calgary in 2018, Hallie crashed on her first run ever down the track. Having already been nervous to throw herself down an ice track headfirst, she was even more scared after crashing this first time. However, a tough introduction to the sport was not enough to keep her away. She knew if she didn't get back on the sled right away she wouldn't ever try it again, so she went down the hill two more times that night, and hasn't looked back since.
Hallie grew up as a competitive figure skater and later switched to focusing more on field lacrosse, field hockey, and basketball. She figure skated competitively for 10 years and played lacrosse for four years.
She attended the testing camp in October 2021. It was her first time running the sprint standard and she had a personal best push of 5.08 before going on to win the National Skeleton Team's selection races.
Hallie graduated from Bowness High School in 2021. She graduated a year early after skipping Grade 9.
Outside of skeleton, Hallie enjoys music and being outdoors. She plays a few different instruments, but she mostly plays ukulele. She finds it to be a great stress relief.
Career Highlights
Gold
Silver
Bronze
Other
2021 - North American Cup, Whistler, CAN
2

2021 - Intercontinental Cup, Whistler, CAN

4th

2021 – North America's Cup, Park City, USA

5th

6th

2020 – Youth Olympic Games, Lausanne, SUI

12th

2020 – OMEGA Youth Series, Park City, USA
2019 – OMEGA Youth Series, Lake Placid, USA
2
Olympic Winter Games Results
Youth Olympic Games
| | | |
| --- | --- | --- |
| Season | Location | Result |
| 2019/20 | Lousanne, SUI | 12th |
Intercontinental Cup Results
| | | |
| --- | --- | --- |
| Season | Location | Result |
| 2021/22 | | |
| | Altenberg, GER | 3rd |
| | Igls, AUT | 3rd |
| | Park City, USA | 5th |
| | | 4th |
| | Whistler, CAN | 4th |
| | | 2nd |
| | | |